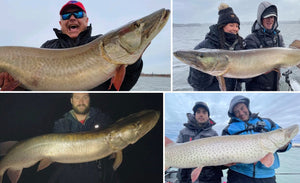 ''First Ice'' Musky Fishing – Sucker Sadness – Ice Suit 'skies
Be the FIRST to see Musky Insider every week by signing up for the email version of this newsletter. It's 100% free and we will never sell your email address! Click here to sign up and never miss another issue.
---
---
"First Ice" Musky Chasing
All the YouTubers are posting "First Ice" videos, catchin' walleyes and panfish, but we do first ice a little different in the musky world.... 😂
That's a clip from Musky Insider co-owner Josh Borovsky, trying to take advantage of every - single - day of the MN musky season.
Here's a quick recap of his day:
"The air temps were 10-12 degrees most of the day with high winds which put the wind chill pretty far down there. It took about 3 hours of work chopping, breaking ice, and strategizing to get out there and actually fish. But we made it out."
Naturally, when air temps are just above single digits and there's ice forming on the lake, surface temps are usually pretty chilly – no exception this day!
And apparently your ducers have a minimum operational temp.... 😂
But you gotta do whatcha gotta do to finish the season strong:
"Blow torches, thermoses of hot water, and WD-40 with silicone were all used multiple times to prevent or solve freezing problems and keep us running. We were actually able to cast all day despite the cold temps. The right gloves, reels, line, and lube all made that possible.
"A fun day on the water. Glad I had the right dude in the boat. Thanks Mike Chisamore for being the ultimate musky warrior and hanging with me in those conditions. Couldn't have made it out there without your help chopping and shoveling and couldn't have pulled the boat out without your second vehicle and the tow strap."
Sometimes, the reward is the adventure itself.... but we prefer catchin' a few muskies when we can! 👇
Sweet fish, Mike!
---
Ice fisherman hate him....
Gotta apologize to the ice fishin' folks.... because we're about to talk about bustin' up perfectly good early season ice. 😉
"You can break through surprisingly thick ice, but in my opinion, one of the keys to not doing damage when the ice gets thicker, is to drive tight circles trimmed up and use the waves and turbulence you create to break and weaken the ice. You can slowly move your circles closer and closer to the edge of the ice (as you can see on the GPS photo below) and work your way out."
Here's how Ty Sennett likes to do it:
"I've had luck going backwards with the motor trimmed up and then goose it when you are by the ice edge. Then repeat over and over and over and over."
No matter how you do it, BE CAREFUL! This is a great time of year to do damage to your boat, even if you're experienced and know what you're doing....
Josh's Exhibit A and B:
Which leads us to the final **important** first ice musky fishin' PSA:
"Another important thing to do is go back to the ramp periodically throughout the day and break and clear out the ice.
"While I remembered to do this, I apparently waited a little too long between visits. The wind kicked up and pushed all the thick broken ice back into the landing and then laid down quite a bit. So some of those thick broken up chunks froze on top of each other. That's what got me."
That's an important one for ya'll to remember for next year! 😂
---
Ice Suit 'Skies
Stickin' with the hardwater theme....
Here's a few late season Ice Suit 'skies we came across this week:
Impressive Great Lakes 'skie from Taro Murata, rockin' the Ice Armor suit – gotta love those big, giant spot-a-sauruses:
Michael Hanson and Hannah Hart popped a beautiful late fall bronzeback 'skie in a variety of wintertime gear, including the OG Guidewear that we all had back in the day, and looks like Michael's running Striker bibs.
Awesome east Canadian musky from Brad Sinopoli fishin' with Bill Jenkins. Cool thing about some of this ice gear is the floatation factor, which Striker has in all of their suits, including the Climate jacket Brad is wearing:
---
This Week's Mashup:
Mashup time!
#1 – Really cool musky themed mural artwork from Josh DeSmit – part of a bigger project he's doing for Thorne Bros:
#2 – I gotta get my hands on one of these branch-hangers for the Christmas tree! Props to Rustic Spruce Design Co. on the killer ornament: 
#3 – Some cool Esox art from Ben Rush – can you ID all the species/subspecies?
#4 – Slick underwater boatside release shot from 2B Guide Service:
---
QUICK HITTERS:
– Big November musky action w/ Todays Angler (video)
– LSC musky fishing w/ Taro Murata (video)
– BLP interview with dude who caught the 59-incher (link)
– Musky fishing Eagle Lake w/ AA (video)
– PMTT and big fish talk w/ Musky Road Rules (link)
– Austin Wiggerman speaking at Brainerd Muskies Inc, Dec. 13th (link)
– Dates for University of Esox in WI and LOTW (link)
---
---
THIS WEEK'S

 MONSTER MUSKIES:
Really nice full moon musky from Jimmy Lacerte in eastern Canada, fishin' a big chatterbait after dark:
Hans the Carver is still getting after 'em on Lake Erie! Another big one, and you can watch the full catch sequence on his YT channel:
Congrats to Jim Glass on catching this gorgeous low-light 55 incher with guide Pat Briere in late November:
Wanna be featured in Musky Insider? Send in your recent trophy musky photos by replying to this email. You might just see your pic in next week's newsletter. 🤙
---
---
Want to see more from Musky Insider? Make sure to follow us on Facebook and Instagram for bonus content throughout the week!
Send all business inquiries to josh@muskyinsider.com
---