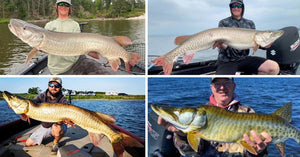 ''Fish the Foam'' – Musky Influencers in the Wild – The Not-Pretty 'skies
Be the FIRST to see Musky Insider every week by signing up for the email version of this newsletter. It's 100% free and we will never sell your email address! Click here to sign up and never miss another issue.
---
---
"Fish the Foam"
You've probably seen these long lines of foam stretched across the surface of the lake on a windy day:
Well, turns out they're called Langmuir circulations and according to Gord Pyzer, the fish LOVE them.
"Many years ago, I discovered the astonishing effect these Lazy Susan-like circular currents have on triggering fish to bite, but I've kept that ace tucked safely up my sleeve ever since—until now.... For the most part, the white lines across the surface point to some of the best fishing opportunities to be had."
Gord explains in his article that wind doesn't move water the way you'd think it does – it instead creates "counter-rotating, horizontal tubes below the surface" that are spaced 45 to 135 feet apart.
Here's what this rotational current does:
"Buoyant material such as weeds, wood and plastics remain on the surface and get mixed up with the white foam we see. Meanwhile, heavier or suspending material, including plankton, is spun downward on a fish-feeding conveyor belt."
Naturally, collection points like this will draw activity to these areas.
"Whether it's the wind-induced current or exchange of oxygen-rich water, heat and food, I'm not really certain, but Langmuir circulations certainly produce bites. I suspect it's a synergistic blend of all of those factors."
Another interesting tidbit: Gord only seems to find them under certain conditions.
"What's still more intriguing is that Langmuir currents only form under relatively tight parameters—they require wind speeds of at least 11 kilometres an hour (6.8 mph), yet disappear when the wind tops 45 kilometres an hour (30 mph)."
We're not saying this is a hard-and-fast rule, but next time you're on the water, try focusing your efforts on the foam and see if it makes a difference for you.
Musky fishin' is a high variance game, so anything that helps put more fish in the boat is worth a look!
We're super excited to have Gord Pyzer as one of our Musky Insider PRO speakers later this year – he's a wealth of knowledge 🔥
---
Ugly Musky Alert!
Every musky is beautiful in our eyes.... but some are less beautiful than others. 😅
This little hunchback was caught outta Capt. Gavin Scray's boat while he was pullin' cranks for walleyes on the Bay:
When the zombie invasion happens, it might just come outta Canada 😂 Hardcore musky-head Jimmy Lacerte actually caught this zombie 'skie while pitchin' craws for smallmouth:
Not gonna lie, Jimmy's musky kinda reminds me of this Dawg color (Fire Perch):
I hate to even put this next fish in the "Ugly Musky" section, because she's such an incredible specimen, but....
This plus-sized North Dakota 50 incher from Cody Wald was one big shoulder gash away from being a true "beauty" queen:
Check out this snaggletooth 'skie from Jason Smith:
When asked if he thought this was a lure injury, Jason replied:
"Yes, definitely looks like it's from a past battle. Sometimes I have to feel around to find the right side so I don't get cut from those snaggletooth ones. He had teeth going out sideways."
---
#Influencing
Hilarious post from Bob Parteka in the Musky Fishing Tips & Tricks FB group:
Not gonna lie, our favorite part is the #TacoBell bit.... 😂
We also better throw a #sarcasm disclaimer out there, because we have a lot of readers who might not know that Bob was joking around with this post.
There's nothing wrong with posting pictures on social media (most folks do!) or sharing what gear you're using (that can be useful info sometimes), but we've all seen the folks that take it too far!
Shout out to the musky anglers who put in the time on the water to master their craft and prioritize the fish before the #content 💪
---
This Week's Mashup:
Mashup time!
#1 – Man overboard, but the musky is in the net. Whatcha guys thing? Is this is a successful net job?? 😉  (video via Rustic Duo)
#2 – Anyone else catchin' them on surface baits this summer?
Check out these beauty topper options, from left to right: Dr. Evil (Lime Loon), Cannonball Jr. (Green Toxic), and Fat Bastard (Arctic Loon)
#3 – Props to John Vogeler on getting this boatside sequence on film – congrats on the successful capture. 👍 Several intense moments, including a solo net job that almost went south.
#4 – Cool artsy snap from @aidanc_fishing:
---
QUICK HITTERS:
– 2023 Frank Schneider Tournament happenin' Sept. 8-10 (link)
– Rippin' rubber for muskies w/ Todays Angler (video)
– Brian Schaeffer on the Road Rules Podcast (video)
– Boatside rubber strike w/ Smith's Fishing (video)
– Musky catchin' action on Eagle Lake w/ 54 or bust (video)
– LOTW muskies on Beaver Baits w/ Cabbage Dragon Media (video)
– Underwater trolling strike on Aqua Vu camera (video)
---
---
THIS WEEK'S

 MONSTER MUSKIES:
Awesome 50-inch Ohio 'skie from musky guide and all-around good guy Chad Harmon (one of our PRO instructors). He caught this big, clean southern beast casting.
This big gal engulfed Alex McLean's lemontail Pounder at the side of the boat during a successful solo outing 🔥
I guess the apple doesn't fall from the tree! Great fish from Jeff Andersen's son Gavin on Lake of the Woods:
Wanna be featured in Musky Insider? Send in your recent trophy musky photos by replying to this email. You might just see your pic in next week's newsletter. 🤙
---
---
Want to see more from Musky Insider? Make sure to follow us on Facebook and Instagram for bonus content throughout the week!
Send all business inquiries to josh@muskyinsider.com
---