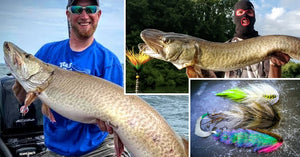 Fly Fishing Musky Tips – Insane Tourney Results – Trolling Advice
Be the FIRST to see Musky Insider every week by signing up for the email version of this newsletter. It's 100% free and we will never sell your email address! Click here to sign up and never miss another issue.
---
---
Musky Fly Fishing 101
Seems like we're seeing more and more folks fly fishing for muskies these days.
If you've never tried it and want to give it a shot, keep reading! We reached out to MN guide Luke Swanson to get a quick 101 on how you should gear up for a day of slinging flies for 'skies.
He shared some great advice if you want to add the fly rod to your arsenal, but don't know where to start.
Let's start with the ideal rod/reel setup:
"The preferred rod and reel setup will depend on the size of the flies you are throwing. Fly rods use a weight (wt) system from 1-15 wt. The higher the weight, the stiffer the rod. Most musky fly rods fall into the 11-14 wt range depending on what you are throwing."
"If you want to use flies in the 6-10 inch range, I'd suggest the Sage Payload 11+. If you're looking to throw bigger flies in the 10-18" range, the Thorne Bro's Musky Fly Rod is the one to go with. Musky reels are super simple. Most of the time you don't use the reel to fight the fish. A Sage Spectrum C reel is a good one to use."
What about line & leaders?
"Fly lines are gauged in grain weights. On both of the rods I recommended, I like to run a 500 grain line. The construction of your flies will determine whether you want to use floating or sinking line. If you are running topwater or a fly with a lot of synthetic materials, you'll want to use floating line. Most of the lines I run are sinking lines, which help me get buoyant flies down deeper in the water.
"The best leader combination I've found is starting with a perfect loop at the end of the fly line, follow by 4 feet of 60 pound fluorocarbon, and a double uni knot to 15 inches of 65 pound 7x7 wire. Use a figure 8 knot to add a #5 Stay-Lok snap to the end. This combination will last a few fish and give you the ability to change flies quickly when there's a hot fish ready to bite."
Now, what about the flies themselves?
"For flies I like building articulated flies in the 12-18" range out deer hair, feathers, flash, and a few different synthetic materials. Building flies with a large profile that push a lot of water is key. The Pig Sticker is a perfect example of a fly that has a big profile, glides side-to-side, and is simple to tie."
Here's a quick video of Luke demonstrating how to tie a Pig Sticker:
It's tough to cover EVERYTHING you need to know to fly fish for muskies in one newsletter, but this should get you started on the gear side of things.
Special thanks to Luke Swanson on sharing the info with us! 👍
---
Spirit/Okoboji Throwdown
Iowa definitely didn't disappoint this weekend!
Spirit & Okoboji kicked out a TON of muskies for the PMTT field – here's a look at the results from the Top 10:
Congrats to a couple Iowans, Shane Akin and Matt Ahrenholtz, on taking home gold with ELEVEN muskies, a new PMTT record! 👀
Their $$ spot was a transition area between a weed line and an adjacent flat. Shane (a local guide) said it's a killer perch fishing spot, too, which is why it was loaded up with so much bait this weekend.
Their go-to presentation was slowly pulling and pausing dive-and-rise jerkbaits over the weeds. Once the bait hit the tops of the weeds, they would let it float back towards the surface – that's when the strikes came.
Every fish was caught out away from the boat, no figure 8's. And they landed 100% of the fish they hooked. The musky gods were definitely in their corner this event!
There were plenty of small fish caught, but a few better ones hit the deck, too. Big fish of the tournament was 48.5 inches, but there were a few 50 inchers caught in practice, including this one from Matt Raley:
Looks like they had a good event down in corn country! 😉
---
Trolling Leaders
Believe it or not, September is already here and summer is gone like the wind.....
Temperatures are free-falling and the fall trolling bite is just around the corner. Now's the time to make sure you're stocked up with all the right trolling lures, leaders, rod holders, etc.
It's more fun to talk about fancy, custom colored crankbaits or $100 high-end rod holders, but don't forget about rigging up with the right leaders!
Here's what WI guide Kevin Pischke uses for fall trolling:
Here's a quick summary of Kevin's top picks from the video:
 200lb Fluorocarbon  – The 200lb fluorocarbon leaders are heavy-duty and abrasion resistant, perfect for trollin' extra-erratic, plus-sized cranks like the Headlocks and Mattlocks in Kevin's opinion.
 90lb Coated Wire  – He'll use the 90lb coated wire leaders for mid-sized crankbaits like the Lungen 22 Long. They works great for fishing around rocks and won't dampen the action of the smaller bait thanks to a more flexible material.
 130lb Fluorocarbon  – Kevin will go with 130lb fluorocarbon when he's fishing larger Slammers and other 10-12 inch baits in areas are void of rocks and other cover elements that might damage your leader.
 KP Weighted Trolling Leader  – When he's fishing around weeds, he'll bust out the KP Weighted Trolling Leader for a few reason:
It catches weeds on the front weight before they can get back to the bait.

The weight will occasionally get caught up on the bottom, which will momentarily pause the bait, giving it an occasional fish-triggering rip.

You can fish deeper with less line out.
Thanks to Kevin for the solid info.
Like we said before, now's a great time to stock up on trolling leaders before everyone else decides to send in their orders over the next week or so....
---
Masks....
For some reason, 2020 is the year we're arguing about....masks??
Anyway, I'd betcha they don't let Nick Pouliot into Walmart with this one. 😂
Speaking of masks, check out these sweet musky-themed options we founds floating around on the interwebz.
Here's a few of our favorites:
Seems like you can find just about anything on the internet these days.... 
---
QUICK HITTERS:
– 52 incher in Minnesota w/ Fishcamp (video)
– Trolling Green Bay w/ Bret Alexander on Midwest Outdoors (video)
– Water & Woods crew on Leech Lake, MN (video)
– 3 fish day on LSC w/ BigMuskyDreams (video)
– 53 x 25" caught trolling (video)
– Pennsylvania musky stocking update (podcast)
– Sweet clip (link) from Beaver's Bait we had to share....
---

---
THIS WEEK'S

 MONSTER MUSKIES:
Props to Kyle Hunsader on boating this extra-thick 53 x 25" leviathan, fishin' the big fish capital of Wisconsin. #TheBay
This 52.75 inch Vermilion tanker crushed Keith Worrall's spinnerbait a few feet from the boat and barely edged out his PB 'skie by a quarter inch. Congrats, man!
Ethan Stout won't show us where he caught this 53.5 inch monster of a musky, but he was kind enough to let us know he stung her on an 8/9 Stagger bucktail!
He didn't tell us which color though.... 😉
Check out the belly on this portly 55.5" Mille Lacs Lake mega monster from Kevin Walsh. She was hungry enough to drill a Blue Water crankbait on the troll despite lookin' well ahead of schedule for the fall fattening period!
Wanna be featured on Musky Insider? Send in your recent trophy musky photos by replying to this email. You might just see your pic in next week's newsletter. 🤙
---
---
Want to see more from Musky Insider? Make sure to follow us on Facebook and Instagram for bonus content throughout the week!
Send all business inquiries to josh@muskyinsider.com
---