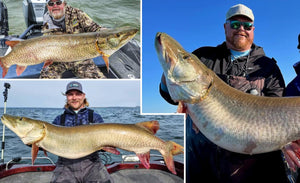 Gargantuan Musky Caught – Halloween Starter Kits – Souped-Up Musky
Be the FIRST to see Musky Insider every week by signing up for the email version of this newsletter. It's 100% free and we will never sell your email address! Click here to sign up and never miss another issue.
---
---
BIG Buffalo Sighting
And the award for the best musky photo of the year (so far) goes to.....
Hans Mann with this absolutely gargantuan Buffalo Harbor brute:
Maybe the coolest part about this catch is the fact that Hans was actually targeting muskies (trolling with his guide clients Josh Ketry and Dan King).
It seems like the majority of the super-giants that come out of systems like Lake Erie are incidental catches during walleye charter trips.
We reached out to Hans and got some deets on the catch:
1. This fish was caught during a unique "window" of time when water levels were high on the east side of the lake, thanks to consistent west winds for several days.
2. Schools of shad from the main lake were congregated near the harbor walls, setting up perfectly for pullin' crankbaits.
Here's a look at the hand-carved 9" Carver lure that got the job done:
3. He was running the bait 17-18 feet down over 26 feet of water with 42 feet of line out. They were going 3.8 mph which is quite a bit faster than most of the harbor trollers are typically running.
4. He found it funny/ironic that he caught this mega-monster in the Buffalo Harbor because he spends a bunch of time fishing/guiding the St. Lawrence River searching for a giant fish like this.
Kind of reminds me of dudes who spend months on Mille Lacs or Green Bay looking to catch 'THE ONE'.... then end up catching a giant on a totally different lake when they least expect it.
Amazing fish, big props to Hans on being the guy to get her in the boat! Well deserved 💪
---
Halloween Costumes
In the spirit of Halloween, we decided to have some fun with the meme editor….
There's a few controversial versions of this "costume meme" floating around social media, but instead of sharing those, we decided to make a few of our own that probably won't hurt anyone's feelings 😉
Let's kick things off with a little self-deprecation!
(PSA: Tail-holding muskies is NOT advised 😂)
Next up, we gotta give our fly fishin' buddies a little jab:
Okay, one more!
You can dress up as one of the bass/walleye guys who have their boats in storage before Halloween 😉 Sorry guys (kinda!)
---
Can't Stop, Won't Stop!
Do you remember the video of the extra-extra hungry musky (from Seth DeVos) we shared a few weeks back?
Here's a link if you need a refresher:
Well, he sent us another video with an equally saucy musky!
This time, we chopped it into a couple GIFs 👇
Here's the first strike:
After the bucktail ripped outta her mouth, she came back with a serious vengeance – here's the second eat:
Gotta love the 'skies that are hungrier than a six year old 60 minutes after dinnertime (if you know, you know 😂) Seth knows where they live!
---
This Week's Mashup:
Mashup time!
#1 – Check out this sweet antique store find shared by Patrick Donovan (said his brother found it). Why do we never find cool stuff like this when we get dragged into those weird second-hand stores??
#2 – This sexy Bull Dawg pattern was originally supposed to be a custom pro-staff order, but they decided to make a few extra. Grab 'em before they're gone!
#3 – Another DIY bucket storage system, but I really like how Cam Stewart utilized the often-wasted center area:
#4 – Really, REALLY cool split-level shot by the folks at Chaos Tackle:
---
QUICK HITTERS:
– October musky fishing w/ Todays Angler (video)
– New Jeff Hanson Bull Dawg Rods (link)
– Fall location & livebait tactics w/ 54 or bust (video)
– Austin Wiggerman on the Back Lash Podcast (link)
– Full moon musky chasin' w/ Cast & Conquer (video)
– LSC color breakdown w/ Hoyer and Spencer (video)
---
---
THIS WEEK'S

 MONSTER MUSKIES:
Tis the season for GIANT muskies to show their pretty little faces! This northern MN bruiser from Darian Rubner helped anchor the winning "bag" at this year's Musky Battle with his partner Jace Loge. That belly.... 😍
Bob Parteka popped this stupidly thick Green Bay monster during the Titletown Muskies, Inc. Fall Outing.
VERY impressive 54.5 inch Metro musky from Bryan Rause. Congrats dude!
Wanna be featured in Musky Insider? Send in your recent trophy musky photos by replying to this email. You might just see your pic in next week's newsletter. 🤙
---
---
Want to see more from Musky Insider? Make sure to follow us on Facebook and Instagram for bonus content throughout the week!
Send all business inquiries to josh@muskyinsider.com
---