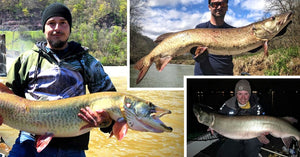 GIANT caught – Strange musky behavior – Best action photo ever?
Be the FIRST to see Musky Insider every week by signing up for the email version of this newsletter. It's 100% free and we will never sell your email address! Click here to sign up and never miss another issue.
---
---
West Virginia GOLD
Let's kick this newsletter off with a TRUE monster musky....
....like this aggressively large WV beast from Michael Gill:
Bustin' the 50-inch mark by a good half inch, this is a seriously impressive 'skie for that part of the country.
Prop to Michael on the new PB!
---
The Best Fighters?
Are muskies the best pound-for-pound fighters in the lake? Probably not.
That throne might belong to smallmouth, possibly bluegills. In our opinion, it doesn't matter a dang bit!
Just because Mike Tyson fought heavyweight doesn't mean he's not the last person in the world I'd want to jump in the ring with!
I know....this topic is extremely random, but I got all fired up after reading this quote from an article comparing/rating a few popular freshwater fish species:
"Sorry muskie fans, but I downplay their rating due to limited availability and the fact that their fight doesn't match their aggressive look."
Not sure if the author's ever tangled with a big musky, but I can promise the fight will get you all jacked up in all the right ways!
Can't remember the last time a bluegill kicked a mouthful of water at me like this big 'skie from guide Luke Swanson:
Smallies go airborne all the time, but your heart never skips a beat the way it does when a big musky tries to throw your bait next to the boat.
BTW, this shot from Fish'n Canada is one of the best slo-mo's we've seen in a while:
We've got nothing against other species, but nothing makes a grown man/woman shake like the experience of battling the ultimate freshwater predator.
---
Figure-Eightin' No-No
This is a super quick, but super important tip from Josh Borovsky on figure-eighting:
One mistake you'll see ALL THE TIME, especially with newish musky angler is "leash lengths" that are wayyy too long.
Use shorter leaders and reel 'em up close to the rod tip for the biggest possible turns on the 8 – Josh explains more in the video.
This is 1 of 20 critical tips he'll be sharing in his virtual "Figure-8 Wizardy" class starting this weekend.
You can CLICK HERE or more details on the class – it's gonna be a full-blown masterclass!
---
Kinda Strange
Everyone has seen muskies swimmin' on the surface after a being stressed out post-release – it happens, but this clip sent in from Gordon S. is a little bit different:
This central NY tiger looks completely healthy, yet Gordon said it was swimmin' like this for TWENTY minutes.
This isn't the first time we've seen 'skies do this – it's not terribly uncommon – but cruisin' on the surface like this for 20 minutes is pretty rare. At least from what we've seen....
Does anyone know why they do this?
---
QUICK HITTERS:
– Tips for muskies through the ice + some catches (video)
– Hour long Q&A with Pete Maina (video)
– Rippin' Rubber on Green Bay w/ Burnin' Eights (video)
– 2020 ICAST will be "virtual" (link)
– Breaking down maps, scouting musky water (video)
– Musky trolling tips w/ Slime Quest TV (video)
– 48.5-incher at boatside w/ Angling Anarchy (video)
– Cold front hardbait musky w/ Joe Bucher (video)
– 49.75-incher on the figure 8 (video)
---

---
THIS WEEK'S

 MONSTER MUSKIES:
Not a bad way to start the 2020 musky season – Sam Stone caught a pair of Illinois bruisers tossin' Wolf Twitch 10's after dark.
Congrats to Jarod Kiggans on bustin' this not-so-clean Ohio creek-runner. 
---
---
Want to see more from Musky Insider? Make sure to follow us on Facebook and Instagram for bonus content throughout the week!
Send all business inquiries to josh@muskyinsider.com
---