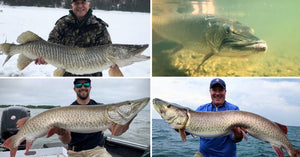 Giant Tiger Iced – Super Impressive Musky ''Replica'' – A+ Airborne Jumpers
Be the FIRST to see Musky Insider every week by signing up for the email version of this newsletter. It's 100% free and we will never sell your email address! Click here to sign up and never miss another issue.
---
---
Preppers: LOTW Edition
Was watchin' Doug Wegner's last camping/musky fishing video when this impressive spread of red tanks popped up on the screen:
It's crazy how much gas you can burn through while spot-hoppin' on Lake of the Woods. There are so many juicy spots to hit and it seems like the best way to encounter a bunch of hungry muskies is to cover as much water as possible.
Every lake fishes differently, but it definitely seems like run-and-gun is the way to go when you're on lakes with seemingly infinite miles of fishable water.
Lots of moving around and driving = lots of extra gas required for a two-day camping trip....
Or maybe we're reading the situation wrong and Dougie was just stocking up on gasoline before the big price spike 😂
If you're a full-time guide who has their expenses super dialed in, please reply to this email and let us know how much $$$ you're going to lose if we end up with $4.00+ gas prices this summer.
Tough deal for everybody, anglers included.....
---
Musky TV Show
TV shows aren't what they used to be, but there's still some solid musky stuff on the tube.... and one of our favorites is the musky segments on the Angling Edge.
It's always weird seeing videos titled "Late Summer Muskies" in March (one of the reasons why TV shows are weird), but it's still fun to watch when you're stuck inside, impatiently waiting for winter to wrap up!
The episode had some solid info, but the best part was the A+ action shots:
This is one of the better airborne thrashing tantrums we've seen in quite a while....
Anyone else sick of winter yet??? 😅
---
Woody the Musky
When I first looked at this replica from Rachel Lubarski, I thought to myself:
"I wonder why they made that musky so bumpy.... 😂"
I feel silly now that I know the REAL reason! haha
In reality, this is one of the most impressive replicas you will EVER see, because it's constructed completely of driftwood. #MindBlown🤯
(Not a standard wood carving.... literally pieces of driftwood put together)
Here's a few more angles:
Very cool and unique concept 🔥
---
This Week's Mashup:
Mashup time!
#1 – Really diggin' this underwater musky release shot from Sam Scott:
#2 – Funny headline if you're a fisherman.... My 💰 is on the big toothy 'skies 😂
#3 – Love seeing old throwbacks like this vintage lookin' guide service brochure from Pete's Musky "Mania" 😉
#4 – Killer "white charcoal" drawing from @visually.art.fishing
---
QUICK HITTERS:
– Talkin' Eagle Lake musky fishin' w/ Herbie & Todays Angler (video)
– Finding new musky water w/ Keyes Outdoors (video)
– "Welcome to the 50 Club" w/ Fishcamp (video)
– LOTW figure-8 hookup w/ MHTV (video)
– 2022 MN Youth Tournament Trail info (link)
– Tips for filming musky fishing w/ Angling Anarchy (video)
---
---
THIS WEEK'S

 MONSTER MUSKIES:
This massive 54+ inch bucktail-muncher couldn't resist the Musky Mayhem 10-9. Killer fish outta Spencer Berman's boat!
Gorgeous Leech Lake musky caught by Richard at last year's MN Musky School (hosted by Agency Bay Lodge).
Btw, deets are out for 2022's school – you can click here to get more info 👍
Congrats to Daniel Salter on stumbling into this insane Pennsylvania barred beauty that measured 45.5 inches long! #sheesh
Wanna be featured in Musky Insider? Send in your recent trophy musky photos by replying to this email. You might just see your pic in next week's newsletter. 🤙
---
---
Want to see more from Musky Insider? Make sure to follow us on Facebook and Instagram for bonus content throughout the week!
Send all business inquiries to josh@muskyinsider.com
---