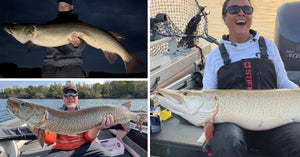 Herbie Sucker Tips – Crazy Surface Strike – Tourney Winning Bait
Be the FIRST to see Musky Insider every week by signing up for the email version of this newsletter. It's 100% free and we will never sell your email address! Click here to sign up and never miss another issue.
---
---
Meat Tips w/ Herbie
For many folks, fall musky fishing = sucker draggin' season!
With that in mind, here are some A+ livebait thoughts and tips from sucker fishin' guru Steve Herbeck:
#1 – On how long you should wait to set the hook:
"They call it a 'quick set' rig for a reason. The hookset should occur within 30-45 seconds, no more if possible – just enough time to see which direction the fish is moving and get in position. The smaller the bait, the quicker this needs to occur. Baits that are over 13-14 inches generally get carried sideways longer than baits 12 inches and under. Anytime you see a sucker's head inside the mouth of a musky or pike, it means you waited too long.
"The longer you allow the musky to hold onto the bait, the more things could go wrong. Your chances of gullet hooking the fish increases, and points/barbs can also get twisted and buried in the bait on the hookset due to jaw pressures and repositioning of the bait inside the musky's mouth, etc."
#2 – On his go-to "tough bite" sucker harness setup:
"When you start getting too many 'lookers' that won't bite, it's because the fish are shy and your harness isn't right. In these situations, I go with 60 pound 7-strand wire and black 2/0 or 3/0 hooks depending on the size of the sucker. I inspect my rigs after several fish and have never lost one due to broken leaders. The only time I'll use a heavier rig is when I feel like I can get away with it."
#3 – On sucker release systems:
"The type of release system is irrelevant as long as the sucker breaks free on the hookset. However, rubber bands, and to some extent clips, are better suited for aggressive presentations, whereas the smaller nose hooks are fine for passive presentations like bobbers or vertical below the boat where there's little-to-no contact with weeds, rocks, etc.
"When I'm fishing clear water, bright sunny days, lakes or spots with lots of livebait pressure, I like to go with more 'aggressive' presentations. That might be long-lining away from the boat within a couple feet of a weed edge or inches from a rocky bottom where I might need to occasionally clear a hangup. In these situations, black rubber bands will outperform anything else in the long run.
"If you're fishing darker water or fisheries with little pressure and more aggressive fish, you can get away with passive presentations and just about any release system, as long as the bait breaks free."
Hopefully, this helps you put a few more muskies in the boat before freeze-up!
---
Twin Cities Tourney Recap
Big props to Grant Jerich on besting 159 other anglers during the George Wahl Memorial Tournament with a pair of Minnetonka 'skies:
Grant was one of few folks to register ANY fish in the event, and he was the only guy with TWO fish: a 48 incher (top) and a 41 incher (bottom).
Both fell for "The One" bucktail. 🔥
Here's a look at the final standings:
Notice that key morning bite window?? 👀
Btw, another cool tidbit... Grant actually won the Metro Muskie Tournament earlier this spring, another big Twin Cities event that had 389 participants. He has the RED HOT hand this year!
👇 (From the Metro Muskie event on June 10th)
---
Wild Surface Strike
One of the coolest boatside "Musky Attacks" we've seen this year – check it out:
Eric Haataja was taking a few kids on a walleye trip when a hungry 'skie did it's best Free Willy impression, leaping outta the water to smack a 19-inch walleye that was sitting on the surface.
And Eric was this close to pulling off the net-job after the surprise strike:
Looked like an exciting encounter – you can click here to watch the full video.
---
This Week's Mashup:
Mashup time!
#1 – Really sweet sketch from angler/artist Jake Keeler:
#2 – How cool is this driftwood piece from Georgian Bay Driftwood Art??
#3 – More proof that pike are ridiculous.... Check out this screen-grab from Jonas Lundqvist's cell phone video. Three stinkin' hammer-handles on one cast:
#4 – Some more pike mischief (via @sylfishalot). Not a musky, but almost another bout of pike-on-pike violence! #humpback
---
QUICK HITTERS:
– Northern WI musky chasin' w/ Todays Angler (video)
– Musky league fishing action w/ Smith's Fishing (video)
– PMTT Winners & TOTY on Musky Road Rules (video)
– Early fall southern WI sucker fishing w/ AA (video)
– More Mille Lacs fishing w/ Matt Vavroch (video)
– "The Musky Struggle" w/ John Gillespie (video)
---
---
THIS WEEK'S

 MONSTER MUSKIES:
Props to Jeff Hunter on putting this super impressive nighttime bruiser in the net – she went just a hair under 54 inches:
Awesome Great Lakes 'skie for @shazanaamandafishing, out with guide (and Insider PRO instructor) Brian Klein. Heckuva fish!
Beautiful markings on this north-of-the-border 50.5-incher caught by Jerome Jallen on a Spanky bucktail. He was fishin' with guide Jean Laprise 💪
Wanna be featured in Musky Insider? Send in your recent trophy musky photos by replying to this email. You might just see your pic in next week's newsletter. 🤙
---
---
Want to see more from Musky Insider? Make sure to follow us on Facebook and Instagram for bonus content throughout the week!
Send all business inquiries to josh@muskyinsider.com
---