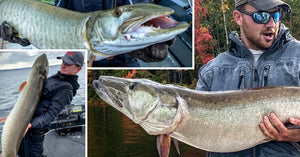 How the PMTT Champs won – 100+ year old skull – Livebait storage ''hacks''
Be the FIRST to see Musky Insider every week by signing up for the email version of this newsletter. It's 100% free and we will never sell your email address! Click here to sign up and never miss another issue.
---
---
PMTT World Championship Results
The dynamic duo does it again!
Congrats to Matt Raley and Nate Osfar on winning the PMTT World Championship with eight Cave Run 'skies, beating out 2nd place Kevin Nash and Jarod Donar by 58 points and three fish:
They caught 'em throwing natural-colored jerkbaits anywhere they could find "weed walls" instead of scattered clumps.
Here's how they were workin' their baits:
"We were throwing it up to the weed edge, letting it fall into the weeds just a little bit, then popping it up a couple times to make some weed contact, then letting it drop down the break. It seemed like the fish either hit when the bait hit the water or on the second pump as you were working it down the break. They were sitting right on the wall."
#Dialed
We talk all the time about the importance of being quick and efficient during red-hot feeding windows, especially this time of year.
Matt and Nate took advantage of some key bite windows during this event with some back-to-back catches. That's how they were able to pile up the points and ultimately take home the cheese. Here's their take on the topic:
"The best spot to catch fish is the spot you just caught one. The less celebrating you do and the faster you get your bait back in the water, the better your odds are of catching another one. It seems as pressure has increased in musky fishing, those windows have become more evident. It used to be even in Wisconsin we'd get bites throughout the day, and now you might get the same amount of bites, but there's a window in the morning, then there's nothing, and then a window in the evening. Earlier in the year, there might be a mid-day window, but there's real definite windows."
Here's a quick look at the top 5 finishers (click here to see full fish list):
Also wanna give a big shoutout to Rick and Sarah Hoover taking home 2020 Top Gun honors (team of the year) with 589 points. 💪
Another tourney season is in the books – props to PMTT for pulling it off during this COVID deal.
---
"Misfit" Muskies.....
Enough tournament talk.... Now it's time to visit the island of "misfit" muskies!
First up, we've got a Green Bay snubber sent in from guide Doug Wegner. You'll notice the GB trollers don't try to hide their go-to colors in photos. 🤔 #firetiger
Another Green Bay snub-noggin'  – this one from guide Bret Alexander. There must be something in the water over there, man! #gottabethecheese
Seems like we see quite a few snub-faced tiger muskies, too. Not sure why, but here's a really nice one from Brad Richardson.
If you have pics of any snubby muskies, make sure to send 'em our way so we can share them in the newsletter!
---
Some Serious Chompers!
There's NO snub on this insane set of gator chompers:
Apparently, this is the head of a 152 cm (60 inch) pike that was caught in France wayyyy back in 1912.
Not a musky, but thought you might enjoy the shot....
---
Sucker Storage "Hack"
....for dudes without a wife or girlfriend!
Saw this bathtub tank while watchin' random musky videos on YT:
Beats chiseling your suckers out of an iced-up rubber tub outside your garage, right??? You don't have to answer that.... 😂
Makes ya wonder if he's got chubs in the sink for some fall walleye jiggin', too!
---
QUICK HITTERS:
– Cancelled: Ohio Musky Show & Southern Musky Fest (link)
– Best Handling Practices for Musky Survival (link)
– TacticalBassin' catches TN muskies in a kayak (video)
– Part two of 10 v 1 series w/ Burnin' Eights (video)
– Spankin' muskies in the rain w/ Todays Angler (video)
– Tips for catching big northern pike w/ Dr. Pyzer (link)
---

---
THIS WEEK'S

 MONSTER MUSKIES:
Thomas Lyon cracked four muskies on a fishin' trip to Minnesota, including this 53 x 24 incher – his new PB!
Before winter invaded the northland, Nick Watkins boated this insane 54.25 x 25.75 inch beast of a musky. Love the quote from his IG post:
"Money can't buy happiness. Monster musky can."
Truer words have never been spoken!
David Dykowski fought miserable conditions – snow and freezing rain – but was rewarded handsomely with a pair of Upper Peninsula green-backed fatties:
"Snow was flying, sometimes almost to a whiteout, causing the lake to slush over making casting difficult and seeing follows impossible. There were a couple times during the freezing rain periods I started to get cold and considered packing it up and leaving."
Good thing he didn't throw in the towel early....
Check out the sumo-sized belly on this 52.5 inch Lake St. Clair monster musky from Tyler Guck. Bonus points for catching it during a tourney, too!
Wanna be featured on Musky Insider? Send in your recent trophy musky photos by replying to this email. You might just see your pic in next week's newsletter. 🤙
---
---
Want to see more from Musky Insider? Make sure to follow us on Facebook and Instagram for bonus content throughout the week!
Send all business inquiries to josh@muskyinsider.com
---