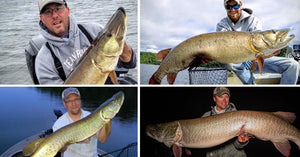 How the pros are fishin' on Northern WI Opener! (plus some big fish pics)
Be the FIRST to see Musky Insider every week by signing up for the email version of this newsletter. It's 100% free and we will never sell your email address! Click here to sign up and never miss another issue.
---
---
Northern Wisconsin Musky Opener
The LOOOONG off-season is over for all you northern WI musky commandos!
If you're preppin' for opener this weekend, we've got some goodies for you in this week's newsletter! We reached out to some killer northern WI musky guides, and they've gotcha covered from the western border waters all the way to Green Bay and everywhere in-between.
One thing is fairly similar for each of the reports: Water temps
Despite an early ice-out on most lakes, water temps have stayed fairly cool. It was mostly low 50's earlier this week, but things have been warming up. Most lakes will be in the mid-to-upper 50's or possibly sneaking into the 60's by opener.
Buckle up – the northern Wisconsin musky opener tips are coming in hot!
---
Hayward Area w/ Steve Genson
Let's kick things off with guide Steve Genson who's over in the Hayward area.
Here's how he's tackling the 'skies based on the current conditions:
"I think we are going to have a slow start with many muskies still spawning or just finishing. I would target smaller lakes and flowages. I would also recommend fishing darker stained water as opposed to the clear lakes. I will be focusing my efforts on shallow water, wherever I can find the warmest water temps."
Lookin' for the "warmest water" is a trend you'll see come up a few times today. Here's the baits he'll have on the deck:
"For tactics, I expect glide baits and twitch baits to be the best choices right out of the gate, but small bucktails will probably get some play time, too."
As a general rule of thumb, the bucktail bite will get better and better as the water temps rise, so keep an eye on your graph this weekend!
If you want more info on fishing gliders, check out the Glide Bait Muskies 101 article we did with Steve this past summer.
---
North Central Wisconsin w/ JVR
Next up, we've got guide Jeff Van Remortal in north central WI.
First, some quick thoughts from Jeff on the spawn:
"Anglers can expect to find a large number of lakes where the muskies are still in or just finishing up the spawn. Most fish in shallow, stained systems are post spawn. Some have even been done for a week or more."
Now where to look:
"You will find muskies in and around the usual early season haunts such as shallow weedy bays and spawning locations. Weed growth on most lakes of any appreciable size or depth is lagging, although this week's warmth and sunshine will help tremendously. On the deepest clearest lakes, look for muskies hanging deeper in adjacent waters to these locations or possibly moving up to catch midday sun and boost their metabolism."
Here's what JVR will be throwin' on Saturday:
"Bait choices should include the standard small bucktails such as Mepps marabou, Pandemonium Tackle #7 Marvin's, Double Show Girls, and other comparable size blades. Five-to-seven inch jerkbaits such as Pandemonium Tackle SRJs, Big Game, Shallow Raider and Custom X are all great choices and small-to-medium sized glide baits such as Phantoms will be a staple.
"Do not overlook the topwater option on lakes where fish are post spawn, especially if clouds and rain are in the forecast. Medium and large rubber offerings can also be a good choice on these waters especially if conditions are prime."
That wraps things up for the central part of the state. Now we're going to look at some of the border waters on either side of Wisconsin.
---
Green Bay w/ Doug Wegner
The Bay will be a popular destination for WI musky anglers this weekend lookin' to for a chance at a Great Lakes leviathan.
Guide Doug Wegner sent us a video report for this weekend with some good tips and a few bait recommendations:
With river temps in the mid 50's, there should be some prespawn and spawning fish yet. Here's Doug's lineup for Saturday:
He'll start the day tossing the new 8/8 Stagger, but he'll have a TopRaider, a Squirrely Hell Hound glide bait, and a firetiger Regular Swimmin' Dawg ready to rock, too.
Now let's head all the way to the other side of the state....
---
St. Louis River w/ Dustin Carlson
Some WI/MN border waters like the St. Louis River and the St. Croix will be opening up for muskies this weekend, too.
Here's a quick forecast from Dustin Carlson who's been guiding 'skies on the St. Louis for 15 years:
"Spring is one of my favorite times for muskies on the St. Louis River. Many big muskies are still in the river and are catchable before they head to Lake Superior.
"I would recommend fishing up shallow and looking for the warmest water in addition to baitfish. You might find a 10 degree difference between the harbor area and musky spots up-river. One of the best places to find warm water this time of year is in the back bays with current flowing out of them."
So once again, we're searchin' for warmer water. What about presentation?
"I always have the 3 people in my boat throwing different lures. The first person is throwing a bucktail, the second person is throwing a Beaver bait, and the third person a topwater.
"One of my all time favorite spring musky lures is the Beaver – it produced a 3-fish day for us a few openers back. The St. Louis River has dark, stained water and I like to use bright colors like chartreuse, orange, pink and white."
And that wraps things up for the northern Wisconsin musky opener forecast from west to east. Now all that's left to do is sharpen your hooks, get out there, and catch some fish!
---
QUICK HITTERS:
– More 2020 Northern WI Musky Opener Tips (video)
– Larry Ramsell interview w/ Ugly Pike Podcast (link)
– Some tips from Luke Ronnestrand (video)
– New Daiwa Lexa-WN reels (link)
– Underwater trolling montage w/ Master Crow (video)
– Solid kayak musky catches (video)
⚠️MINNESOTA FOLKS – Due to the COVID-19 virus, the MN DNR did not collect eggs this year and will not be raising a new crop of musky fingerlings. However, there's still a way you can help ensure some muskies get stocked this year whether it's by making a donation (click the yellow "Donate" button) or spreading the word (share this post).
---
THIS WEEK'S 
LUNAR TIMES:
(Times based on Minneapolis)
---

---
THIS WEEK'S

 MONSTER MUSKIES:
Since we don't have any northern WI photos to share (yet!), let's open this "Monster Muskies" section with a Washington State bruiser from Sterling Fiske on Silver Lake:
This jumbo-sized 'skie from Nicholas Colangelo in Pennsylvania has a belly like your uncle after Thanksgiving dinner!
Let's wrap things up with this awesome bronzeback musky from Taylor St. Clair in Virginia – long, clean and mean!
Wanna be featured on Musky Insider? Send in your recent trophy musky photos by replying to this email. You might just see your pic in next week's newsletter. 🤙
---
---
Want to see more from Musky Insider? Make sure to follow us on Facebook and Instagram for bonus content throughout the week!
Send all business inquiries to josh@muskyinsider.com
---