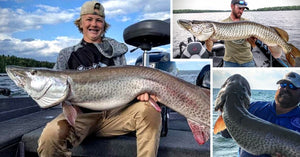 How to Fish Rubber Shallow – Night Fishing Tips – New Musky Science
Be the FIRST to see Musky Insider every week by signing up for the email version of this newsletter. It's 100% free and we will never sell your email address! Click here to sign up and never miss another issue.
---
---
Dawgin' Up Shallow
Most folks think of Bull Dawgs as deepwater baits, but if you're willing to put in the work, you can fish 'em shallow, too.
Badgers state fishing dude Tom Boley recently shot a video catching a number of solid 'skies, including this beautiful WI tiger musky:
His primary tactic was fishin' Regular Bull Dawgs over shallow cover, working it aggressively to avoid snagging up.
Here's how he works the bait during the first half of the retrieve, ripping it over rocks and weeds:
Once the bait reaches the drop off, he'll switch to the standard pull-pause strategy:
Tom also likes to mix in a quick double-pop right in the middle of his retrieve and right before he starts his boatside figure 8:
Just a little something that might trigger a strike before the fish gets to the boat.
Also worth noting, you'll want to make sure you have a long rod (9+ feet) and a high-speed reel to help keep the fast falling bait high in the water column.
Definitely worth a try if you haven't already.... anytime you can put a bait somewhere muskies aren't used to see it, you're upping your odds of getting bit. 👍
---
Nighttime Eights
We just had a New Moon this week – and let me tell ya, this can be a STELLAR time for some red hot nighttime musky action!
We've caught a lot of muskies on the plus-sized Stagger bucktails like the 10/10 and 10/12 in times like these. Often times, more vibration = more bites when visibility is low.
It seems like the darker the night, the more likely the bite will come at the side of the boat on the figure 8, too. Not sure why exactly. Maybe it takes the fish longer to zero-in on the bait in the dark?
Regardless, boatside eats are common during the extra-dark New Moon nights.
The most common issue we see, especially with anglers new to night fishing, is getting a nice short leash on the figure-8 without accidentally reeling the leader into the rod tip.
Remember, the shorter the leash, the wider the turns you'll make on the 8.
Here's a few tips from guide Josh Borovsky that should put this problem to bed:
(Yes, the pun was intended)
1. Adjusting Your Rod Angle – "While I usually like to keep my rod tip low while retrieving bucktails and many other baits, I'll raise it up closer to waist-level when it gets too dark to see. Why? It's easier to feel the angle of the line as you pull the bait back to the boat.
"Once you feel the line angle starting to become more vertical, you'll know the bait is getting close to the boat. If you're new to night fishing, you'll want to do some practicing before it gets pitch black. I also want to stress that you shouldn't raise your rod tip so high that it negatively impacts your hook set."
2. Add a Glow Bead – "Additionally, you could also try threading a glow bead onto your line, just above your leader. This gives you a visual indicator that helps you avoid reeling the leader too far. There's two drawbacks to this approach:
"First, it can be a pain if the bead is small enough to fit through the guides on your rod. This will lead to wasted time unthreading it back through the guides, and it can also cause backlashes if you fail to notice it slipped into the guides. If you upsize your bead to avoid this problem, you'll often times start to collect weeds and other debris in front of your leader."
3. Using a Specialize Leader – "If you want the visual indicator, but don't want to deal with the hassles associated to solution #2, grab a specialized leader designed specifically for night fishing. The Stealth Tackle Night Leader is an excellent option with 130#, 150# and 180# fluorocarbon options."
"It has the small glow bead just below the swivel, so you don't need to worry about it riding into the guides or picking up weeds with the swivel running interference for it. It's a compact system that's an excellent solution for this common problem."
Night fishing provides a BUNCH of unique challenges, but this should solve one of the most annoying issues you'll run into!
---
Some Musky Science
A couple new studies out of northern WI came across our desk this week.
Since I know there's a lot of armchair biologists reading this right now, I thought we'd share 'em here for you to read, analyze and critique:
"Using genetic data to estimate capture rate of Wisconsin and Leech Lake strains of Muskellunge stocked in four Wisconsin Lakes"
This one looks at the impact of stocking Wisconsin and Leech Lake strains in different WI waters.
We all know that the Leech Lakers tend to grow bigger, but does that mean they're the "best" option for Wisconsin waters?
We'll let YOU decide that for yourself, but here's some excerpts from the study:
"Leech Lake Muskellunge demonstrated much lower capture rates than the Wisconsin strain, but results were variable, with a 10% capture rate of Leech Lake strain fish in Lake Monona and 2% capture rate in Lake Wissota despite similar stocking rates (~25%) in both lakes.
"We hypothesize that the higher capture rates of Wisconsin strain Muskellunge could be due adaptative advantages of the Wisconsin strain in these waters and suggest that managers continue to stock the nearest native (i.e. Wisconsin) strain to achieve the highest return on investment."
Probably not great news if you were hoping for more Leech Lake strain 'skies in cheese head country. 🤷‍♂️
"Growth of Known‐Age Muskellunge Esox masquinongy Stocked into Northwestern Wisconsin Lakes"
This study aimed to pin down some good age and growth estimates for male and female muskies in NW Wisconsin.
"Our results showed rapid juvenile growth with Muskellunge reaching lengths of about 67 cm by age‐3, after which sexually dimorphic growth patterns were displayed and growth rates slowed. For example, the Wisconsin statewide minimum length limit for harvest (102 cm) was not achieved until age‐9 for females, with males taking much longer or never achieving this length. Female and male L∞ ± SE were 128.5 ± 7.6 cm and 102.0 ± 3.3 cm, respectively."
Not sure how this helps you catch more muskies, but it might help when someone inevitably asks: "How old do you think this fish is?"
---
Kayak + Fly Rod = Sweeeet!
Wanted to give Jay Siemens a quick shoutout for putting together an awesome video, popping a pair of muskies out of a kayak with a fly rod:
A few quick notes after watching this vid:
#1 – All musky fishin' YouTubers should wear GoPro head mounts – I know it's a pain, but the boatside footage is 100% better (and don't forget a polarizer).
#2 – If you live north of the border, try to show your local guides/resorts some extra love over the next couple months. No American visitors = not much business.
#3 – Kayak fishing doesn't seem quite as terrible if you don't have to use one of these to get around the lake:
---
QUICK HITTERS:
– 10 muskies in one day w/ Doug Wegner (video)
– Leech Lake musky tips w/ John Hoyer (video)
– Just Encase box setup & review (video)
– Small water musky hunt w/ Todays Angler (video)
– "Minnesota Muskie" film being shot in Park Rapids (link)
---

---
THIS WEEK'S MONSTER MUSKIES:
Huge congrats to Calix Kalka on catching this portly 53.25" Eagle Lake musky outta Andy Myers Lodge. It took allll of the chins to hold this beast up for the camera! 😉
Big props to Jason Stock on trolling up this long, lean 55-inch Minnesota 'skie.
His fishin' buddy Ron Finke told us the line snapped after the bait got stuck on the outside of the net, but they were able to land her by grabbing the other end of the crankbait before the fish broke free.... Can't imagine, man. 👀
Most standard horizontal photos don't do justice to the massiveness (that's a word, right?) of some of these monster muskies. Well, Brian Klein definitely caught the right angle with this big 54.25 inch bruiser – check out the size of that head!
Feast your eyes on this big, clean Rowan Lake brownie from Kris Alexander, burnin' a MuskyFrenzy bucktail. Talk about an #OntarioTanker 🔥
Oh BTW, did you hear they extended the US/CAN border closure another month?
It's not lookin' good for fall musky fishin' north of the border....
Wanna be featured on Musky Insider? Send in your recent trophy musky photos by replying to this email. You might just see your pic in next week's newsletter. 🤙
---
---
Want to see more from Musky Insider? Make sure to follow us on Facebook and Instagram for bonus content throughout the week!
Send all business inquiries to josh@muskyinsider.com
---