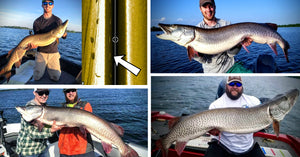 HUGE 56-inch Muskies – Wildest Net Job Ever? – Figure-8 on Side Imaging
---
Metro Musky Tourney 
Congratulations to Jeremiah Grimsley for taking down a HUGE field of anglers in the 2019 Metro Musky Tournament this past weekend. This 49" Tonka bruiser was enough to top 504 other musky-heads on Saturday.

As you can see from the results (below), the fishin' was TOUGH this year. The tourney averaged roughly 500 angling hours per 40+ inch fish. Weird analogy, but that's like working 12.5 weeks at a 40 hour/week job just to catch ONE 40+ incher.

Regardless, it's alway fun seeing how this event plays out because it's a good snapshot of the current bite in the Metro, including some of the hottest lakes.
Also – It's a bummer only seeing two tigers this year....
---
What a Figure-8 musky looks like.... 
....on Side Imaging.

Pretty dang cool screenshot from Jeff Andersen:
For those unfamiliar with Side Imaging, the musky is actually the small white lines (white arrow), the black sillouttes are the "shadow" of the fish. Check the very bottom of the screen where she's making a turn towards the bait. Pretty wild!

Here's a few more "SI" screenshots you might like:

First off – another look at the fish vs. the shadow. In this clip, Doug Wegner points out the bold dark shadow on the right. The less obvious white line (left) is the musky. The distance between the two markings can help you determine how far the fish was off bottom.
This quick snap from Matt Seifert is one of the clearest musky images we've seen:
Pete Rich got to watch a musky follow his swimbait to the boat and turn into the figure-8. Found this shot on his (and Ryan McMahon's) Musky School Facebook group – lots of good stuff in there if you wanna check it out.
Here's another one from Jeff Andersen; you can literally see this big girl sitting next to a weed bed waiting for your bucktail! 😉
---
"Why doesn't my graph look like that?"
We see this question all the time....
If you aren't seeing this kind of detail on your 'birds, keep reading, because we reached out to a true electronics wizard for some pointers.

Matt Seifert is one of the best at tweaking electronics and taught many top musky guides (whether they'll admit it or not) a thing or two about how to dial in their graphs.

His advice:
"There are no "magic settings" for your graphs. Electronics work differently on every boat, even when transducers are rigged the same way – that's what makes it tricky. You need to experiment and learn how things work on YOUR boat.

"First off, set the following Side Imaging settings:

– Range = 50 feet
– Chart Speed = 3
– Sharpness = Off
– MEGA = On

"Next, drive past your favorite musky spots at 2.5mph, study your graph and play with contrast & sensitivity until you find the clearest picture possible (don't adjust your chart speed, sharpness or MEGA). The ideal contrast/sensitivity will depend on your boat and the spot you're fishing.

"As a general rule of thumb, you need to crank the sensitivity DOWN on hard bottoms (sand, rock, gravel) and UP on soft bottoms (mud, muck, silt). Hard bottoms will show up brighter on the screen, while softer bottoms will show up darker. Contrast compliments sensitivity, so adjust accordingly as you tweak the sensitivity in different areas.

"Once you're comfortable with these settings, you can start playing with your range settings all the way up to 100 feet."
For those of you who have NO CLUE what you're looking at on Side Imaging, here's a little graphic:


There's a lot more to it, but that's a good place to start!
---
Father's Day this weekend
Not as important as Mother's Day (or Valentines day for that matter), but don't forget to thank your dad this weekend.

And if he's a musky fisherman, skip the cheesy card and get him something he'll REALLY enjoy.

Here's a few quick ideas:
BAITS
MuskyFrenzy 8/9 Stagger – One of the hottest bucktails to hit the market in recent years. Keep scrolling to the "Monster Muskies" section to see a big 53.75 incher recently hooked on this bait.

Cannonball Jr. – Everyone needs a tried-and-true topwater lure. The C-Ball Jr. is easy to fish, easier to cast than it's bigger brother, and a serious fish-catcher.

Headlocks – Just in time for trolling season. If you wanna spring for something fancy, you can't go wrong with a 10" or 12" Headlock – still the king of the trolling game, and you can never have too many colors!

Shallow Swimmin' Dawgs – Had the opportunity to see this bait in action last summer, and let's just say it lives up to the hype. Super sexy rolling action and the muskies love it....
SUBSCRIPTIONS
Lake Labs Subscription – Honestly the coolest fishin' app we've seen, and it's perfect for muskies. Record your catches/follows, add the bait, and Lake Labs will auto-magically grab location, weather patterns, moon phases, etc. and add it to the log. Lots of data you can use/study later.

Musky Hunter Magazine – You know it, you love it. Gregg Thomas and Tony Grant have done a great job since taking over the mag this winter – lots of changes you'll wanna check out if you haven't already.
OTHER STUFF
JigRipper – Makes retrieving big baits a lot easier. Plus it's the perfect opening for an "old man" joke. ;)
Muskie Bumper – Measures down to the 1/4", wide enough to protect the girthiest of fish, durable, and it floats. And it goes up to 60 inches – hopefully you need it!
SunGaiter – Don't be the guy sitting in the doc's office when everyone's out fishing. If you or your pops spends enough time on the water, you need to protect your skin.

Angling Edge Musky DVD's – Assuming your dad knows how to run the DVD player, give him something to do when it's stormin' on Saturday.

You probably gave your dad some fits growing up, so make sure to be extra nice to him this weekend. He deserves it for putting up with you!
---
Cheers to the Net Man!
We've all had to deal with disappointing net men. Sometimes they lack technique, sometimes they lack heart.

Well, you can't question the heart on this one!
Props to Matt Ross for putting in the extra effort and putting 'er in the bag!

Click here to watch the full video on Jordan Klingbeil's YouTube channel.

Love how his normal human instincts told him to reach for the boat, but he kicked his common sense to the curb and went back to netting the fish WHILE FLOATING IN THE WATER!! 😂

Now THAT'S a net man.
---
QUICK HITTERS:
 – New Musky Fishin' Podcast – REALLY good (link)

 – Crazy boatside figure-8 strike (video)

 – Eagle River Spring Classic Results (link)

 – Vermilion Musky Study - You can help (link)

 – Burnin Eights 2019 Highlight video (video)
---
---
THIS WEEK'S

 MONSTER MUSKIES:
Remember when we said there was a bruiser caught on an 8/9 Stagger – well here she is! Congrats to Jesse Piele on starting the season off right with 53.75 inches of musky! 
What's sweeter than catching a 56" x 24.5" musky? Catching it on your own homemade bucktail. Have a feeling Noah Binsfeld is gonna have a tough time topping this one in 2019. *slow clap*
You like 56-inchers? Here's another! Ryan Krieger caught this plus-sized sea serpent tossing a single-6 bucktail. Huge congrats to Ryan on bagging a fish of a lifetime!
We've heard of some crazy opening weeks in Minnesota, but few as good as Chris Fusco and Zander Aslesen's – featuring SEVEN fish over 50 inches, including this 54.5" x 26" water dragon:
Joseph Kieser finally struck 54+ inches of Green Bay Gold after many, many hours of waiting for that ONE bite. It came courtesy of a black & nickle single-8 bucktail in one foot of water. #dang
---
Want to see more from Musky Insider? Make sure to follow us on Facebook and Instagram for bonus content throughout the week!
---