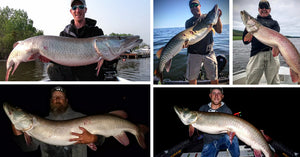 HUGE (57x26.5) this Weekend – Pete Maina Tips – Sneaky Good Lures for Weeds
Be the FIRST to see Musky Insider every week by signing up for the email version of this newsletter. It's 100% free and we will never sell your email address! Click here to sign up and never miss another issue.
---
---
HUGE Musky from this Weekend
This one was a little too big for the "Monster Musky" section of the email....
Huge congrats to Jeremy Johnson of Whispering Winds Resort on landing this 57x26.5" MEGA TANKER fishin' solo at night!

It was right around midnight, trolling a jointed crankbait around deep rock structure, when he hooked up with this monster. After some tense moments, he finally got her in the bag.

He didn't have a functioning camera, so he called up his buddy Steve Sorgenfrei, who owned a cabin nearby, to snap a few pics.

Steve buzzed out there while Jeremy was unhooking the fish and voila, now you're seeing it in this newsletter!
---
Sneaky Good Lures for Fishin' Weeds
Muskies LOVE weeds, but sometimes they can be a pain to fish.

It's tough keeping a 7/0 treble hook from snaggin' up, especially when you're trying to get the big girls out of the thick stuff.

So what's the solution? Only fish surface baits? Avoid baits with trebles dangling underneath?

Jeremy Smith has a different solution: Dive & Rise Hard Baits

Here's the video:
He'll use baits like a Super Shad or a Suick that dive down on the rip, and then back out of the weeds on the pause.

Definitely worth a try next time you're fishin' weeds.
---
Pete Maina: Summer Handlin' Tips
It's that time of year again....

The time when big muskies are extra susceptible to hooking/handling mortality, thanks to high water temps.

When we asked Pete Maina what he wanted to talk about in this week's newsletter, he wanted to hit on this subject.

The name of the game with mid-summer muskies is limiting stress to maximize survival rates. But when should you start to worry:

"In my experience, the mid-70's is when you need to start being very careful to limit handling and time with head out of water. Extended periods of 80+ degree water are a rarity in northern latitudes, but if they do occur, consider taking a break from muskie fishing. If you do choose to fish, employ water release only."

These are great guidelines to follow. It's best to play on the safe side because every interaction with a musky is gonna play out differently.

"There are no exact rules, as fish are individuals and some may simply be tougher, some weaker; some will fight harder and exhaust themselves more than others.

Pete also recommends limiting many of the out-of-water activities when water temps are toasty hot:

"All of the factors mentioned are cumulative; extra handling adds up and in hot water is critical. You might spend 30 seconds removing hooks, 20 to measure, 20 to hold up for photos – one factor without the others and the fish may survive – eliminate as many as possible and consider water release only as temps push towards eighties."

It's easy to do a quick water release when you catch a 3-footer. It's a lot tougher keeping the bump board dry and the camera in the bag when you catch a true trophy....

Unfortunately:

"The problem is the older and larger the fish – the more susceptible they are to all these cumulative stressors."

Yet another reason to maybe give 'em a break during the dog days of summer.

You can read Pete's full writeup on our website. 👍
---
Big day on the Fox River
Killer video from the boys at Burnin' Eights from the second weekend of the Wisco musky season. They landed a pair of serious 'skies – right around the time Green Bay was kickin' out a lot of nice fish.

The first came courtesy of Jake Tappe twitchin' a small crankbait, fishin' solo. This pork nanny went 52-inches on the bump board and took all of 3 minutes to finally hit the net after a lengthy fight. #suspense
The next one crushed Ross Provost's black Boilermaker out away from the boat, and just made 50 inches by the hair on her finny-fin-fin.
They boated a couple smaller muskies to wrap up a successful weekend of musky fishin'. You can watch the full video by clicking on this link.

Always love seeing guys document their catches for the rest of the world to see – keep it up, boys!
---
QUICK HITTERS:
 – In-Depth Outdoors MN Musky (video)

 – 3 new Whale Tail colors (link)

 – Cold front musky tips (video)

 – New 12" bait from Headbanger Lures (video)

 – Scientists map zebra mussel genome (link)
---
This Week's

 

Lunar Times:
(Times based on Minneapolis)
---
---
THIS WEEK'S MONSTER MUSKIES:
Here's 53 inches of bucktail munchin' musky goodness! Craig tripped her trigger with a MuskyFrenzy 8/9 Stagger bucktail out in the abyss.
The freaks come out at night!

Looks like John Holmgren's been crushin' this month, putting some big fish in the boat, including this hawg-bellied night stalker.
Congrats to junior musky-head Fischer (10 years old) on landing his new personal best musky, a 49.25-incher, on an orange & black Mini Juicebucktail! He's a hardcore stick, too – this is his 85th musky over 30", most of them were caught casting. Impressive kid!
Not a musky .... BUT .... check out this huge northern pike that was shared on the Bondy Bait IG page. She was caught up north in the land of gargantuan gators, and measured 50.5-inches long!
All the hardcore musky purists reading this right now:
---
Want to see more from Musky Insider? Make sure to follow us on Facebook and Instagram for bonus content throughout the week!
---