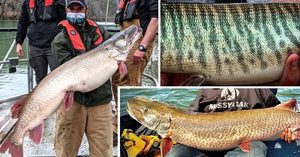 Huge Southern 'skie – Seifert's Bucktail Tips – Great Cover Fishin' Advice
Be the FIRST to see Musky Insider every week by signing up for the email version of this newsletter. It's 100% free and we will never sell your email address! Click here to sign up and never miss another issue.
---
---
Virginia Pork-Nanny
Look what the Virginia DWR found swimmin' in the Shenandoah River:
This fat-bellied river monster broke the 50-inch mark, but more impressively weighted over 40 pounds. #babybump
Honestly, their pose kind of reminds me of an epic 1990's movie poster....
Really cool to see they're growing some big-for-anywhere monsters down south.
---
Anglin' Edge Muskies
The Angling Edge crew just released a fresh, new musky fishin' show this week, talkin' "Pressured Muskies" with Jeremy Smith and Jake Wallace:
We don't get too many LAE musky shows, so it's always a treat when we do....
A few things that stuck out to us – first, this quote from Jer:
"The more that I musky fish, the more I realize how little I actually know.… Just because you have this idea in your head that this is where the fish should be and this is what they should be doing, doesn't always mean fish think the same way."
In other words, you can't be married to your preconceived notions when you hit the water. Don't trust the fishing reports, go out and FIND the fish. #FishDontRead
Thought this tip from Jer on late summer/early fall cover fishin' was good, to0:
"Finding muskies in early fall really isn't that different than finding them through most of the summer months. But there's one element that really seems to stand out in areas that hold fish, and that's vertical standing cover that are on key structural elements.
"You have a big structure – a big sunken island or a big point or something like that. In the summertime, these spots are going to have lush weed growth. These are great places for muskies to setup. They will often be associated with an outside edge or an inside edge. As you get into early fall when the water starts to drop and you get water temperatures in the mid-to-low 60's or even high 50's just before turnover, good weed cover can be at a premium. It doesn't matter if it's brown, as long as it's vertical.
"You will see a lot of the cabbage species disappear this time of year, so coontail, bladderwort, milfoil, deer-tongue, are some of the key weed species you will be looking for. They can grow in depths from 4 feet, all the way out to 25 ft. If you are driving around and find five feet of vertical cover, that's is likely going to be a key area that holds muskies."
Something to think about in 7 months.... 😂
In all seriousness, it's unfortunate that these TV shows aren't released with seasonality in mind, but it's also nice having something to watch during the dog days of winter!
Beats watching the news!
---
Guide Highlightin'
Huge props to Musky Mayhem for givin' some love to the guides that help with R&D and promotions. They work hard and deserve the recognition 💪
Mayhem just launched their first "Pro Staff Profile" this week featuring MN guide and hardcore musky-head Matt Seifert:
They did a great job putting it all together. 👍
To give our readers some extra-extra value, we reached out to Matt and asked if he had any good bucktail fishin' tips to share. Here's what he sent back:
"I like to run my bucktails as close to the depth of the muskies as possible. Whether that means keeping them right by the surface or super slow-rolling deep structure.
"Burning bucktails is obviously the easiest for depth control. Just remember to do a direction or depth change while speeding up into the figure 8 at the side of the boat. When you can do this smoothly, your catch rates will go way up.
"A regular-to-medium retrieve is the most common retrieve, but this is where you can set yourself apart from most anglers. Knowing where the structure is and how it lays out is the key here. I'll move my bucktail faster above shallower structure but slow it down as it clears the weed, sand, or rock transition, letting the bait follow the structure.
"When slow-rolling deep fish I always throw my heaviest bucktails like the 10/9 combo or a Detonator. Sometimes I'll snap on an additional weight as well. The trick here is to go really, really slow, and you'll be very surprised how many fish you'll catch with the blades barely spinning."
You can click here to watch the entire vid – good stuff!
---
The Weekly Mashup
:
You know the drill!
Seems like we've been findin' quite a bit of random stuff each week that doesn't necessarily warrant a full stand-alone writeup.... but we still want to highlight them above-and-beyond what we can do in the "Quick Hitters" section.
#1 – We love all of our fly-slingin' brothers and sisters, but it might be time for Browning Outdoors to bust out an "ice-breaker" like a big ole Pounder.... 😂
#2 – Lots of virtual musky "events" happening over the next month or so. Too many to mention this week. Here's a couple to keep an eye on for now:
– Capital City Muskies Inc. is bringing in a number of speakers next month to raise some money for the chapter. Worth checking out, for sure.
– The Spring Fishing & Boat Show is happenin' THIS Sunday, with a couple killer combos on Sunday, ft. Pyzer/Saric (9:30am) and Jeremy Smith/Borovsky (11:30am). Sounds like they'll be streaming the seminars on their FB page.
Crazy how many high-end guides are or once were employees at Thorne Bros. Saw this post on their IG the other day – can you recognize these two masked musky assassins?
Hint: Rhymes with Flyin' McSlam (answer) & Duke Yawn-uh-Grand (answer)
And last up.... How cool is this shot from Bruce Condello??
---
QUICK HITTERS:
– Keyes Outdoors on the Wisconsin River (video)
– "Life on the Chain" - 4 part musky series (video)
– Minnesota pushing for lead tackle ban again (link)
– England bans fishing during lockdown (link)
– What you and your buddy say after striking out for 'skies.... (video)
---
---
THIS WEEK'S

 MONSTER MUSKIES:
Let's kick off this week's Monster Muskies segment with a serious Pennsylvania bruiser from Mat "Ain't nobody taking my spot!" Haas. Great fish, dude!
Next, we've got a big bodied New York shovel-head from Muddy Creek Fishing Guides. They've got some serious fish over there in Chautauqua, man!
Check out this GIANT Wisconsin 'skie sent in by Justin Richter – 54.5 x 23.5 inches on a Red October tube. Is it musky season yet??? 😉
Another 2020 throwback: Props to Dave Brown on boating this plus-sized Green Bay slob-a-saurus!
Wanna be featured on Musky Insider? Send in your recent trophy musky photos by replying to this email. You might just see your pic in next week's newsletter. 🤙
---
---
Want to see more from Musky Insider? Make sure to follow us on Facebook and Instagram for bonus content throughout the week!
Send all business inquiries to josh@muskyinsider.com
---