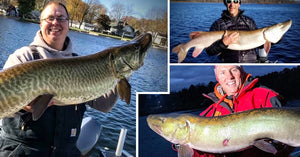 Humminbird 'LIVE' Coming? – Late Fall Musky Tips – Livebait Stuff
Be the FIRST to see Musky Insider every week by signing up for the email version of this newsletter. It's 100% free and we will never sell your email address! Click here to sign up and never miss another issue.
---
---
Late Fall Musky Tips
Feels weird saying we're in "late fall" when dudes are ice fishin' already, but for those of you who can still get a boat on the water, here's some A+ advice from Mr. Musky Hunter (Jim Saric) on musky location and presentation this time of year.
Specifically, Jimmy breaks down his three favorite areas to target late fall muskies, starting with....
RIVER MOUTHS
"When fishing the Great Lakes the impact of an incoming river and its related flow can be huge. Some of these rivers may hold musky-spawning areas in spring and the muskies may stage at the mouths of these rivers. The current and warmer water temperatures in some of these rivers also tend to concentrate bait. Together, the presence of bait and an overall movement of muskies towards their spawning areas can result in large packs of muskies in a relatively small area."
"Not every musky will be in the river mouth, as local weather conditions may result in the bait moving out from the river scattering along flats or breaklines, or the bait may move farther in the river.... The point is the river mouth is the place to start in many of the Great Lakes in late fall."
"I prefer to troll these areas at this time of year, as it's not only a great way to keep lures in front of muskies, but it's also easier since you have fewer equipment freezing issues. Late fall can be a match-the-hatch time, so my trolling lures are often dictated by the bait."
When Jim's fishin' shad based fisheries, he'll go with smaller baits like the Super Shad, Baby Depth Raider and Shallow Invader. When there's bigger fish in the system, he'll troll 10 inch Jakes and Legend Perchbaits. He also mentioned white is one of his go-to colors when water temps are extra-chilly.
For casters, he recommends big plastics like husky-sized Medussas and large minnow baits like Shallow Raiders or Slammers.
Another place to look for late fall muskies:
STEEP SHORELINES
"One of my most consistent spots to catch muskies in natural lakes has always been steep breaking shorelines. These areas located adjacent to the main basin of the lake typically have sand and gravel shorelines. To provide some perspective for these spots, it's not uncommon for the boat to be in 25-35 feet of water and a cast length from shore.
"Frequently there are subtle points and turns along these shorelines and the small inside turns or adjacent micro-shelves can be consistent spots to find muskies. Many of these steep-breaking shorelines are located in areas where cisco spawn and it's not uncommon to see pods of bait in these areas."
On these steep shoreline spots, Jim likes to troll the 18-22 foot depth range with Depth Raiders and Legend Perchbaits on 40 pound Monel wire line.
For casting, he'll use Medussas and straight model countdown Depth Raiders. During late fall warming trends, he'll slow-roll Musky Frenzy 10/12 Staggers.
Last but not least....
"DEAD" WEEDS
"What if you aren't near the Great Lakes and you only have shallower lakes to fish in late fall. One of the key places to find them is in the dead weeds. Yes, musky anglers typically don't target dead vegetation, but in many of these lakes, it's the only available cover.
"If you check these areas closely, you'll find that although there are many dead weeds, you'll have green weeds in those areas where inside turns exist and the deep water swings tighter to the cover. These inside turns are the key.
"These areas can be so productive that it pays to simply mark as many of them as you can with your GPS and then return and focus on fishing each of them thoroughly several times throughout the day."
Jim prefers castin' smaller spots like these....
"Again, large soft plastics such as Medussas are great choices, but so is jigging a tube or going old-school and fishing a jig and reaper. These tools are perfect for fishing specific areas slowly and methodically. Likewise, if you can get suckers it's definitely worthwhile using them."
You can check out the full writeup to read all the deets we couldn't fit in the newsletter.... and here's a final parting shot from Jim before you go:
"Late fall musky fishing is a game of both physical and mental survival."
Ain't that the truth....
---
Humminbird LIVE Coming?
We'll probably get in trouble for sharing this, but this is too big not to pass along....
From the Russell Marine FB page:
Looks like Humminbird is jumping into the live-viewing game joining Garmin and Lowrance.... also looks like this info wasn't supposed to go public until February 2021 👀
We don't have any inside info and can't confirm this is 100% real, but it seems pretty dang legit.
A few things:
1. Why was this "leaked" and did Humminbird secretly want it leaked?? If so, it seems like a smart strategy. Any Bird users who were thinkin' about jumping ship to Garmin for Livescope this winter will probably hold off now. Also could force Garmin's hand if they have something new coming out this winter.....
2. Now that all of the major electronics companies will likely have live-viewing in 2021, do hardcore anglers NEED to mix-and-match companies anymore? We were definitely seeing more and more guys running some combination of Humminbird, Lowrance and Garmin on their boats to have access to Livescope, 360 Imaging, Lakemaster maps, etc. all at the same time.
3. Sounds like Lowrance is coming out with their next generation of HDS Live soon, too. More competition and options = better for consumers. Let the arms race begin!
We don't want to be in the business of circulating "leaked" info and rumors, but this seems like some important news if you were potentially thinking about buying new electronics this winter. 
Russell Marine hasn't pulled the post (yet), Humminbird isn't denying anything, and EVERYONE's been texting this graphic to their buddies. The rabbit is totally out of the hat, so we thought it would be okay to share with you....
---
Nervous Minnows
We've all witnessed "Nervous Sucker Syndrome".... 
Your bobber takes off at 100 mph, and you know a big musky is making eyes at your suddenly fearful sucker minnow.
Well, here's what it looks like underwater:
Not the best footage, but you can't blame the sucker for shaking the camera like crazy at it tries to swim for it's life!
---
Just a Reminder....
Last week, we shared a quick survey in the newsletter, lookin' for some feedback on a project we're working on.
If you haven't already, we would love to get your input – it only takes 60-ish seconds to complete!
Click here to fill out the survey
Thanks for the help!
---
QUICK HITTERS:
– NEW Stagger IC9 are AVAILABLE to purchase (link)
– Southern river fishin' action w/ Blue Ridge Musky (video)
– Angling Anarchy fishes a musky tournament in Madison, WI (video)
– Voluntary licenses bring extra funds to PA fishing (link)
– Gord talkin' adjustments after losing muskies (link)
– Jigging Bondys for LSC muskies (video)
– Young girl gets her first musky (video)
---
---
THIS WEEK'S

 MONSTER MUSKIES:
Big props to Mike Cieslak on boating this 51 inch barred bruiser down in Indiana!
Congrats to Chris Edquist on putting this 55.5 inch white whale in the boat!
Thanks for sharing with us 👍
We love seeing the kiddos gettin' hooked on musky fishing – here's a nice 50+ incher from Tyler Peterson out in western Minnesota.
Gavin DeBoer busted into the #50club with this chunky 54.5 inch smiling 'skie!
Seriously, it looks like this big bruiser was smiling for the camera.... 😂 #WhySoSerious
Wanna be featured on Musky Insider? Send in your recent trophy musky photos by replying to this email. You might just see your pic in next week's newsletter. 🤙
---
---
Want to see more from Musky Insider? Make sure to follow us on Facebook and Instagram for bonus content throughout the week!
Send all business inquiries to josh@muskyinsider.com
---