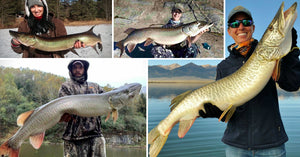 Ice Fishing for Musky – 10yo w/ 100 muskies – 3D Printed...boat?
Be the FIRST to see Musky Insider every week by signing up for the email version of this newsletter. It's 100% free and we will never sell your email address! Click here to sign up and never miss another issue. (Bonus fishing information)
---
---
Icing Muskies!
What do you do when the lakes freeze up before musky season's over?
Well, Tom Boley keeps on targeting muskies….on the ice!
He recently dropped a couple videos chasin' flags for muskies on his YT channel. Here's the results from Day #1 – a nice Wisconsin Greenback from Shelby:
The ice recently firmed up in northern Wisconsin and Tom is targeting the same stuff he'd fish in late fall:
"If you have a lake that ices up really quickly – shallow, small lakes – it's really easy to find muskies on early ice because they are going to be in that deeper water. There's a lot of 4 to 5 feet of water in this lake, so anywhere where you have 10-15 feet is going to be a good place to set up."
Here's the bounty from the second day on the ice dangling suckers:
Just a quick reminder that safety comes first this time of year, for you AND the fish.
No ice is safe ice, especially early in the season. Tip up fishing is notorious for deep eats and injured fish, so make sure you're paying attention to your flags and don't let 'em chew the bait for too long.
It's extremely important to have all release/safety tools ready to roll as soon as you pull the 'skie out of the water. You don't have the luxury of working on the fish in the net, and the clock is ticking as soon as the fish pops out of the hole. In extreme cold conditions, their eyes and gills will freeze up a lot faster than you'd think....
Make sure to watch both Tom's videos (Day 1 and Day 2) while you're waving goodbye to the 2019 musky season (for the northern guys anyway...)
---
Fischer is 10 years old....
...and he now has 100 muskies (30+ inches) under his belt.
Yes. ONE. HUNDRED.
The big hundo almost had to wait for 2020, but luckily Fischer was able to hit the century mark before ice-up! This one came casting a Shallow Invader on moonrise.
What's most impressive is the majority of his fish were caught casting (67 total). The remainder were caught on suckers (25) and trolling (8). He has 30 fish over 40 inches, including his PB, a 49.25 incher from Minnesota:
Here's a quick clip his dad Jason Smith posted three years back. Raise your hand if this kid fishes harder than your fishin' partner! ✋
---
3D Printing....boats??
The U of Maine just unveiled the biggest 3D printer in the world, and to kick things off, they printed a 25-foot boat.
It's made from plastic and wood cellulose and took 72 hours to print from butt to nose. Sounds like the printer will be used to make military shelters, vehicles, etc.
Not saying it can't handle your favorite musky waters on a windy day, but I wouldn't trade your glass/aluminum boat in just yet. As a general rule of thumb, you don't wanna be the first monkey shot into space....
---
"Child-sized fish caught in Colorado"
Love that headline....😂
The author of the article was talkin' about this 44-inch, 22-pound tiger musky gill netted by biologists in Deweese Reservoir in Colorado:
I know musky fishing isn't a HUGE deal in Colorado, but I kinda like their measuring system.
Would be interesting to see what their bump boards look like. 😉
---
QUICK HITTERS:
– Trollin' St. Johns River w/ underwater camera (video)
– Making a jointed musky crankbait (video)
– "Batman & Robin" trolling fish (video)
– Fishin' French River w/ Fish'n Canada Show (video)
---
THIS WEEK'S

 

LUNAR TIMES:
(Times based on Minneapolis)
---

---
THIS WEEK'S

 MONSTER MUSKIES:
Huge congrats to Luke King on baggin' this 52.75" big-bodied 'skie on a Whale Tail.
Check out this beauty from Michigan musky guide Doug Warren, part of a 6 for 9 day on the water.
Every musky deserves love, even the snub-nosers! Especially when they hit 53.25" like this one from Dylan Button in Ontario.
Remember the sick figure-8 strike video from last week? Well, here's a closer look at the Mille Lacs Lake hoss Matt McDonald pegged at boatside.
---
Want to see more from Musky Insider? Make sure to follow us on Facebook and Instagram for bonus content throughout the week!
---