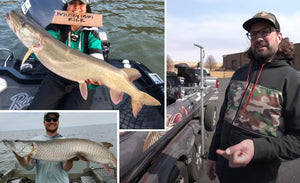 Ideal Electronics Settings – Ronnestrand's 2022 Boat – Southern Tourney Winner
Be the FIRST to see Musky Insider every week by signing up for the email version of this newsletter. It's 100% free and we will never sell your email address! Click here to sign up and never miss another issue.
---
---
"Why doesn't my graph look like that?"
We hear that question all the time....
Especially when we share killer Side Imaging screenshots like this one from MN musky guide & electronics wizard Matt Seifert:
If you aren't seeing this kind of detail on your 'birds, keep reading....
The following tips from Matt Seifert will explain the correct way to mess with your settings – the system sounds simple, but should be extremely helpful if you're a non-expert with SI.
Matt is one of the best at tweaking electronics and taught many top musky guides (whether they'll admit it or not) a thing or two about how to dial in their graphs.
His advice:
"There are no 'magic settings' for your graphs. Electronics work differently on every boat, even when transducers are rigged the same way – that's what makes it tricky. You need to experiment and learn how things work on YOUR boat.
"First off, set the following Side Imaging settings:
Range = 50 feet
Chart Speed = 3
Sharpness = Off
MEGA = On
"Next, drive past your favorite musky spots at 2.5mph, study your graph and play with contrast & sensitivity until you find the clearest picture possible (don't adjust your chart speed, sharpness or MEGA). The ideal contrast/sensitivity will depend on your boat and the spot you're fishing.
"As a general rule of thumb, you need to crank the sensitivity DOWN on hard bottoms (sand, rock, gravel) and UP on soft bottoms (mud, muck, silt). Hard bottoms will show up brighter on the screen, while softer bottoms will show up darker. Contrast compliments sensitivity, so adjust accordingly as you tweak the sensitivity in different areas.
"Once you're comfortable with these settings, you can start playing with your range settings all the way up to 100 feet."
For those of you who have NO CLUE what you're looking at on Side Imaging, this graphic should help:
This writeup is just scratching the surface, but it's a good starting point. You need to run before you can learn how to fly 😉
BTW – We're hosting a live virtual class tomorrow (Thursday, April 21st) with Matt Seifert and Josh Borovsky talkin' all things electronics and boat control.
[Click here for more information on the class]
This is not a step-by-step tutorial of how to use every single feature and menu available on every brand of unit. The focus will be on how to use all the different technologies and features to help you put more fish in the boat.
Neither of the instructors currently have sponsorship obligations to any of the three major electronics manufacturers, so you will be getting honest opinions and insights regarding the strengths and weaknesses of each brand.
---
Luke Ronnestrand's Boat
It's always fun to see how hardcore musky-heads are rigging their boats....
Especially this time of year when many of you are buying new boats or pullin' your old boat outta storage and getting it prepped for the season.
Here's a quick run-through from Luke Ronnestrand on his boat for '22:
Thanks to the Thorne Bros crew for posting this online 👍
Here's a few highlights – first, why he runs a bass boat:
"A lot of people are really surprised that I run a bass boat. The biggest reason is because it's great for how I like to fish. I'm a run-and-gun fisherman at heart.
"Vermilion is 26 miles from one end to the other. We're running 40, 60, 80 miles on an average day. This boat allows me to cover a lot of ground.... at 3500 RPMs I'm going around 40 mph. It saves me some $$ on gas and it's a great casting platform."
The rest of the video: he talks about his trolling motor setup (1:03), his graphs (1:36), his Panoptix mount on the bow (2:36), his Livescope mount (3:42), why he likes using Talons (4:50), and his experience running lithium batteries (7:01).
---
Learning from Mistakes
This article from Gordo Pyzer did a great job illustrating a psychological truth that holds true in fishing and in everyday life....
.... most folks learn WAY more from mistakes and negative experiences than they do when things go as planned.
Here's the gist of his writeup:
Gord encountered a big musky fishin' a cabbage bed with his grandson Liam.
He described this fish as a "mammoth chrome-coloured, thick-sided brute", so needless to say, he was coming back for her at sunset.
This is what happened when they returned:
"I pitched my lure to a flat, sloping rock and watched the bait rotate and spin just under the surface.... Then, from out of nowhere, the muskie suddenly appeared, opened her mouth and inhaled my bait.
"I waited a split-second, set the hook and watched as she twisted and rolled like a crocodile. Then my 120-pound-test fluorocarbon leader snapped cleanly at the crimp and she disappeared."
Long story short, Gord is extra-extra-diligent about running high-quality leaders after losing that big girl to a leader malfunction.
Seems like there are lots of examples of this.
Most folks don't replace snaps until they lose their first fish thanks to a snap that opened up. Same theory applies to hook sharpening, proper mechanics with hooksets & figure 8's, etc.
The only alternative to learning from YOUR mistakes is learning from the mistakes of others.... fishing with buddies, watching YouTube videos, hiring a guide, buying a virtual musky class (wink, wink 😂)
Musky fishing isn't easy and the reason most folks don't catch anything isn't because they haven't learned the "secret hack" to catching 'skies. It's because they are making critical mistakes that are preventing them from putting fish in the net.
The "secret hacks" only work if you've mastered the basics! 😉
---
This Week's Mashup:
Mashup time!
#1 – Most of you probably have an awesome, healthy relationship with your significant other right now – guessin' that might change after Opener... 😂
#2 – Check out this wintertime underwater musky "chomp" from Ben Stone:
I know many of you will find this surprising, but Ben never ended up catching that musky, despite how "ferocious" she was.... #sarcasm 🤬
#3 – How cool is this old school (1955) Field & Stream cover??
That baby duck is lookin' like lunch! 😉
#4 – This clip from Brady Grenz is a perfect example of why solo netting can be so difficult.... but don't worry, she hit the net a few moments later!
---
QUICK HITTERS:
– Iowa musky fishing w/ Smith's Fishing (video)
– Podcast chat on spring fishing w/ Jordan Weeks (link)
– 5 tips for solo musky fishing w/ Ben Stone (video)
– Topwater musky action w/ Joe Bucher (video)
– Musky fishing in New Brunswick (video)
---
---
THIS WEEK'S

 MONSTER MUSKIES:
Big congrats to Shazana Amanda and her partner/net man Tim Barker on winning the Rick May Memorial tourney this past weekend down on Cave Run Lake. Tim guides on the lake, and they are always a tough team to take down!
Check out this suuuuper long bronze Wisco 'skie via @teamwmdguideservies 💪
Props to @rawdog.outdoors on baggin' this chunky Great Lakes beauty!
Wanna be featured in Musky Insider? Send in your recent trophy musky photos by replying to this email. You might just see your pic in next week's newsletter. 🤙
---
---
Want to see more from Musky Insider? Make sure to follow us on Facebook and Instagram for bonus content throughout the week!
Send all business inquiries to josh@muskyinsider.com
---