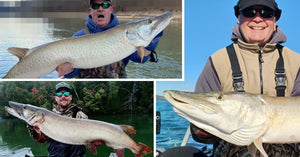 In-Depth Musky Tips – Least Imitating Musky – New Trolling Class
Be the FIRST to see Musky Insider every week by signing up for the email version of this newsletter. It's 100% free and we will never sell your email address! Click here to sign up and never miss another issue.
---
---
ANNOUNCEMENT:
We have a few NEW virtual musky classes coming up, and we're opening up sign-ups for the first one right now. Kevin Goldberg and Jason Quintano are teaming up to share some advanced insights into trolling for muskies. Click here for more info on this live virtual class.
---
Boatside Boo-Boo
Should people with differing abilities be looking in different places when they execute the boatside figure-8??
Josh Borovsky thinks so....
Was listening to Josh's interview on the Ugly Pike podcast and picked out a few nuggets that some of you might find helpful for putting a few more boatside muskies in the net this season.
One thing he stressed is that different anglers have different skill levels and you can actually hurt yourself by trying advanced tactics when you aren't ready. (Tricky thing is most anglers think they are better than they really are.)
A good example is where you should focus your eyes when you're performing an 8. 
From Josh: "Your leash length (length of line between your leader and rod tip) is one of the most important factors to doing a good figure-8. You can do everything else PERFECTLY and still won't catch the fish if your leash is bad enough.
"But if your leash is perfect (nice and short), you can often times get away with making some mistakes on other things and still have a shot at catching that fish.
"When I teach new people to figure-8, I train them to keep their eyes focused on the leash as they sweep their bait along the side the boat before doing their first big turn away from the boat.
"It's an opportunity to monitor your leash, see where it's at, and shorten or correct if necessary before you turn it away. That's also the point at which poor leash management will start to hurt you."
So that's step #1.
Most people think they are beyond that level, but I can't tell you how many videos we've watched of guys running leashes that are WAY too long.
Once you can get your leash perfect 100% of the time without looking (and you need to be honest with yourself), you can graduate to the next level....
"Watch 6-10 feet behind your bait (if the fish is closer, you won't miss them), but as your bait approaches the boat, at some point (based on water clarity, sunlight, polarized glasses, etc.), you will be able to see your bait as well as the water around and below it really well. In moderately clear water, that might be 10 feet from from the boat.
"Once the bait passes through that window of water, I keep my eyes fixed there while sweeping my bait alongside the boat and turning it away. I don't shift my eyes back to the bait until it's coming out of the first turn.
"By watching the 'back door', you will start seeing a lot more muskies coming in late. Not all of those will be catchable, but some of them will be.
"Seeing them at the back door versus later in your technique (or not at all) is important, because it's the first cue that you likely need to alter/adjust your technique. If you don't, the fish will generally swim right back where it came from.
"The big key here... If you're watching the back door before you are 'ready', your leash length will likely suffer mightily and you will see more fish and catch less of them."
At the end of the day, don't sacrifice a good leash and proper mechanics for ANYTHING – master the basics before you jump to any advanced concepts.
Naturally, this is just scratching the surface of boatside musky techniques and theory. If you want the FULL deep dive, check out Josh's virtual class: "Closing the Deal" Figure-8 Wizardry
You can also catch more tips from Josh at his seminar at the Minnesota Muskie Expo which is right around the corner. It sounds like he may be unveiling something special at this show, too. 🤫
---
Cheers to the Net Man!
We've all had to deal with disappointing net men. Sometimes they lack technique, sometimes they lack heart.
Well, you can't question the heart on this one!
Props to Matt Ross for putting in the extra effort and putting 'er in the bag!
Click here to watch the full video on Jordan Klingbeil's YouTube channel.
Love how his normal human instincts told him to reach for the boat, but he kicked his common sense to the curb and went back to netting the fish WHILE FLOATING IN THE WATER!! 😂
Now THAT'S a net man.
Here's another one.... Super impressive last-chance scoop by Matt Strykul on Sam Scott's river 'skie:
90% of musky angler won't be quick enough to be in position for that net job, and even fewer are "nimble" enough to pull off the diving scoop 😅
---
"Casting" for Muskies
Do any of you have experience catching muskies, despite having an injury/disability, etc.?
We thought this shot sent in by Jacob Power was pretty awesome:
Here's the message he sent with the photo:
"I had broken my wrist before our annual fishing trip. I had to fish with my Tranx for the entire week because it had the powerball handle and I couldn't close the fingers on my right hand.
"Fought this monster one-handed. 51 inches on lake Nipissing."
Awesome, congrats on the new PB, Jacob!
---
This Week's Mashup:
Mashup time!
#1 – Had to share this poultry-themed musky lure from Violent Strike Lures:
Everyone has some wild/funny lures in their garage – send 'em our way (reply to this email) so we can share in the newsletter!
#2 – Anyone think they could convince their spouse to rock this pillow on the living room couch?? (via @thrifty_sewing)
#3 – Diggin' the wrap on this North Carolina WRC fisheries vehicle:
#4 – Is this southern 'skie from @virginiatrophyguides the LEAST intimidating musky ever??
---
QUICK HITTERS:
– Milwaukee muskie expo happening this weekend (link)
– Doug Wegner late spring on LOTW (video)
– Musky fishing on Cedar Lake w/ MHTV (video)
– Ep. 6 "Persistence" w/ Mayhem's 10k (video)
– Mike Keyes on his home waters (video)
– Chunky fall muskies w/ Marc-André Paquette (video)
– Not musky-related, but KVD is retiring from the tour (link)
Check out this screenshot from the video….
Now, imagine all those trophies as six-figure checks....
Dude can't even fit them all on screen!
Turns out there's more $$ in bass fishing than musky fishing 😂
---
---
THIS WEEK'S 

MONSTER MUSKIES:
Check out the big ole head on this plus-sized LOTW white wolf sent in by Brian Hanson (his brother's fish):
Chris sent us a few photos of this gorgeous, extra-clean Tennessee 'skie. We picked this one because it was his wife's favorite pic 👍 Great fish, man!
Stellar fish from Wyatt Nuss, musky chasin' in the ice bibs:
Wanna be featured in Musky Insider? Send in your recent trophy musky photos by replying to this email. You might just see your pic in next week's newsletter. 🤙
---
---
Want to see more from Musky Insider? Make sure to follow us on Facebook and Instagram for bonus content throughout the week!
Send all business inquiries to josh@muskyinsider.com
---