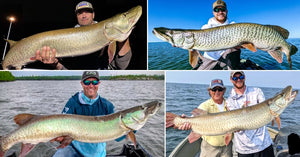 Internet Spot-Hawking – Musky Data Graphs – A+ Birthday Card
Be the FIRST to see Musky Insider every week by signing up for the email version of this newsletter. It's 100% free and we will never sell your email address! Click here to sign up and never miss another issue.
---
---
Musky Data/Charts
Stumbled upon an interesting study this week talkin' success rate for walleye and musky fishin' on Escanaba Lake in WI.
What's cool about this study is that they looked at stuff like lunar position, whether or not the anglers were using a guide, and livebait vs. artificials.
Here's a few musky-specific graphs that caught our eye:
I don't know a ton about this lake, but guided crews caught 'skies about 41% more often than non-guided trips.
Obviously there's a lot to consider here when you factor in locals who are out there every week, the skill level of the folks being guided, etc. But still interesting....
The breakdown for livebait vs. artificials wasn't terribly surprising either. Turns out muskies like to eat real, living minnows?
Who'da thought! 🤔
Looks like moon phases had a pretty big impact on catch-rate in this sample, too.
If you wanna dig deeper (and you totally should), click here to check out the full study. Lots of data in there to dig through if you've got some time to kill.
(Click the "Download PDF" button to access the full writeup)
---
Birthday Card
Not gonna lie, this is probably the best birthday card I've seen – hopefully my significant-other isn't reading this 😂....
For context, Mike Pasche's wife gave him this card, paired with a Whale Tail, which is a KILLER fall 'skie bait.
Love the musky quotes and the "Pin the Tail on the Whale" game 😂#nailedit
If you've never seen a Whale Tail, here what the 14-inch model looks like in the Thorne Bros custom "sauger" color:
The photo doesn't do this bait justice.... The tail is GIANT and muskies can't resist taking a bite, especially this time of year.
---
Spot Hawkin'
I was watchin' some super-sweet slow-mo boatside action in Jeff Andersen's latest YouTube video.....
.....when I ventured into the comment section – because apparently I was hungry for some drama?? That's about all you find in the comments these days 🤬
But what I found instead was some civilized discussion on why Jeff blurred out the map on his Humminbird screen.
From Jeff:
"I have seen spots from some of my videos getting pounded now because of fish catches I have posted.... I have some crazy amazing footage that I would love to show at times but I know the location would be exposed so I choose to not post those fish catches."
So that's the explanation, but this was our favorite part:
"I do think that if most would look at the videos and study the type of location, the lure, the technique they would be more successful rather than just relying on the spot for their success. There are muskies on every rock, island, bay, weed-bed, or bay (of LOTW) at any given time. It's the timing that makes the difference."
Most folks get WAY too obsessed with discovering the magical musky "hotspot" when, in reality, they should be refining their approach and looking for areas that other musky-heads haven't been fishing.
Don't be "that guy" who does his pre-fishin' scrolling through photos on Facebook.
It probably won't help you in the short-term, and it's definitely gonna hurt you in the long-run.
---
This Week's Mashup:
Mashup time!
Here's some cool stuff we stumbled on this week surfin' the interwebz:
#1 – Really diggin' this musky-themed wood-burning from Rustic Spruce Design Co. Might need to grab one for the home office!
#2 – Speaking of Northwoods muskies....
We HAD to add another sweet ultra-slo-mo shot, this time from Todays Angler in the Northwoods of Wisconsin. Killer boatside crunch on the Medussa!
#3 – Gotta hand it to Joe Franzoi on this bit of musky fishin' humor.
Although someone's wheels are probably turnin' after reading this.... 😉
#4 – Not the biggest fish in the lake, but how sweet is the backdrop of this musky shot from @fishing4world:
---
QUICK HITTERS:
– Doug Wegner's preferred hook sharpening strategy (video)
– 3 fish day w/ Burnin' Eights (video)
– Day 5 on Eagle Lake w/ Angling Anarchy (video)
– Shore fishing river muskies w/ SG Angling (video)
– October musky bait lineup w/ Smith's Fishing (video)
– New musky fishin' podcast to possibly check out (link)
– Hayward Muskies Inc. tourney had 441 anglers (link)
– Ohio musky stockin' update (link)
---
---
THIS WEEK'S 

MONSTER MUSKIES:
How insane are the colors on this big Canadian musky from Jason Klassen??? 
Thing would fit in just fine in the city of Oz. #GreenTeam
Sounds like the Musky Mayhem crew has been keepin' busy this summer putting their prototype bait to work. This quote caught our attention:
"This bait is very unique and responsible for so many fish this season we can't keep track."
🤤 We're excited for the release, and props to Dusty on poppin' his new PB on one of the prototypes:
Who says you need a big boat to catch big 'skies?? Beautiful fish from Grady Codd, tiger huntin' outta the small rig!
Wanna be featured in Musky Insider? Send in your recent trophy musky photos by replying to this email. You might just see your pic in next week's newsletter. 🤙
---
---
Want to see more from Musky Insider? Make sure to follow us on Facebook and Instagram for bonus content throughout the week!
Send all business inquiries to josh@muskyinsider.com
---