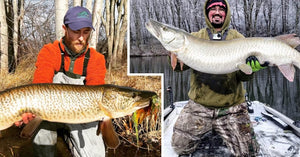 Kevin Goldberg Trolling Tip – Legit New App – Maina Mods
Be the FIRST to see Musky Insider every week by signing up for the email version of this newsletter. It's 100% free and we will never sell your email address! Click here to sign up and never miss another issue.
---
---
Short Line Trollin'
Spring trolling for prespawn 'skies is an awesome way to kick off your year on bodies of water where the season opens early 🔥
Here's a quick tip from A+ musky troller Kevin Goldberg on one of his favorite ways to troll 'em up in spring:
"In states where prespawn trolling is an option, one of my favorite ways to target these heavies is in a true short line trolling fashion.
"When I say short I am talking line lengths of only 0.5 to 10 feet of line from the rod tip."
0.5 is not a typo we are talking 6 inches folks 👀
"This tactic can be especially effective when the fish are holding in 4 to 9 feet of water on flats or in bays, which is a common pattern early in the year.
"One of the biggest advantages to shortline trolling is you can keep multiple lures high in the strike zone, all while covering lots of water relatively quickly with precision boat control to dial in the bite!"
Next week, we're hosting a live virtual class with Kevin Goldberg and Jason Quintano, two of the best musky trollers on the planet, and they'll be taking a deep-dive on this topic, along with everything else you need to know to have success trolling, and this isn't going to be a basic trolling 101 class either.
Kevin & Jason will be sharing tons of hardcore advanced tips/tactics that will help you catch more muskies.
You can click here to sign up – the class is happening 7:00pm CST on Thursday, March 2nd. 👍 Get in before the spots fill up!
---
Legit New App
Seems like most fishing apps are hit-or-miss. Download 'em, use 'em once or twice, then totally forget they are on your phone....
That said, I think we might have actually found a true "game changer" 👀
Johnson Outdoors (Humminbird/Minn Kota) just dropped an app they're calling the "One-Boat Network App". Kinda a mouthful, but should be super legit.
(Btw, we don't work with Johnson Outdoors in any capacity – we're just jacked about this app)
Most anglers have the Navionics Mobile App on their phone for easy-access to contour lake maps. Raise you hands if you've busted it out and looked over spots with buddies while you're hanging out off-the-water ✋
But now we have a similar option with Lakemaster.
This new app has Lakemaster maps, depth highlight and tons of other features, including the ability to control your Minn Kota iPilot stuff from your phone.
Only drawback is full HD mapping and some of the other features will set ya back $2.00/month, otherwise you just get basemaps and very few additional features.
Still seems like a pretty great deal though....
I just snapped a few screenshots on the app – can you name any of the three lakes on the maps?? I'll drop the answers at the bottom of the Quick Hitter section 👍
---
Maina Mods
Anyone else pacing around your garage, aimlessly sorting through your musky gear, counting down the days until opener here up north???
Okay, glad to know I'm not the only one! 😂
A tradition as old as time for musky chasers is modifying lures during the off-season – this recent video from Pistol Pete Maina has a few good ones:
Also, did anyone else notice the IMPRESSIVE wall of baits Pete has in the background??
Here's a look at a few of the mods he showed in the vid:
The first is adding a blade to the back of a topwater walk-the-dog bait, totally changing the action and giving it a completely different look. Next down is a simple blade mod on the middle hook of a crankbait. Last is a Red October tube with a Livingston Sound Bullet rigged inside and a blade added to the back treble.
Just something to get the gears turning in your head while you twiddle your thumbs this winter 😉
---
This Week's Mashup:
Mashup time!
#1 – Not gonna lie, we're getting pretty dang excited for the MN Muskie Expo coming up March 10-12. Lots of stuff to look forward to at the show, but they ALWAYS have an ultra-stacked Seminar lineup, and this year is no exception:
#2 – Just noticed that Thorne Bros has some WILD deals on cold weather gear right now....
From left to right (pictured): The Striker Apex suit is ridiculously light, flexible and it floats. Thorne has it marked down to $336 which is $140 OFF. The Striker Climate is another great float suit with multiple layers that's almost $100 OFF. Last, the Simms Insulated Jacket is roughly $100 OFF, but they only have an XL in-stock.
Here's a link to their sale page – some crazy deals on there right now.
#3 – Pretty wild lookin' paint job on this musky from Lawrence Paul Peterson. She'd be at the top of this newsletter if we could take a quick peak at her above water!
#4 – Check out this awesome musky carving from WI wildlife artist Dave Constantine. He carved it outta basswood for his son Adam's birthday present – too dang cool, man!
---
QUICK HITTERS:
– A reunion on Lake Namakagon w/ Keyes (video)
– "Dog Days" w/ Mayhem's 10k Casts (video)
– Short-line trolling tips w/ 54 or bust (video)
– Sunset Country summer muskies w/ Erik Jacobson (video)
– Figure 8 Fine Points w/ Jim Saric (video)
– Capital City Muskie School, March 25 at Waunakee HS (link)
– Getting creative with figure 8's w/ Heiting (video)
– Michael Hanson and Dan Donovan on Road Rules (podcast)
Lake #1 = Lake of the Woods
Lake #2 = Mille Lacs Lake
---
---
THIS WEEK'S

 MONSTER MUSKIES:
Huge congrats to @muskyshivers on landing this absolutely gorgeous fly munchin' musky.
Gotta love the combination of snow on the trees and a big chunky out-east musky in the boat – awesome shot, Dexter Dykins!
Awesome northeastern 'skie from guide Mark Richardson:
Wanna be featured in Musky Insider? Send in your recent trophy musky photos by replying to this email. You might just see your pic in next week's newsletter. 🤙
---
---
Want to see more from Musky Insider? Make sure to follow us on Facebook and Instagram for bonus content throughout the week!
Send all business inquiries to josh@muskyinsider.com
---