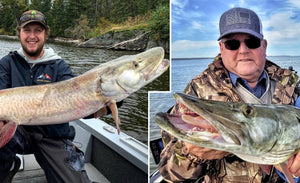 Livebait Rig Idea – More DIY Lure Storage – Downsize for Fall
Be the FIRST to see Musky Insider every week by signing up for the email version of this newsletter. It's 100% free and we will never sell your email address! Click here to sign up and never miss another issue.
---
---
Rubber Band Method
One of the big keys to catchin' muskies on meat is making sure you have lively bait.
In this AnglingBuzz video, Jeremy Smith goes step-by-step breaking down his rubber band sucker setup:
The key to this setup is ZERO hooks piercing the body of the sucker – maximizing health and longevity. Additionally, the rubber bands break free from the minnow with ease – no need for an aggressive snapping hookset.
"The real secret to livebait musky fishing is having really active bait. One of the biggest stressors is putting hooks into the minnows you're fishing with. To me, the less you stick hooks into your sucker, the better it's going to perform, and also, the better your hooking percentage is going to be."
Something to consider this fall. There are a number of different "mouse traps" you can use for fall livebait fishing. At the end of the day, you need to do whatever works best for YOU.
Cool thing about Jer's rig is you can experiment with band colors. Bright colors in dirty water and natural colors in clear water. 😉 (kidding!)
---
DIY Tackle Storage
Here's a few cool DIY bait storage ideas our readers sent in this week:
First up, check out this improved bucket storage system from Justin Krosschell.
The layout is similar to the normal bucket deal, but you can actually add a cover without the hooks getting in the way – Justin made a step-by-step building video if you want to make your own. 👍
We've seen the "gutter down spout" deal before, but sticking 'em in a Playmate cooler was a neat idea – small, compact, and you've got a handle for easy transport.
Excellent execution by Larry Michael in WI:
Gotta love it anytime you can take advantage of a random compartment in your boat and turn it into more tackle storage – good stuff from Mike Seybert:
Not DIY, but Mike's storage system kind of reminds us of the built-in (removable) storage in Lund's Pro-V Bass boats.
---
More Livebait Riggin' Thoughts
This photo from Nicole King in the MFT&T group spurred a bunch of conversation about sucker rigs and hook choice:
Many commenters talked about the importance of using high quality, premium treble hooks (100% agree), but some folks recommended that she start using big, extra-beefy hooks, which (in our opinion) isn't always the right call.
Here's Josh Borovsky's take on the topic of bulky vs. finesse:
"Bigger, bulkier heavy-duty hooks and rigs are less likely to fail, but they are also less likely to get bit. You'll get way more followers/lookers and way less bites.
"Obviously, you DON'T want to skimp with components to the level of losing your rig in a fish, but occasionally missing a fish is fine if it means getting more bites and ultimately landing more fish overall. This is especially important to consider in clearer water and/or with pressured fish.
"If you run the same rig all the time, you'll never know how many bites you could have had with a different presentation.
"It's the same deal with leaders. Everybody errors on the side of heavy duty and 'no weak links'.... and that's where their considerations stop. The action and performance of the bait matters a LOT, and baits perform differently depending on leader length, material, thickness, and whether there is a snap or split ring attachment.
"Everything has a trade off. In my opinion, you want to maximize the amount of fish you catch without a catastrophic failure vs. ONLY focusing on avoiding the catastrophic failure.
"You're also trying to maximize hooking percentages without compromising your ability to get the bite in the first place."
Something to think about next time you're rigging up for a fall sucker fishing trip, especially if you fish clear/pressured waters!
Steve "Herbie" Herbeck had some really interesting insights on this exact topic during our Late Fall Musky Tactics class. He's a big believer in downsize your rigs to get more strikes.
---
This Week's Mashup:
Mashup time!
#1 – This northern Michigan 'skie crushed Joe Pearson's Boggs Custom Curly Tail at the side of the boat, then fired-up a never-ending head shake 😂 #feisty
#2 – Glide bait season is definitely in full-swing right now! Hell Hounds are great because they are fairly easy to use compared to other gliders, which is a serious bonus if you're new to fishing this style of bait.
Our friends at Taps & Tackle have a bunch of freshies in stock:
#3 – This horker is catchin' it's breath after smackin' a Pounder-sized Bull Dawg:
#4 – Check out this eight foot metal musky sculpture from Steve Haas in Green Bay – he made it and sold it to some folks on the Fox Chain in Illinois:
---
QUICK HITTERS:
– Lee & Robbie fishing in MN w/ Todays Angler (video)
– Fresh Muskies Inc. hoodies available (link)
– Fall river musky baits w/ David Holmes (video)
– Eagle Lake topwater musky fishing w/ AA (video)
– Open water musky fishing w/ Matt Vavroch (video)
– Pete Maina, Rusty & Josh Teigen go musky catchin' (video)
---
---
THIS WEEK'S

 MONSTER MUSKIES:
Not the prettiest musky in the lake, but an absolute slob from Joel Alvestad. She crushed a Red October Monster Tube at the side of the boat:
Awesome photo from WI multi-species guide Troy Peterson with a porky fall 'skie:
This 52 inch north-of-the-border bruiser crushed Jade Fogarty's spook-style topwater bait before hitting the net – great fish dude!
Wanna be featured in Musky Insider? Send in your recent trophy musky photos by replying to this email. You might just see your pic in next week's newsletter. 🤙
---
---
Want to see more from Musky Insider? Make sure to follow us on Facebook and Instagram for bonus content throughout the week!
Send all business inquiries to josh@muskyinsider.com
---