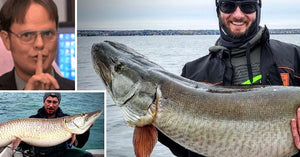 Livebait Tips from the Master – Big Fall Muskies – Wacky Boatside 'skies
Be the FIRST to see Musky Insider every week by signing up for the email version of this newsletter. It's 100% free and we will never sell your email address! Click here to sign up and never miss another issue.
---
---
Sucker Tips from Herbie
Was scrolling through the Musky Tips & Tricks Facebook group when I stumbled on a post from Jason Smith talkin' about sucker harnesses.
And guess who was dropping knowledge in the comment section: the sucker fishin' guru Steve Herbeck!
We asked Herbie if we could share a few of his comments here in the newsletter and he gave us the thumbs up 👍
#1 – On how long you should wait to set the hook:
"They call it a 'quick set' rig for a reason. The hookset should occur within 30-45 seconds, no more if possible – just enough time to see which direction the fish is moving and get in position. The smaller the bait, the quicker this needs to occur. Baits that are over 13-14 inches generally get carried sideways longer than baits 12 inches and under. Anytime you see a sucker's head inside the mouth of a musky or pike, it means you waited too long.
"The longer you allow the musky to hold onto the bait, the more things could go wrong. Your chances of gullet hooking the fish increases, and points/barbs can also get twisted and buried in the bait on the hookset due to jaw pressures and repositioning of the bait inside the musky's mouth, etc."
#2 – On his go-to "tough bite" sucker harness setup:
"When you start getting too many 'lookers' that won't bite, it's because the fish are shy and your harness isn't right. In these situations, I go with 60 pound 7-strand wire and black 2/0 or 3/0 hooks depending on the size of the sucker. I inspect my rigs after several fish and have never lost one due to broken leaders. The only time I'll use a heavier rig is when I feel like I can get away with it."
#3 – On sucker release systems:
"The type of release system is irrelevant as long as the sucker breaks free on the hookset. However, rubber bands, and to some extent clips, are better suited for aggressive presentations, whereas the smaller nose hooks are fine for passive presentations like bobbers or vertical below the boat where there's little-to-no contact with weeds, rocks, etc.
"When I'm fishing clear water, bright sunny days, lakes or spots with lots of livebait pressure, I like to go with more 'aggressive' presentations. That might be long-lining away from the boat within a couple feet of a weed edge or inches from a rocky bottom where I might need to occasionally clear a hangup. In these situations, black rubber bands will outperform anything else in the long run.
"If you're fishing darker water or fisheries with little pressure and more aggressive fish, you can get away with passive presentations and just about any release system, as long as the bait breaks free."
Hopefully, this helps you put a few more muskies in the boat before freeze-up!
---
GIF Parade!
Now it's time for some extra-wild musky action GIFs!
First up, check out this slow-mo shore fishing strike from Darian Savage, right next to a bridge piling.
Tough to tell from the camera angle, but Kyle Peterson (Wired2Fish) was paddlin' on a kayak when this river 'skie smoked his Whopper Plopper and went completely ballistic.
Gotta give Master Crow a hand 👏 for capturing some awesome underwater trolling strikes this year – here's one of our favorites:
---
Quick Survey
We try to make everything in this newsletter either educational or entertaining.
But right now, we need your help with something....
Real quick: If you're a fan of what we do every week with this newsletter, would you take a moment to fill out a super-short survey?
It shouldn't take you more than one or two minutes to complete:
Click here to fill out the survey
We're gathering some information for a "secret" project we'll be working on over the next few months.
---
Some Random Shhhtuff
This content doesn't fit neatly into any one category, so I'm going to throw it all into a big pile right here in the middle of the newsletter.
Trueglide makes some killer musky baits, but they're pretty dang good at sunset photos, too. 😉
Have you ever done one of these before?
No, that's not a muskrat, haha. This isn't the first time we've seen a musky swimmin' with it's head out of the water, but we're still having a hard time wrapping our head around the "why"....
You know fishing pressure is bad when the muskies poke their head out of the water to check for anglers before settlin' in to relax on their favorite weed line. 😂
Now that the warm weather is officially behind us (probably), our time on soft water is severely limited. Unfortunately, winter is just around the corner....
Some of you might be chasin' southern muskies, others get to drive down south and fish tarpon for the winter. The rest of us are stuck drilling holes in the ice and getting our trucks stuck in the middle of the lake.
....and then you have guys like Doug Washer who drive around in rigs like this all winter:
It could be worse!
---
QUICK HITTERS:
– A couple big northern Michigan muskies w/ Todays Angler (video)
– Fall casting in northern Wisconsin w/ Angling Anarchy (video)
– Maina chasin' muskies in the rain (video)
– Rookie fishing for muskies in Minocqua, WI (video)
---

---
THIS WEEK'S MONSTER MUSKIES:
Congrats to Justin on catching this absolute mammoth of a musky (54 x 26") while fishin' with guide Michael Olson. #whalewatch
Alex McLean is showing up in the newsletter for the second week in a row! We try to spread the love to as many anglers as possible, but we HAD to share this 53.25 x 27.25" potbelly Alex caught this past weekend.
Here's another extra-girthy fall 'skie, this one from Mike Duche on Lake St. Clair.
Lovin' the winter wonderland background on this big musky shot from Jim Grover.
Wanna be featured on Musky Insider? Send in your recent trophy musky photos by replying to this email. You might just see your pic in next week's newsletter. 🤙
---
---
Want to see more from Musky Insider? Make sure to follow us on Facebook and Instagram for bonus content throughout the week!
Send all business inquiries to josh@muskyinsider.com
---