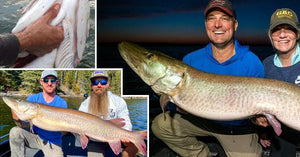 Livescope Strike GIFs – How to cast better – Al Lindner on musky fishing
Be the FIRST to see Musky Insider every week by signing up for the email version of this newsletter. It's 100% free and we will never sell your email address! Click here to sign up and never miss another issue.
---
---
Live Viewin' Muskies
We love talkin' baits and tactics, but the biggest "game-changer" in musky fishing over the past couple decades has been electronics.
First it was high-def mapping, then it was Side Imaging.... now it's live viewing sonar like Garmin Livescope, Lowrance ActiveTarget and Humminbird MEGA Live.
For how big the live sonar stuff has gotten the last couple years, I'm surprised there aren't more folks recording and sharing clips online.
I was watchin' a new video from Wired2fish and they had some sweet clips we had to share here in the newsletter:
#1 – Looks like a musky followin' a bait on a straight retrieve:
#Figure8Time!
#2 – Could you imagine watchin' a musky take a savage strike at your bait like this feisty open water 'skie??
#3 – Also, how cool is this strike, jiggin' over the top of some shallow weeds??
We all know someone who still thinks fishin' with 2D sonar is cheating....
Probably shouldn't show 'em these clips, unless you want this reaction:
---
Casting Big Baits
If you haven't worked on improving your casting technique, this new video from Doug Wegner is worth a watch:
When you're castin' big baits, you should be optimizing for a few things:
Casting Distance

Minimizing Tumbling & Tangling

Minimizing Shoulder Fatigue
The first thing Dougie recommends is lengthening your leash:
Another important piece of the puzzle is maximizing your output/effort ratio by using extra-long rods that launch baits long distances without a max-effort cast.
Doug likes to use a 10' XH Thorne Bros Predator Rod paired a Daiwa Prorex reel. This setup has a ton of length & backbone, making it perfect for chunkin' big, heavy rubber baits.
Do yourself a favor.... Start using longer rods and dial in your casting technique. Your shoulder will thank you after a long season of fishin' big baits.
---
Musky Fishing = Punishment
Couldn't help but laugh reading this quote from Al Lindner:
"If you're a very bad person in this life, your punishment will be casting to muskies for the rest of eternity."
Kinda makes sense if you think about it.... The grind is real! 🤣
Some of us willingly chose to start our "punishment" early.... 🤷‍♂️
Musky anglers every time they launch the boat:
But sometimes the reward is worth the hours of punishment!
---
This Week's Mashup:
Mashup time!
#1 – Really diggin' this black canvas painting from @jkostella 🔥
#2 – About the only time you'll see us excited about pike is when they're THIS massive – great shot from Elwin Van Middelkoop in the Netherlands.
#3 – I think we've all been there.....
#4 – I can feel Josh Johnson's pain through the screen right now:
His quote with the photo:
"Please show me on the net where the giant musky hurt you. What a heartbreak.... Can't wait for my new net to arrive."
---
QUICK HITTERS:
– Fall musky livebait fishin' w/ Pete Maina (video)
– Kayak musky fishin' action w/ Jay Siemens (video)
– Chasin' Wisconsin muskies w/ Todays Angler (video)
– Fall musky fishing in northern WI w/ Burnin' Eights (video)
– Green Bay musky fishing w/ Smith Fishing & Phil Stodola (video)
– Updates on Lake Geneva in Wisconsin (link)
– New musky baits from Livingston (link)
– OneWater Marine acquires T-H Marine for $185m (link)
---
---
THIS WEEK'S

 MONSTER MUSKIES:
Check out this big 55.25-inch Green Bay bruiser outta Doug Wegner's boat. #LowLightLeviathan
Feast your eyes on this big, clean croc-headed 'skie from Donnie Manz in MN 💪
It doesn't get as much attention as MN, WI and ON, but Michigan sure has some beauty 'skies! Lovin' the colors on this 50-incher from David Dykowski 😍
Danny Herbeck sure knows how to break in a new boat! This 54.5-inch monster was part of a three-fish-day on Eagle Lake. #KillinIt
Wanna be featured in Musky Insider? Send in your recent trophy musky photos by replying to this email. You might just see your pic in next week's newsletter. 🤙
---
---
Want to see more from Musky Insider? Make sure to follow us on Facebook and Instagram for bonus content throughout the week!
Send all business inquiries to josh@muskyinsider.com
---