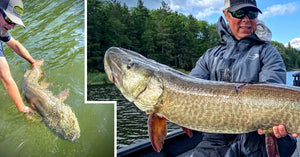 Luke Ronnestrand Tips – Simple Rod Mod – Two-Faced Esox
Be the FIRST to see Musky Insider every week by signing up for the email version of this newsletter. It's 100% free and we will never sell your email address! Click here to sign up and never miss another issue.
---
---
Luke Ronnestrand Tips
We reached out to one of your favorites, Luke Ronnestrand, to get the rundown on what he's using to catch 'skies RIGHT NOW – enjoy!
First, let's talk baits:
"Bucktails are generally a huge part of what we do on a daily basis, but this is the time of year where Beavers, swimbaits (the Swimmin' Dawg is one of my favorites), Bull Dawgs and topwaters can really shine. Fishing pressure has been heavy all summer and you need something a little weird to perk them up."
We asked Luke if he had any favorite colors this time of year. A few of his favorites include black, black, black aaaaand black! 😉
"Black is good because our water starts to get a green bloom this time of year and black contrasts really well in these conditions."
Black isn't the ONLY color he's throwing, but it's definitely a huge producer – this 52 incher got a quick tour of Luke's boat after snappin' a black Baby Beaver:
A couple other things to keep in mind:
#1 – "My favorite time of year to throw topwater baits is now until fall turnover. During the summer months, the topwater bite can be a little inconsistent, but this window has some of the most consistent topwater action you'll find all year."
#2 – "Now's the time when slowing down is a really big deal. I'll spend more time on each spot, picking it apart, taking more casts to comb the area. Being thorough will help you catch more muskies right now."
One thing he does to slow down is use lower gear ratio reels. The 5.3:1 Daiwa Prorex is his reel of choice for most presentations this time of year:
"I like it for pulling big blades and big swimbaits. It's also great for slowing down with dive-and-rise jerkbaits. Recently, we got into a really good dive-and-rise bite and one of my clients was getting the bulk of the action because he had a lower gear ratio reel that was forcing him to slow his cadence."
Luke still likes the 7.1:1 Prorex for rubber baits and topwater, but the slower reels have helped his clients catch more fish the last couple weeks.
Kinda surprised to see Thorne Bros has 'em in stock on their website. Earlier this year, those things were hotter than toilet paper in a pandemic....
On the rod/line side of things, Luke keeps things pretty simple. He's spoolin' up his reels with 80# Cortland Masterbraid and running them on a 10' XH Thorne Bros Predator rod.
"That 10' XH is a very versatile rod – it has enough action to fish medium sized bucktails, but it also has enough power for giant swimbaits."
That's a boatful of info, but hopefully it helps you put a few more 'skies in the boat as we sneak into early September – thanks to Luke for taking the time to drop some knowledge!
---
Two-Toners
Anyone know what the deal is with these two-toned water dragons?
Mike Kroll caught this one and shared it in the MFT&T group:
In response, a BUNCH of folks shared photos of their two-toners in the comment section. Not sure how it happens, but they look sweet!
Here's a few that caught our eye:
Let's start with this barred beauty from Jordan Wiggins in northern WI:
Next, we've got a gator-mouthed Wausau two-toned monster from Jeff Micholic:
Here's another dose of half-and-half, this time from Austin Joos:
Turns out it's more of an Esox thing than a musky-specific thing....
Here's a big two-faced gator from Kurt Kimpton:
Kinda reminds me of that two-face guy from the Batman comics/movies.... 🤷‍♂️
---
Quick Rod Tweak
Cool idea from the late, great Tom Gelb. #RIP
Pete Maina shared it on his FB page with this caption:
"Several decades ago Tom Gelb talked about this. Tried it on one muskie rod and standard procedure ever since. Drill an 1/8th inch hole in trigger on rod, buff with a little sandpaper... great lure hanger location; keeps hooks away from line and blank while bouncing down road or lake."
Here's an example for you visual learners:
Musky lures are big & heavy and they tend to break things when they're bouncin' around. Thought this was worth trying and passing along!
---
This Week's Mashup:
Mashup time!
#1 – Lot of folks hang rods on the ceiling of their garage, just above where they park their boat. Works great, but I've never seen anyone do it with musky lures.
Great idea from John Hoyer:
Also good to see Hoyer giving those cotton candy walldawgs a break.... 😉
#2 – How sa-weet is this boatside hookup from Timmy Peterzen on a classic black/nickel Mayhem Junior Girl?? #spicy🔥
#3 – In the musky fishin' world, Baby Beavers are practically a currency – cuz they're money 💰 all season long!
And our buddies at Thorne Bros just got in a fresh batch in the shop 👀
#4 – How sweet is this up-close-and-personal tiger photo from Grady Codd???
---
QUICK HITTERS:
– PMTT this weekend on Cass/Bemidji (link)
– Info on boating and driving to Canada right now (link)
– Fishin' the Chippewa Flowage w/ Todays Angler (video)
– Trollin' rod holder setup w/ ProFishermanJones (video)
– Chasin' muskies with topwater & blades w/ Smith's Fishing (video)
– Trollin' with underwater views w/ Master Crow (video)
---
---
THIS WEEK'S

 MONSTER MUSKIES:
Props to Jeff Andersen on making his way across the border and putting a 50-inch Lake of the Woods monster in the bag in short order!
I'll never NOT love these boatside water release photos – thanks to Glenn McDonald for sharing this sweet snap:
Check out the noggin on this plus-sized shovel-head! Props to Jack Davis on the beautiful tiger 'skie 🐅 
Families that slay together stay together! Excellent family photo, courtesy of Leech Lake guide Phil Bauerly 💪
Wanna be featured on Musky Insider? Send in your recent trophy musky photos by replying to this email. You might just see your pic in next week's newsletter. 🤙
---
---
Want to see more from Musky Insider? Make sure to follow us on Facebook and Instagram for bonus content throughout the week!
Send all business inquiries to josh@muskyinsider.com
---