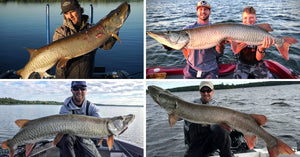 Minnesota Musky Opener (Tips & Tactics) – Giant Muskies – Favorite Spots & Baits
Be the FIRST to see Musky Insider every week by signing up for the email version of this newsletter. It's 100% free and we will never sell your email address! Click here to sign up and never miss another issue.
---
---
Minnesota Musky Opener
Everybody in Minnesota can breathe a BIG sigh of relief because musky season is finally here!
To celebrate this glorious occasion, we reached out to some high-end Minnesota musky commandos to see how they'll be approaching Musky Opener on their respective waters.
So.....without further ado, let's get to the goods!
---
Lake Vermilion w/ Luke Ronnestrand
No doubt, Lake Vermilion is going to be BUSY on opening weekend.
Here's how Luke Ronnestrand plans to break down the lake:
"Opening week has turned into one of my favorite times to target Muskies on Lake Vermilion. I get to fish early season areas and spots I seldom use throughout the rest of the season. Shallow sand, boggy shorelines and lily pads draw a lot of attention from all types of fish this time of the year.
"My friends at Vermilion Dam Lodge have told me that some of the bass fishermen staying at the lodge have been encountering Muskies in these locations for the past couple of weeks. I am counting on fish still using these areas.
"Once I stop seeing numbers of fish up shallow, I will start to look at the outside weed lines and shallow mud basins in 10-12 feet. As soon as the fish vacate those areas, I will start looking at some of the deep, open water basin areas."
Big V is a notorious for it's open water bite, but sounds like Luke will be starting shallow and working his way out from there.
Here's his go-to baits for this weekend:
"For shallow water fishing, I like to use gliders, topwaters, twitch baits and some swimbaits. More specifically: Phantom glide baits, Wirth and Wick topwaters, 7" Slammer Minnows, Drifter Vexers and Regular Swimmin' Dawgs. I am also a huge fan of Frenzy's Stagger 8's and CJ's Small Tandem Spinnerbaits.
"When I'm casting out in open water, I'll use Bull Dawgs, Medussas, and the Baby Beaver.
"Looking forward to getting out there and seeing some of you on the water! Good luck."
What he really means is he's looking forward to kickin' your butt this weekend! 😉
---
B

emidji/Cass Area w/ Kevin Cochran
Next up, we have Kevin Cochran who lives and guides in the Bemidji and Cass Lake area, which is basically smack dab in the middle of the heart of Minnesota Musky Country. 🔥
Here's how he will be approaching opener this year:
"My early season success revolves around fishing for muskies that are spawning or are furthest away from the spawn. Muskies will be in the spawning or immediate post-spawn stage in the large deep lakes. On the opposite end of the spectrum, muskies in small lakes will be further away from the spawn.
"The larger lakes will have a casting shallow water bite available for spawning or immediate post-spawn fish. We have consistently caught fish casting small 4-6 inch glide baits, jigs, and small bucktails during this time."
And you can bet Kevin won't be "guessing" where the fish are on Saturday....
"Over the last 20 seasons, I have spent time with the DNR electrofishing and netting muskies during the spawn. Typically population assessments are performed in the middle of May. This has given me the precise location of the most active spawning areas on numerous lakes. I will spend the two days leading up to the Minnesota opener scouting with my Side-Imaging and Livescope to find their exact locations."
So that's the big lakes. What about the smaller lakes?
"The smaller lakes have warmer water temperatures and substantial aquatic vegetation in comparison to the large lakes with pelagic baitfish. Muskies in the smaller lakes will start using the emergent weed growth. Muskies can be caught on these lakes casting or short-line structure trolling. On these lakes, I'm typically casting small bucktails, neutrally buoyant crankbaits, and glidebaits. When I am short-line trolling, I use many common small baits that are used on St. Clair."
"Understanding the spawning status of the lake you are fishing is essential to increase your odds at catching muskies. I am fortunate to have numerous lakes that are on opposite ends of the spectrum regarding composition, forage base, and angling pressure. This diversity allows me to exploit the lakes' optimal bite windows throughout the season."
Here's a closer look at Kevin devising his masterplan for opening weekend:
---
Western Minnesota w/ Matt Seifert
Musky guide Matt Seifert will be coverin' Western MN, home to some of the states finest musky waters:
"Western Minnesota water temps are 62 to 67° as of right now (June 3). That being said, you can plan on the muskies being done with the spawn and moving to feeding areas. Most of the western lakes are deep and clear, so keep in mind the weed growth will not be anywhere near as good as mid summer.
"If you have fished these lakes in the summer and have a few good spots you like, make sure to fish them, regardless of weed growth. The fish we caught last opener were on completely weedless brake lines – in other words, a good spot is a good spot. If you can find shallower bays with good weed growth, they will also hold some fish. There has been a few small bug hatches this week so don't be afraid to check the open water, too."
Here's what he'll have on the deck this weekend:
"The bait selection is pretty easy. My favorite opening week bait the last two years has been the JR4 or JR3 slow-rolled. I would also burn smaller bucktails like the Showgirl or the Single Girl. Phantom Softail gliders are always a must have for early season, and don't forget the slower, subtle topwaters. I like to troll Headlocks and Mattlocks in the open water, but you can also cast rubber and catch some fish."
---
The Metro w/ Josh Borovsky
For those of you fishin' Metro waters this weekend, we've got an in-depth breakdown from guide Josh Borovsky.
This area has a diverse group of musky fisheries to tackle, but Josh's preview should have you covered wherever you choose to launch your boat! 👍
"We are likely looking at upper 60 to low 70° water temps across the metro depending on which body of water you're fishing. Smaller and/or darker bodies of water like Eagle, Independence, Bald Eagle and Forest will be warmer. Minnetonka and White Bear should be the coolest of the bunch.
"With temps as warm as they are across-the-board, I suspect the majority of the larger fish will have moved out of spawning areas already and will likely be set up on deep weed edges or suspended in the open water already.
"A safe place to start would be any large weed point with deep water access that is also adjacent to a spawning area. This time of year, I pay close attention to my electronics to monitor where the best weed growth is along with bait fish concentrations.
"I would encourage everyone to be thorough on your first few spots especially if they are points. If you don't mark or see fish on the edge, don't be afraid to get up on top of the structure and fish every inch of it with traditional spring baits like small bucktails, phantoms, topwaters, and swimbaits.
"If you're only seeing them on the tip section of the points, that could be a hint the fish are suspending. In this case, I would target the tip sections of points, deep weed humps, and open water near hard-to-soft bottom transitions.
"For those of you lacking confidence in the open water bite, one of the easiest places to find them early in the season is suspending in the middle of what I call 'sink holes', which is simply a deep depression in the middle of a weed flat."
Here's what Josh will be chunkin' on Opener:
"I think a lot of the traditional "summer" lures may be effective out of the gate. MuskyFrenzy Stagger Blades were highly productive for me last year and they should be in play again this spring. I would encourage you to play with your bucktail speed, seeing how fast you can get away with fishing them. I also plan to lean on Barfighters, Beavers, Wade's Wobblers, Bull Dawgs, Medussas, and Whaletails on deep edges and also for casting to suspended fish.
"If the structure bite is tough and your progressions are leading you to open water, trolling is a great way to cover ground and locate baitfish and suspended muskies. Supernatural Headlocks and Mattlocks are my favorites for this application and have put a lot of big fish in my boat over the years."
That wraps things up for the Minnesota Musky Opener Preview. Hopefully, this points you in the right direction and gets you on some 'skies this weekend!
---
QUICK HITTERS:
– Ontario Musky Opener in two weeks (link)
– Spring River Float Fishing w/ Todays Angler (video)
– 7 Muskies in One Day w/ Doug Wegner (video)
– How to Replace Rubber Tails w/ TRO (video)
– Dick Pearson interview on Back Lash Podcast (link)
– Talkin' Cast Backs w/ Joe Bucher (video)
– 10 Common Parasites/Diseases in Gamefish (link)
---
THIS WEEK'S

 

LUNAR TIMES:
(Times based on Minneapolis)
---

---
THIS WEEK'S MONSTER MUSKIES:
Check out the belly on this blimp of a musky from Trevor Seis in Wisconsin!
This West Virginia monster musky from Brady Lewis was too big to fit in the dang picture – huge congrats on an out-east mammoth!
This massive LSC slobasaurus couldn't resist Jeremy Ullmann's orange walleye-sized Rapala. Turns out big baits = big fish doesn't always apply to muskies!
Who says musky fishin' needs to be hard?? David Dykowski caught this beauty on the first cast of the day.....with a fly rod no less!
Wanna be featured on Musky Insider? Send in your recent trophy musky photos by replying to this email. You might just see your pic in next week's newsletter. 🤙
---
---
Want to see more from Musky Insider? Make sure to follow us on Facebook and Instagram for bonus content throughout the week!
Send all business inquiries to josh@muskyinsider.com
---