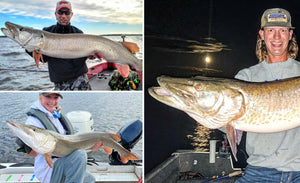 Monster 55+ Incher – Summer Topwater Tips – Sweet Musky Wall-Hangers
Be the FIRST to see Musky Insider every week by signing up for the email version of this newsletter. It's 100% free and we will never sell your email address! Click here to sign up and never miss another issue.
---
---
No Fruity Umbrella Drinks!
Was reading an article from In-Fisherman and had to share some stuff here....
I love how this quote from Pete Robbins not only speaks some truth about musky fishing, but also subtly jabs at the bassin' folks 😉
"Unlike bass fishing where you can mail in your concentration for a cast or two, in musky fishing the one cast you failed to pay attention would be the one where Big Toothy would make you look foolish."
Sometimes you can stick 'em when you aren't paying attention, but more often than not, you're going to miss opportunities at catchable fish – this is especially true if you haven't developed proper technique/habits.
I also enjoyed this little quote from the author:
"You don't just dip a toe into the musky world. It's not a short-term commitment. No fruity umbrella drinks will be served. Instead, you're introduced to a world marked by frustration."
Despite not being a diehard musky-head, I think Pete understands how our little club works.... 😅
Also gotta give his wife a shoutout for putting up with the punishment of a three-day musky trip on the Great Lakes. She skunked the first two days, but stuck with it and ended up boating three fish herself on the final day:
Even more impressively, she did it chunkin' a pounder-sized Bull Dawg 💪
Pete wrapped up his article with a few tips for folks lookin' to target a new species:
Go where they live.

Enlist the help of someone better than you.

Ask dumb questions.

Prepare yourself physically.

Get after it.
Honestly, I think that's pretty good advice for ANYONE – even if they've been fishing muskies for years. Many aren't willing put in the work or humble themselves, even when it means more 'skies in the boat 🤷‍♂️
---
Arts & Crafts
A few cool pieces of musky-themed artwork we dug up this week....
Might need to pick up one of these musky striped wall hangers – pretty cool idea from @creeknut.
Not sure what's going on here, but we gotta give @drewlr an "A" for creativity with this musky-themed tattoo concept art.
Impressive rusty metal musky painting from @jayboart:
---
Topper Time!
Most folks are lookin' to turn & burn during the summer months, but not Gord Pyzer! He prefers a more methodical approach that doesn't include killing your hands. 😂
Here's Gordo's favorite way to target summertime muskies:
"There is no more exciting way to catch muskies than on topwater lures and no better time to do it than in the heat of the summer.
"But there is another reason why throwing surface lures at this time of the year is so effective. You can pitch them over the thickest weeds and shallowest rock cover where big toothy critters are roaming, and never get hung up, disturb the zone or spook the fish.
"But there is a lesson most big toothy critter anglers need to learn and that is to slow down – way down – and not overwork their lures. Too many anglers are under the mistaken impression that they need to wake up the neighborhood and draw attention to their lure sitting on the surface. But believe me, every muskie within 100 yards saw and heard your lure land.
"Remember, you're entering their domain and they're acutely aware of everything that is going on.
"About the only time I pick up the pace is when I spot a big fish suddenly pull in behind my surface lure and start stalking it. I'll superimpose myself into the lure and imagine that I'm a mouse, muskrat, duck, injured fish, or some other creature that knows it is about to be eaten and is trying to flee."
Good stuff from the Doc. Click here to check out the full write-up!
---
This Week's Mashup:
Mashup time!
#1 – And the students have become the masters.... Congrats to Elli Borovsky and Carter Graff on becoming state champs at the Minnesota State High School Muskie Championship.
This 50 incher from Elli was the big fish that put them over the top:
#2 – Shallow Swimmin' Dawgs straight-up catch 'em, whether you're working them over cover or out in the basin. The Taps & Tackle 3D custom colors are pretty wild – here's a few cool patterns that are still in stock on their site:
(Colors from left-to-right: Walleye, Spottail Shiner and Natural Sucker)
#3 – Really unique snap from outdoor photographer John Fallon:
#4 – It's been a good summer for musky fishin', but who else counting down the days until fall?? Nice pic from @oprosflyfish 📸
---
QUICK HITTERS:
– Cold front musky fishing w/ Todays Angler (video)
– 3 Minnesota musky bites w/ Doug Wegner (video)
– Green Bay musky footage in Brian Klein's boat (video)
– Wabigoon musky fishing w/ 54 or Bust (video)
– Gord Pyzer on looking for 'skies in oddball spots (link)
– Putting the odds in your favorite w/ Steve Heiting (video)
– Fly musky footage w/ Blane Chocklett & Badfly (video)
---
---
THIS WEEK'S

 MONSTER MUSKIES:
Congrats to @fish_aun on boating this absolute mammoth of a musky on Lac Seul in Ontario – 55.25 inches with a plus-sized pork-belly.
Props to Brad Nelson on poppin' his new PB casting musky (53.5 inches) while spending some time on Lake of the Woods.
Donnie Manz NAILED this full moon musky photo – giant fish with the moonlight peaking over his shoulder 💪
Wanna be featured in Musky Insider? Send in your recent trophy musky photos by replying to this email. You might just see your pic in next week's newsletter. 🤙
---
---
Want to see more from Musky Insider? Make sure to follow us on Facebook and Instagram for bonus content throughout the week!
Send all business inquiries to josh@muskyinsider.com
---