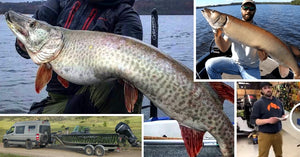 MORE Luke Ronnestrand Tips – GIANT Wisco Musky – Musky-wrapped boat
Be the FIRST to see Musky Insider every week by signing up for the email version of this newsletter. It's 100% free and we will never sell your email address! Click here to sign up and never miss another issue.
---
---
Luke Ronnestrand Tips
It's not everyday you get to follow Luke Ronnestrand around his garage and listen to him talk about musky fishing for 52 minutes. 👀
Well, today you can....
100% worth a watch if you have the time. Heck even if you DON'T have the time!
There's a bunch of good nuggets throughout, but here's a few timestamps if you're lookin' for something specific:
Boat walkthrough (0:30)

2019 Side-Imaging screenshots (9:55)

2019 baits & times for his biggest fish (19:07)

Spring "Opener" tips (25:30)

Thoughts on rod/reel choice (30:03)

Some favorite baits (37:25)
Also.... if you've ever fished with Luke, you know he somehow finds a way to fit each and every musky bait on that wall into his boat – we're only kind of kidding....
It's impressive, but probably wouldn't get the Marie Kondo stamp of approval. 😉
If you want to watch any of the other "virtual" seminars from last weekend, you can find 'em all on the Thorne Bros FB page. Here's the links:
---
Wisco Hawg-Dawg!
Feast your eyes on this big, clean northern Wisconsin 'skie from Chas Martin.
Best part about this fish (for YOU anyway) is that he captured the entire experience on video. Click here to watch the action from cast to catch.
That's a 50-inch bronze beauty right there!
Sounds like Chas and his brother Brian had stumbled onto a nice group of fish:
"We've been fishing ONE reef all morning and we can't leave this reef because we have five different muskies going."
When the fish won't commit, most folks will change up baits or come back during majors/minors, but don't forget about changing your casting angle. That's one of the factors that helped put this brute in the net!
Love seeing these big fish vids from the 2019 season – open water's coming soon!
---
Musky-Themed Boat Wrap
Not gonna lie, most boat wraps are pretty lame....
These days, even small local bassin' derbies look like a Nascar event with all the souped-up, glittery boats with 35 logos on 'em.
That being said, there are SOME wraps that are pretty dang sweet.
Exhibit A:
Props to Jody Marler for wrappin' his Lund up right! #notcringy 👍
That's a ride fit for a true rocky mountain Tiger King!
---
Bucher on 
Reel
 Choice
Nobody gets excited talkin' gear ratios and spool sizes, but matching your presentation with the right reel can make a MASSIVE difference.
Joe Bucher recently posted a video on that exact topic:
Before we jump into Joe's favorite reels for different situations, here's a super down and dirty explanation of how this works:
A higher gear ratio reel will pick up more line with each revolution of the handle, but is more difficult to turn. Lower gear ratio reels pick up less line, but are easier to turn.
Spool size also impacts the retrieve. The wider the diameter of the spool, the more line it will pick up and the more difficult it will be to turn the handle. Line capacity is also a factor when comparing 300 and 400 size reels.
Here's a quick summary of how Mr. Bucher chooses reels:
He'll use a 5-1 gear ratio reel for double-10's, deep diving crankbaits and other lures that create a lot of drag in the water. He likes 'em in cold water situations when he's trying to slow down his presentation, too.
If you can only buy ONE reel, Joe recommends a size 400, 6-1 gear ratio reel as your all-around workhorse. He also likes the size 300 for smaller hard baits and bucktails.
Joe likes to upsize to the 7-1 gear ratio reels for warm water situations where you want to speed-up your presentation. Crankbaits that don't create too much drag, topwaters and lipless cranks fall into this category. He also likes the quick pick-up of the 7-1 when he's fishing jerkbaits.
He'll pair a size 300, 8-1 gear ratio reel with a 9-foot St. Croix Downsizer Rod for throwin' lipless cranks and small, single blade bucktails.
I believe Joe is primarily using the Daiwa Lexas, but there's a few companies out there that make rock-solid musky reels and most of these recommendations are fairly universal.
Everyone's going to have their own personal preferences when it comes to rod/reel/line, but this is a great place to start if you're new to the musky game.
---
QUICK HITTERS:
– Northern WI open water season open one month longer in 2020 (link)
– Less fish stocking in Indiana due to COVID-19 (link)
– Book: Musky Strategy by Tom Gelb is back in print (link)
– Cave Run PMTT to be rescheduled, TBD (link)
– Study on the effectiveness of musky electrofishing samples (link)
– Pradco is making hand sanitizer and face shields (link)
– Northern WI musky fishing w/ TRO (video)
– Supernatural 8fives available for $65-80 (link)
– 5 minute figure-8 musky catch (video)
---
THIS WEEK'S

 
LUNAR TIMES:
(Times based on Minneapolis)
---

---
THIS WEEK'S

 MONSTER MUSKIES:
This week, we're gonna take a quick break from the southern 'skies to torture the up-north anglers who are still months away from open water musky fishing. 😉
Here's a few plus-sized 'skies from the 2019 season:
This late fall Lake of the Woods porkbelly was part of a six-fish day vertical jigging tubes with Pat McSharry and guide Joe Cooper.
Another fall throwback – this monster took a swipe at David Olson's husky-sized Medussa just moments after it hit the water.
Talk about GIANTS – this early season Minnesota leviathan from Benjamin Knutson hit a ridiculous 56.25" on the bump board.
Wanna be featured on Musky Insider? Send in your recent trophy musky photos by replying to this email. You might just see your pic in next week's newsletter. 🤙
---
---
Want to see more from Musky Insider? Make sure to follow us on Facebook and Instagram for bonus content throughout the week!
Send all business inquiries to josh@muskyinsider.com
---