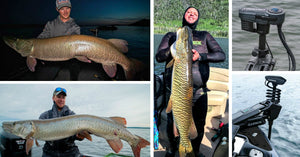 Muskies in Alaska??? – Killer LOTW Tips – Speared Trophy Musky 😥
Be the FIRST to see Musky Insider every week by signing up for the email version of this newsletter. It's 100% free and we will never sell your email address! Click here to sign up and never miss another issue.
---
---
New kids on the block
It's official: Garmin and Lowrance are getting into the trolling motor game. Big, big news – especially for Minn Kota who currently owns over 80% of the market.

This is a serious shake-up. 

Both companies are bursting onto the scene with high-end models priced over $3,000 vs. less than $2,500 for Minn Kota's flagship Ultrex.
One of the most talked about features on both these units is the brushless motor which claims to deliver more power AND use less battery than the leading competitors – plus much less sonar interference.

Both feature a foot peddle that performs like a cable drive with power steering (similar to the Ultrex), though both companies have added their own "upgrades". Garmin's is completely wireless and Lowrance has programmable buttons.

Also, Garmin's trolling motor can do this:
There's LOTS we could talk about here, but at the end of the day reliability is key and these units haven't been "street tested" yet. Gonna be interesting to see how this shakes out over the next few years!
---
Lake of the Woods Tips
Lake of the Woods is an EXTREMELY popular musky destination – and for good reason: it kicks out a ton of fish!

Thought this might be a good week to call up Doug Wegner to get his 2 cents on fishing the lake. He's been catching 'em pretty good these past few weeks. This beauty was part of a crazy 5 fish morning a few days ago:
Here's Doug's take on location and presentation:

"I think a lot of anglers struggle with spot selection on Lake of the Woods because it's such a big lake and everything looks "good". Muskies here love rocks and weeds, but the sand can also play a huge factor.

"Not all rock is created equal either – look for boulders and stay away from the flat shield rock. You'll be fishing 1-8 feet of water this time of year, which means you'll generally be able to determine the rock-type underwater based on what you're seeing on shore. Weeds can also be highly productive, especially in the first few weeks of the season. Finding cabbage is key, more specifically big brown tobacco cabbage.

"I can only think of a handful of spots on the lake that take me more than 20 minutes to fish. Most spots are 5-10 minute quick-hitters. My advice: focus on the spot-on-the-spot and move on! Don't get caught up fishing down a shoreline. Cast the best lookin' stuff and move along to the next one – the more spots you fish, the more fish you'll catch!

"My recommendation for bait selection is to keep it simple. There should always be someone in the boat throwing blades, ideally in the front of the boat. A few of my favorites include the MuskyFrenzy Staggers, Junior Cowgirls, and Spankys in size 8 or 9 blades.
"Blades should be followed up by minnow baits such as a Shallow Raider,Grandma, Shallow Invader, or a Super Shad. Suicks can work great, too. Topwaters are a must during low-light periods like sunrise and sunset. Toss a Fat Bastard, CBJ, TopRaider or any tail bait and get ready for something to blow it up!

"Shallow Swimmin' Dawgs can be a day saver when things get tough. Pull-pause baits like Medussas or Beavers can be a factor as well on hot calm days when the fish seem to slide out a bit deeper. Keep your hooks sharp and line tight!"
---
Figure 8's are CRITICAL
When you're fishin' Lake of the Woods, knowing how to convert followers into biters is insanely important. In fact, 60-70% of Doug's fish are caught at boat side.

Like this one from Doug's buddy Forrest Huset:
Incredible shot from Doug's YouTube channel....

One thing we will say, everyone's got their own take on the boat side maneuver. Honestly, there's probably too much to cover in one newsletter.

👇 Down below, Dougie offers up a few tips that have worked for him and helped him put more fish in the bag:

"Figure 8's and boat side tactics, when done correctly, will double or even triple the number of fish you put in the bag. First things first, make sure you have a long rod, nothing shorter than 9 foot, no matter what bait style you're throwing. A long rod helps you make wider turns, giving the fish plenty of room to chase the bait around and eat it. I'm a big fan of shorter casting leaders, 6 to 12 inches in length. The shorter the leader, the bigger your 8 can be.

"With bucktails and topwater, I like to slow my bait in the corners and speed 'em up in the "center" or the straightaways. The goal is to make the fish bite in the corners when the bait is presented sideways to the fish, this allows for the highest hooking percentage. During the straightaways, fish are more prone to nip at the back hook, which leads to less fish in the net.

"With crankbaits and dive-and-rise baits, I like to do one or two quick up-rips 10 feet away from the boat, followed by a pause, allowing the bait to rises toward the surface. I've caught many fish doing this. Once you get into the actual figure 8, follow the same rules I laid out for bucktails, but instead I like to twitch the bait in the corners. Again, your goal is make 'em t-bone the lure."

Doug is hosting a Week on the Woods Musky School next summer if you wanna learn the ropes first-hand.
---
There are Muskies in Alaska???
According to this recent article, 'skies were recently shocked up on an unnamed lake on the Kenai Penninsula – almost certainly illegally stocked.

Sounds like there may have been natural reproduction happening on the lake, too, which is freaking out the local fisheries dept:

"Numerous muskies of varying ages were found…which is a terrifying thought"

Here's where the secret Alaskan musky lake is located:
Don't go planning your Alaskan musky adventure just yet though. Fish & Game claims to have "eradicated" the entire population via electroshocking.

We'd love to see musky fishing from sea to shining sea, but it doesn't sound like the salmon guys out west want any part of it. Ahh, well – that's a long way to haul a boat anyhow 😉
---
51" Utah Tiger Speared....
Welp, that's not something you see everyday...

A guy on a pontoon, wearing a full-blown diving getup, hoisting a big, dead tiger musky:
Sounds like the fish was 51-inches long, had a 21-inch girth and weighed 32 pounds. It was legally harvested 😞 on Fish Lake in Utah.

Spearing tiger muskies is illegal in Utah – BUT – it's allowed on Fish Lake because it's tiger population "escaped" from another body of water and aren't "managed" in this particular lake.

Here's the link if you wanna see the full post:
Utah Division of Wildlife Resources

Love to see spectacular fish like this, but hate to see 'em dead....
---
QUICK HITTERS:
 – Pitch-back musky strike on a walk the dog (video)

 – Podcast w/ Spencer Berman, Hulbert, Quintano & Pascua (link)

 – 39lb musky found fatally wounded in Indiana (photo)

 – River float musky fishing w/ sbfishingtv (video)

 – LOTW musky fishing w/ Jay Siemens (video)
---
---
THIS WEEK'S MONSTER MUSKIES:
Looks like the muskies are eatin' good up on Eagle Lake! According to Jeremy Smith, the shallow weed bite was hot and heavy earlier this month with bucks and toppers producing some serious 'skies.

Jer also posted an awesome GoPro video of a big one takin' him for a ride around the boat. Check it out on the Angling Edge FB page!
Props to Ted Bisbee on sticking this West Metro buiser that came up just 1/8" short of 50! She drilled a black & orange MuskyFrenzy 8/9 Staggerbucktail flying over an 8-10' weed/sand flat.
The big girls can't resist the camo crocs – just ask Jace Loge! This beauty fell victim to a Thorne Custom JR Heavy just after sundown on Lake of the Woods.
The boat's plenty big, but looks like Henry Mullenbach is gonna need a wider lens to get this 55" Mille Lacs gator in frame! Her meal of choice from the spread of trollin' baits was a 12" Headlock.
---
Want to see more from Musky Insider? Make sure to follow us on Facebook and Instagram for bonus content throughout the week!
---