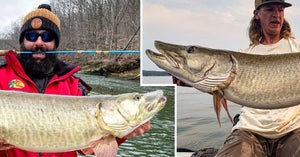 Muskies Messin' with Ice Anglers – OG Musky Hunter Mag – Hefty 'skie Photos
Be the FIRST to see Musky Insider every week by signing up for the email version of this newsletter. It's 100% free and we will never sell your email address! Click here to sign up and never miss another issue.
---
---
Muskies Buggin' Ice-Heads
Musky fishing and ice fishing are kinda like oil and water – they don't mix well!
The only cool thing about ice fishing is you get to watch 'em bite on the screen every. single. time.... 
Example: How crazy is this Livescope clip captured by @fishing_wi while jiggin' through a tiny hole in the ice:
More often than not, fish look "blobby" on live sonar, but you can clearly see all the fins on this 'skie which is pretty dang cool!
She didn't bite, but luckily she stuck around long enough to drop an underwater camera for some subsurface footage:
Cool to see, but definitely not as invigorating as watchin' a musky snap your bucktail at the side of the boat!
---
Underwater Views
Speaking of muskies messin' with ice anglers, here's a few more hardwater muskellunge encounters you might enjoy:
This one's from the Wired2Fish crew.... I think this extra-hungry 'skie thought it was still fall sucker season! 😂
Btw, for those who don't understand.... the plus-sized hole in the ice is for spearing northern pike and the sucker is used to attract 'em into the strikezone.
This next one from Galen Michael is a bit of a head-scratcher. The extremely clear/vivid footage shows a musky rollin' through the area.... followed by a parade of appetizers. 😂
I supposed it's probably a lot safer for a morsel-sized fish to be swimming BEHIND a musky vs. in-front of one.... 🤷‍♂️
This last clip from Shawn Josephson isn't exactly "action-packed", but we love these up-close-and-personal clips 😍
---
Torpedo-like Beige Cheetahs
Enjoyed this writeup about muskies from Kathy Johnson (a Lake St. Clair diver), not necessarily because I learned anything, but because the descriptions were stellar – here's a few of my favorite tidbits:
"A muskie's sleek torpedo-like form has natural camo-coloring with dark dots and squiggly markings over a beige or light olive body. They have an off-white belly and reddish fins rimmed with gold. In the mottled sunlight that streams into the shallow rice beds which are one of their preferred habitats, a muskie becomes nearly invisible."
Had to look it up.... Turns out "beige" is just a fancy word for light brown. 😉
"Muskies are considered ambush predators. They typically lie in wait near grass beds often in only a few feet of water. Like a cheetah stalking prey on the savanna, a muskie will patiently and motionlessly wait for a school of yellow perch to meander by or a mallard duckling to stray too far from its parents. Then with a stunning burst of speed, the muskie pounces."
Comparing muskies to cheetahs is kinda fun – definitely WAYY better than another article that compared them to sharks (lets avoid scaring the lakeshore owners 😂)
Loved this little bit from Kathy talkin' about how she knows there's a musky somewhere nearby:
"I'll get that oddly disturbing sensation of being watched, an overwhelming and uncontrollable urge to check my hindquarter. When I get that feeling underwater, I know a muskie is probably nearby."
Gotta think that's how ciscos/suckers/sunfish/crappies/whitefish, etc. feel when they're swimming over a main lake point.... 😂
---
This Week's Mashup:
Mashup time!
#1 – What's cool about musky fishing is there are baitmakers in every corner of the "Musky Belt" – some stuff becomes well-known nationwide, other stuff, not so much.... some anglers are better at keeping their favorite baits hush-hush.... 😉
Alleycat Lures is a great example. Plenty of folks use 'em in places like Ohio, Pennsylvania, and LSC because they straight-up catch 'em, but they aren't well known yet in places like Minnesota, Wisco, Canada, etc.
Guessin' that will change soon with Llungen Lures acquiring the company last year – here's a pile of 5" Original Alleycats they'll be bringing to the shows.
#2 – Seen plenty of chunky pike on social media, but this one from John Libradilla in Canada definitely falls into the "morbidly obese" category! Don't love the laying-in-the-grass photos, but this fish was a serious #oinker!
#3 – Any of you have one of these old school Musky Hunter mag "Premier Issues" laying around? #throwback
Also, good luck trying to catch that big barred beauty with all that bait around... 😂
#4 – Can't imagine you have anything in your tackle box that looks like these crazy-colored glide baits from Markus Mannisto.
---
QUICK HITTERS:
– Dates/Locations set for 2022 PMTT series (link)
– Ohio Musky Show this weekend, January 21-23 (link)
– Southern Musky Fest, January 28-29 (link)
– Lowrance now has 360 sonar (link)
– FULL study from Kamden Glade in Minnesota (link)
– New WI Flowage adventure w/ Keyes Outdoors (video)
– Last chance Eagle Lake musky w/ Doug Wegner (video)
---
---
THIS WEEK'S

 MONSTER MUSKIES:
Keith Barton stuck this big Great Lakes beauty with a Musky Mayhem 10/9 bucktail, fishin' with LSC guide Spencer Berman 💪
These 3D Facebook photos usually hurt my head, but I thought this one from Jim Saric was pretty dang sweet 🔥
Anyone else missing summer??? This gorgeous musky from Donnie Manz is an excellent throwback to better (warmer) days!!
Congrats to Brady Martz on stickin' this pudgy fly muncher fishin' in the small boat. (📸: @keystoneanglersguideservice)
Wanna be featured in Musky Insider? Send in your recent trophy musky photos by replying to this email. You might just see your pic in next week's newsletter. 🤙
---
---
Want to see more from Musky Insider? Make sure to follow us on Facebook and Instagram for bonus content throughout the week!
Send all business inquiries to josh@muskyinsider.com
---