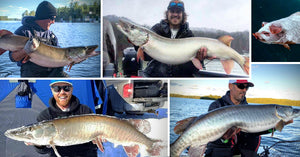 Musky Action GIFs – Leader you should try – Is your sonar lying?
Be the FIRST to see Musky Insider every week by signing up for the email version of this newsletter. It's 100% free and we will never sell your email address! Click here to sign up and never miss another issue.
---
---
Ever tried weighted leaders?
If not – you may wanna take a look.
Here's a closer look at what we're talkin' about:
Folks will clip weights to bucktails or screw 'em into rubber/hardbaits to change the action and get them down deeper – running in-line leader weights is another strategy.
Stealth Tackle has a really nice turn-key system that comes in three different sizes: 1-ounce, 3/4-ounce and 1/2-ounce (see photo above)
For those of you who haven't tried 'em yet, I'm sure your wheels are turning, but here's a few solid use cases from Madison guide Jeff Hanson:
 1-ouncers 
Jeff will get his 10" Weighted Suicks down to 9-10 feet with a 1oz leader – deeper than the fish are used to seein' them. You'll get more "hop" and side-to-side action, too.

He also recommends trying them on Magnum Bull Dawgs, getting them down deeper and tweekin' the hopping action of the bait.
 3/4-ouncers 
He likes to use the 3/4-ouncers with the Mag Shallow Swimmin' Dawg, keeping the bait down in the strike zone with a faster retrieve.

Likewise, he'll fish 'em on standard-sized bucktails to keep them deeper on the burn.
 1/2-ouncers 
During the springtime months, Jeff likes to fish small bucktails extra fast. Putting the 1/2-ounce weight on something small allows you to fish it even faster while keeping it at depth.

He'll use a halfer on the Re

gular Swimmin' Dawg for the same reasons.
That's just scratchin' the surface. Adding weight up by the nose of the bait does double-duty by pulling the bait down and changing the action. Maybe not the best solution for every bait, but you might be able to create a new look the 'skies aren't used to seeing.
If you're thinkin' about trying 'em out, you can grab some here: Weighted Leaders
Here's the full vid with more deets from Jeff:
---
Can't Miss "Eats"
Buckle up.... It's time for some boatside action!
Gotta kick this week's GIF parade off with this insane slow-mo boatside eat on the new Lake X B52 – lovin' the straight-up headshot!
Feels like you don't see too many fly fishin' figure 8's on camera, so we had to include this one from the Musk-E Fly crew
Love, love, LOVE it when they thwack the Suick on the first turn.
Great clip, Forrest.
---
Is your sonar lyin' to you?
When you're fishin' around baitfish, you generally want your baits running just above the school, whether you're trolling or casting.
No problemo – Simply idle over the bait and pinpoint the correct depth level on your depth finder. It's as easy as that.....right???
Not exactly.
Listening to Mike Olson (Mo Musky) on the Back Lash podcast, he made an interesting discovery while prefishing for a PMTT tourney on Cave Run:
He was trolling in 40-50 feet of water and marking baitfish 15-18 feet down on his 2D sonar, so naturally he set his bait just above that level (without much success).
Fiddling around with his Panoptix unit (which he'd typically point backward to watch his trolling baits), he swung it forward and noticed a ball of bait three feet below the surface. Once his boat was within 15 feet of the school, they moved down into that 15-18 foot range.
Light bulb moment! 💡
Mike started running his baits higher in the water column and wouldn't ya know hit, he turned a quiet morning into 3 for 5, including a 51.5" Kentucky 'skie.
Moral of the story, things aren't always as they appear....and suspended baitfish might be scared of your boat. 😉
Just something to keep in mind next time you're fishin' pelagic 'skies!
---
Mr. Gil Hamm
Was scrolling on the socials when I came across this old school photo of Gil Hamm, who started Muskies Inc. over half a century ago. #RIP
Not sure where we'd be today without Gil and Muskies Inc. Thought this Star Trib quote from a few years back was pretty dang funny:
(Gil Hamm) founded Muskies Inc. in 1966 after catching muskie fever on a fishing trip to Ontario.
"Driving home past hundreds of northern Minnesota lakes, the thought occurred to me that a lot of these should be good muskie fishing waters, but they weren't,'' Hamm told the Minneapolis Star in 1979, five years before he passed away at age 80.
He stopped at the DNR the next day and asked about muskies. 
"When someone there suggested I fish in Wisconsin, I really got mad,'' he said.
Everyone deserves access to good musky fishin' waters close to home, which is why we need to support individuals/organizations who are making that happen.
Fighting for the sport is a lot of work, but it's worth it.
Here's another good G.H. quote...
"If I had never started this darn club, I would have done more muskie fishing."
Not gonna lie, every time I hear the name Gil Hamm, I still think of some kind of weird mutant pig/fish creature. 🤷‍♂️
---
QUICK HITTERS:
– Late fall jigging for muskies on In-Fisherman TV (video)
– Minnesota PMTT episode w/ Mike Keyes (video)
– Trollin' & Topwater muskies w/ Slime Quest TV (video)
– Whitewater canoe float for muskies (video)
– Shallow river Upper Peninsula muskies (video)
– Intermediate & Advanced Muskie School, Mar. 14 (link)
– Lure Swap in Wausau, Mar. 7th (link)
– Western MN Musky Outing, Sept. 25-27 (link)
---
THIS WEEK'S

 
LUNAR TIMES:
(Times based on Minneapolis) 
---

---
THIS WEEK'S

 MONSTER MUSKIES:
Seems like most of the incidental muskies caught during the winter are by guys and gals jigging for panfish, so it's always nice when a true musky-head like Nick Schmautz stumbles into one through the ice hole.
Brian Patrick cracked this cow last November trollin' the Upper French River with a Legend Plow crankbait. #porknanny
Here's another softwater hoss from north of the border. This one courtesy of Glenn McDonald on Cedar Lake on a walleye flavored Bondy Royal Orba.
Props to Shan Horsley for gettin' things done on Cave Run with this good, clean February chunkster.
Wanna be featured on Musky Insider? Send in your recent trophy musky photos by replying to this email. You might just see your pic in next week's newsletter. 🤙
---

---
Want to see more from Musky Insider? Make sure to follow us on Facebook and Instagram for bonus content throughout the week!
Send all business inquiries to josh@muskyinsider.com
---