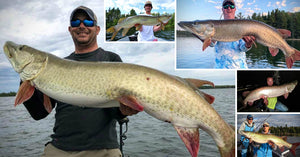 Musky ID Controversy – Dirty Water Tips – Sick Paint Job & Tail
Be the FIRST to see Musky Insider every week by signing up for the email version of this newsletter. It's 100% free and we will never sell your email address! Click here to sign up and never miss another issue.
---
---
Leech Lake Mega
Well, the much anticipated PMTT Mega is finally in the books.
Despite some nasty conditions, Leech Lake kicked out a solid run of fish over three days. The top 5 teams combined for 21 muskies with Dan Burrows and Chris Whitney taking home the hardware with 6 fish!
Here's a look at the winning 'skies:
And here's a look at the trophy ridin' shotgun in Dan's truck 😂
Would love to see more 3-day musky tournaments. There's so much variance in musky fishing already – adding an extra day would help balance things out. Plus more days = more and bigger fish. Nobody would complain about that!
Speaking of big fish, here's the hawg of the tourney. Anytime Matthew Quintano and Spencer Berman hop in the boat together, the bigguns better watch out! Matt stuck this 53" fatso on a Medussa:
---
Dirty Water Musky Tips
When conditions change, your tactics should, too.
It's not rocket science....
Your favorite clearwater tactics aren't likely to work in dirty water environments. Weather, water clarity, seasonality, etc. impact how you need to fish.
That's the topic of this Angling Edge vid:
Here's the keynotes:
"In dark water, fish tend to hold tight to the bottom or in and around cover. Speed is also critical – the darker the water, the slower you want your bait moving.
"Large profile baits allow fish to use their lateral line to feel the bait's presence beyond their line of site. Vibration and sound are also important. Wide wobbling crankbaits with rattles, double bladed spinnerbaits, or slow moving noisy topwaters are all great lure choices for muskies in dark water.
"In general, we like to use brilliant colored lures. High contrast baits with dark backs and lighter colored bellies can also be good choices for dirty or stained water conditions"
Lot's of useful info there from James and Jeremy.
Anything you can do to up the odds is a good thing, but don't forget the fish always have the upper hand 😉
---
Can you ID this fish?
Regular musky or a hybrid tiger musky?
Go ahead, make a guess.
Definitely looks like a tiger at first glance, but Gord Pyzer wasn't so sure, so he checked in with his biologist buddies. Here's the verdict from Dr. John Casselman (former OMNR scientist):
"When I first saw Liam's fish, I surmised that it was a barred colour pattern of E. masquinongy. So I did what I always do when the possibility of hybridization occurs: I measured the total length of the fish, and the length of its head. In northern pike and muskellunge, the head length is about one-quarter of the total body length. Hybrids, or tiger muskies, on the other hand, have much bigger heads, reflective of what appears to be hybrid vigour in their bone growth.
"If you look at the relative size of the head on a hybrid (tiger muskie), it approaches one-third or 30-percent of its body length. So, when I estimated Liam's fish, I came up with a relative head length of 26-percent. Based on this, I am concluding that it's a beautiful example of the barred colour pattern of a muskie."
Interesting stuff.
Gord also mentioned that he could have "checked the number of mandibular pores on the underside of its jaw, as well as the scaling pattern on its cheek".
---
Filthy lookin' glider
Had to share – check out this sick paint job from DJ Customs.
Great lookin' glider, and it's rigged with a Whale Tail on the back.
Keep this on the down-low, but we should be seeing an 8-inch model of the WT comin' soon. 🤫
---
"Interest in musky fishing has never been greater"
Hope that's true!
The quote's from an article recapping the big Musky Open on Eagle River last month that had 1,366 competitors. Bet the competitors felt something like this:
Not sure how you measure "interest", but it's cool seeing record numbers at events. 👍
---
QUICK HITTERS:
– LSC trolling baits for beginners (video)
– "Judas" silver carp tagged & released in St. Croix R. (link)
– Musky Hunter Bluegrass Fall Brawl – Oct. 19th (link)
– Northwaters Chapter Challunge – Oct. 12th (link)
– Basement Bait Review w/ Blue Ridge Musky (video)
– Tigers stocked in Lowell & Black Canyon, Idaho (link)
---
THIS WEEK'S
LUNAR TIMES:
(Times based on Minneapolis)
---

---
THIS WEEK'S

 MONSTER MUSKIES:
The face says it all, man. Coming off a 2nd place finish at the PMTT Mega, guide Ryan Marjama hit the water with his cousin Mike. They stuck a 52.75-incher at moonrise, and ten short minutes later this 54.5 inch Megalodon ate Mike's bait. 🤤
Congrats to Troy Lindner on busting his new PB 'skie while filming a TV show in Ontario. This early fall chunk-o fell for a bass-style 7.75" trout Real Prey swimbait.
Wonder how many musky heads have experimented with subtle bassin' swimbaits?
Check out this extra-tall 50.5" musky from Mike Stokes. She chomped a cisco colored Angry Dragon after three turns in the figure 8. 🔥
The 8/9 Stagger strikes again! This one came courtesy of Hannah Stimpfl. Great catch! 🤙
---
Want to see more from Musky Insider? Make sure to follow us on Facebook and Instagram for bonus content throughout the week!
---