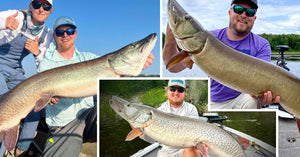 Musky Location Tips – Rubber-slappin' Headshake – Plump 'skies
Be the FIRST to see Musky Insider every week by signing up for the email version of this newsletter. It's 100% free and we will never sell your email address! Click here to sign up and never miss another issue.
---
---
Angry Rubber Eater
We shared a bunch of awesome musky GIFs last week, but didn't have room for one of our absolute favorites in a while!
Check out the vicious rubber-slappin' headshake from this musky caught by Shaelynne on LSC:
This musky woke up and chose violence!
She caught it fishing with her boyfriend Cole Lauzon, and it bit a Mag Alpha Bull Dawg, which is basically a Magnum Bull Dawg body paired with a Pounder tail.
Here's a video of the entire encounter.... and here's a photo of Shae hoisting the beautiful spotted 'skie:
Great fight & catch! 💪
---
Following "Forage"
Toby Kvalevog (pictured above) is a multi-species guide out on Leech Lake. He'll chase just about anything that swims, but he's been bit by the musky bug. 🙌
Toby describes himself as a "late comer" to the modern musky game, but he used his multi-species experience to shorten the learning curve, and it's helped him put 100+ 'skies in the boat over the past couple years.
If you're new to musky fishing, but NOT new to fishing in general, I think you'll find some good tidbits in this writeup that will get your wheels turning....
Toby: "Being a multi-species angler can prove to be beneficial when it comes to targeting musky. I follow the golden rule of F+L+P = Success to locate all sport fish. Find the other sport fish and your chances of finding a musky are very good. The musky is an APEX predator and will take advantage of any food source. Bass, walleye, perch, crappies and other panfish are all fair game when it comes to an easy meal."
Now let's take a look at a few key situations where Toby has been able to take advantage of his experience with other species to find & catch 'skies:
"The early season walleye and perch bite has proved to be a great indicator for finding post spawn muskies on Leech Lake. Each year, we encounter muskies chasing jumbo perch, walleye or crappie out of shallow weed flats or spawning areas in pencil reeds. The spots with the highest concentration of fish always seem to have a musky nearby. One of the biggest muskies in my boat ate a jig and shiner on Opening Day right in the midst of a walleye feeding frenzy."
Find the forage and you'll find the predator fish, it's a pattern that holds true for just about everything that swims in the lake!
"One day, I had multiple muskies chase our hooked walleyes while we were trolling deep water spinners over the mud in 25-30 feet of water during a mayfly hatch. I open water troll this exact location for muskies now, and it has proven to be one of the most consistent musky spots I've found in the past couple years."
One last example:
"Mid-summer weed flats begin to hold a lot of life as the water temps begin to stabilize in the mid-70 degree range. The weed beds closest to deeper water that have turns or pockets will always hold a lot of baitfish, perch and walleye this time of year. We hammer the eaters during the day out of these spots and I find myself going right back in low-light periods to chase musky. More often than not, they are there. We had a five-fish musky day last year on a 75 yard stretch like this that was full of perch and walleye."
Hopefully this helps a few of you put the pieces together this season and put a few more muskies in the boat!
Thanks to Toby Kvalevog for the writeup!
---
Dock 'skies
Let's take a moment to recognize the folks getting it done from the dock!
First, we have a big over-50 caught by Mike Docker. That's an awesome way to catch your new PB 🔥
Owen Smith caught this dark-bodied 'skie dock slingin' in Ontario:
Congrats to Evan Lund on docking his new PB 'skie with this gorgeous 46 inch bruiser.
Jeff Light caught this barred beauty casting at a public lake access in MN. Betcha he out-fished a bunch of boats that launched there that day!
---
This Week's Mashup:
Mashup time!
#1 – Saw this old school pic on Pete Maina's page. Too good not to share!
Oh yeah.... Parental Advisory: Violence and graphic images. 😂
#2 – Check out this 'skie from Nathan Young. Looks like it's probably a gnarly old river mule. That reminds me.... we need to do another "Ugly Muskies" segment sometime soon!
#3 – You probably won't be surprised to hear this souped-up musky crushed the bucktail a few moments after this swing-and-miss (via @muskyslayeroutdoors)
#4 – Anyone else happy that the big summer holiday weekends are behind us???
---
QUICK HITTERS:
– Ripping rubber for July muskies w/ Todays Angler (video)
– Joe Cooper on Musky Road Rules Podcast (video)
– Current spillway musky fishing w/ Cast & Conquer (video)
– Jimmy Houston fishing muskies w/ Nolan Sprengeler (video)
– Some musky fishing action w/ 54 of bust (video)
– Musky fishing with Miuras Mouse w/ Ben Stone (video)
---
---
THIS WEEK'S 

MONSTER MUSKIES:
Check out this great fish Austin Mesenbrink caught musky huntin' with Lisa Marvin 💪
Congrats to Erik on catchin' this WI bronze beauty on a Big Eddy Scalpel bucktail during a guide trip with Taps & Tackle.
Take a look at the belly on this porky gal caught by Hayden Martin – nice fish dude!
Wanna be featured in Musky Insider? Send in your recent trophy musky photos by replying to this email. You might just see your pic in next week's newsletter. 🤙
---
---
Want to see more from Musky Insider? Make sure to follow us on Facebook and Instagram for bonus content throughout the week!
Send all business inquiries to josh@muskyinsider.com
---