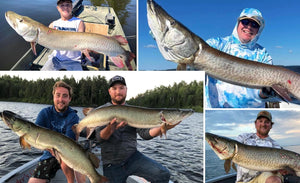 Musky Tips for Right NOW – Boatside Double-Up – Musky Stomach Extraction
Be the FIRST to see Musky Insider every week by signing up for the email version of this newsletter. It's 100% free and we will never sell your email address! Click here to sign up and never miss another issue.
---
---
Double Trouble
You'll wanna see this one....
This was one of the best double-up videos we've seen in a while, courtesy of the crew at Alexander's on Rowan – here's a couple GIFs from the vid:
Fish #1 hits at the side of the boat, does some extra-hyped-up thrashing, then quickly hits the net:
Halfway through the battle with fish #1, another musky strikes and gets scooped up by Cam Michels after a short battle:
This entire sequence happened in 17 seconds!
And this was the end result:
100% worth checking out the full video to watch it all play out (hit the mute button if you don't wanna hear f-bombs).
Unreal video, guys!
---
Finding "Eater" Spots
What does musky fishing and real-estate have in common?
It's all about location, location, location!
Well, that's mostly true anyway.
This week, we're getting a crash course from hardcore MN musky stick John Holmgren (Devoted Outdoors) on locating muskies, and how to get 'em in the net.
"There are certain spots on a lake that hold more muskies than others. There are certain locations on these spots where you will catch more fish.
"Muskies are apex predators that rely heavily on being precise and efficient...This gives you 'the angler' the advantage."
John's primarily lookin' at two factors when locating muskies: Food & Cover
"First things first, you need to understand the main sources of food and structure in the lake you're fishing. I spend hours driving around the lake and marking out structure, bait and now thanks to Mega Side Imaging even muskies themselves."
Exhibit A: "Wolf Pack"
One thing you'll notice as you fish spots over and over again is 'skies tend to set up in very specific locations when they're ready to chow.
"There are locations that hold more muskies than others, but there are certain spots on these locations that fish set themselves up to eat on. I call these eater spots, the X or the spot on the spot.
"I put a waypoint on every fish I catch and I can't tell you how many of my spots have multiple waypoints stacked on top of each other. These locations are usually the tip or edge of a weed bed, a point of an island, a fallen tree, or any type of structure that provides cover to ambush prey.
"Over time you will even see a pattern of big fish eater spots! I have caught three of my biggest muskies within a cast of each other on the same spot."
Now that's a valuable waypoint.....
Time for the toughest part: Having patience
"Now that you have located areas with multiple muskies and determined the eating spots, leave those fish alone until the window opens.
"There are numerous eater spots on a lake. Make yourself a list of these spots to fish during peak times such as moon rise, moon set, majors or weather changes. This gives you an opportunity at catching multiple fish during a feeding window."
That's a really solid blueprint for catching muskies on almost any fishery.
We had to shorten John's writeup for the newsletter, but you can read the long-form version on the website.
---
S'more Musky Diet Stuff
Are you fascinated by fisheries science and musky diet studies?
Do you have a strong stomach?? 🤮
If you answered "yes" to both questions, you need to check out Kamden Glade and his social media posts.
He's a fisheries research specialist at Bemidji State who's studying fish diets in the state of Minnesota.... and posting lots of photos/videos so you can follow along.
Here's a cool photo compilation put together by the Target Walleye crew:
And check out these meal extraction GIFs captured during the diet sampling process for one of their studies....
This one's a not-so-tiny 26-inch northern pike:
And here's a big sucker minnow:
Not gonna lie, #fishpuke is probably the only type of "puke" we're actually excited to see.... 
---
This Week's Mashup:
Mashup time!
#1 – It's been a while since we've done an "Ugly Muskies" segment, but this one from John Aschenbrenner would definitely fit the bill – 51 inches and ultra-lean!
#2 – Not sure where @stockton.fly2frame found this extra-special fishin' spot, but any place that has muskies AND tarpon sounds like a special slice of heaven 😉
Maybe this is where Jason Hamernick's been hangin' out??
#3 – Gotta be one of the better fishin' memes floating around on the internet.... 😂
#4 – Did you know we have freshwater jellyfish in the Midwest?
This picture came from a post by the MNDNR:
Apparently they have 'em in places like Leech Lake, Lake Vermilion, the lower St. Croix, the Great Lakes, and tons of river systems in WI.
Have any of you actually seen one while out on the water??
---
QUICK HITTERS:
– Fall Fishing Event at Agency Bay Lodge (link)
– Casting & Trolling MN 'skies w/ Doug Wegner (video)
– Northern WI muskies w/ Todays Angler & Michael Hanson (video)
– LOTW 'skie fishing w/ 54 or Bust & Gregg Thomas (video)
– Fish handling & forward facing sonar w/ Maina (video)
---
---
THIS WEEK'S

 MONSTER MUSKIES:
Congrats to Fisher Smith on poppin' his new PB musky (53 inches) jigging a Red October Tube while fishin' in MN for a family trip:
Cam Michels makes appearance #2 in this week's newsletter – this time, it's with a seriously impressive 55 inch north-of-the-border bruiser!
Gotta give Meg Patterson a shoutout for putting this gorgeous 'skie in the boat while carrying TWINS in her belly. Love to see it!
Wanna be featured in Musky Insider? Send in your recent trophy musky photos by replying to this email. You might just see your pic in next week's newsletter. 🤙
---
---
Want to see more from Musky Insider? Make sure to follow us on Facebook and Instagram for bonus content throughout the week!
Send all business inquiries to josh@muskyinsider.com
---