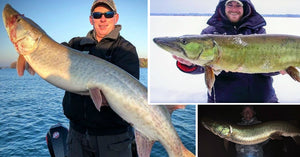 Musky Trollin' Tips – Wild Action GIFS – Ice Fishing 'Skies
Be the FIRST to see Musky Insider every week by signing up for the email version of this newsletter. It's 100% free and we will never sell your email address! Click here to sign up and never miss another issue.
---
---
The 2019 holiday season
....is all wrapped up!
Hopefully you had a great time relaxing with friends and family, and didn't get stuck eating lutefisk and arguing with your uncle about how muskies are eating all the walleye....or something like that.
Some folks have ALL the luck in the present department....
For instance, LOTW guide Forrest Huset's fiance Abigail hit a home run with this year's Christmas gift – a fancy little tackle box for the back of his 219 Lund:
Smart man, locking down a women who supports his musky fishin' hobby...errr... I mean addiction. 😉
Chances are, you weren't THIS lucky, but hey, there's nothing wrong with a good pair of wool socks. hahaha
Also, I gotta give Lake Labs a shoutout on their "Merry Fishmas" post. Looks like they've got a musky makin' up the bottom boughs of the tree. Not sure what the other fish are, but they look like musky bait to me!
---
Slick Musky GIFs
Here's some musky action to help quell your thirst while you're cooped up in the house this weekend, wishin' you were fishing:
First, how 'bout this acrobatic display from Slime & Slay Outdoors:
Jeff Contreras captured some sweet footage of this toothy head thrasher fishin' from the bank 🔥
Last up – here's a wicked clearwater boatside strike the Svartzonker film crew and LSC guide Jason Quintano:
---
Have you ever tried....
...keel weighted trolling leaders?
They're a staple for guys trollin' in and around weeds.
Here's a quick illustration:
Pretty simple, right?
That's the Stealth KP Keel Weighted Trolling Leader designed by Green Bay musky guide Kevin Pischke.
This kind of setup presents a few advantages:
1. Catching Weeds – The weight itself will catch weeds before it gets back to the bait. Less time cleaning baits = more time in the strike zone!
2. On the Turn – Everything should be a-okay when you're trolling in a straight line, but things can get a bit wonky when you're making turns. The "outside" baits will speed up and sometime blow out of the water as a result. The 'inside" baits will slow down, floating up and out of the strike zone. Keel weights can help keep your baits positioned in both cases.
3. Bump & Go – How many times has your bait been CRUSHED after bumpin' a piece of cover? Well, you can simulate a similar effect knocking a keel weight off a rock or a patch of weeds. Your bait stops dead in it's tracks for a split-second, then rips ahead, triggering a vicious strike!
Kevin breaks these three categories down in a recent video on our Facebook page. Check it out for more deets:
Here's the skinny on when Kevin uses 1 oz vs. 2 oz vs. 3 oz weights:
"1 oz are my go to for 5'-10' FOW with 5"-7" shallow running minnow style baits at 2.7-3.3 mph.
"2 oz for 5'-13' FOW with 5"-9" deep diving shad-style baits at 2.5-3.2mph and 7"-10" minnow style baits 2.7-3.5 mph.
"3 oz for 10'-15' FOW for both 10"+ shallow minnow and deep shad baits 2.5-3.5 mph.
"Using a 2 oz keel weight is a must fishing Green Bay in September when the sand grass is floating up off the bottom. It will grab a mess of weeds keeping baits cleaner and running true in the water longer."
Here's Kevin's four go-to setups for Green Bay in fall:
---
PMTT Schedule Released
Just a quick note for those of you fishin' the tourney trail next year, here's a look at the PMTT schedule:
Cave Run Lake, KY – April 18-19
Eagle River Chain, WI – June 27-28
TBD – August 29-30
.... and the championship will be on the Chippewa Flowage on September 25-27.
Really, REALLY like seeing the championship as a three-day event this year.
More fish = more better! 😉
---
QUICK HITTERS:
– LOTW moon rise musky (video)
– Winter musky fishing/bait (video)
– DIY sucker bait tank tips (video)
---
THIS WEEK'S

 
LUNAR TIMES:
(Times based on Minneapolis)
---

---
THIS WEEK'S

 MONSTER MUSKIES:
She said stick 'em when the sun don't shine!
This coldwater cruiser crushed a 12" Headlock on the troll sometime between sunset and sunrise 😉
Musky guide Spencer Berman poked this bigwater fatty huckin' pounders this fall!
---
Want to see more from Musky Insider? Make sure to follow us on Facebook and Instagram for bonus content throughout the week!
---