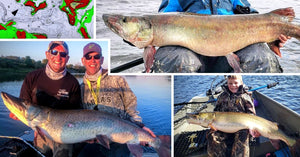 Musky Trolling Tactics – Unique Swimbaitin' Tips – Fall Chunk-o-saurus
Be the FIRST to see Musky Insider every week by signing up for the email version of this newsletter. It's 100% free and we will never sell your email address! Click here to sign up and never miss another issue.
---
---
Fall Trolling Tips
RIGHT NOW is primetime for fall trolling in much of the musky range!
(Unless Mother Nature has frozen up your local boat landings and killed your musky season already..... 🤮)
Northwoods multi-species stick Tom Boley recently posted a tell-it-all video on how he approaches the fall trollin' bite:
For those who can't sit down and watch the video, here's a few of the high points:
He focuses primarily on two types of spots in late fall:
1. Neckdown Areas: "If you're fishing big natural lakes or flowages, you'll often have big deep basins that will neckdown into a much skinnier area that will generally have a deeper channel. Those neckdowns are great fall spots. These areas will concentrate bait, and because of that, you obviously have a whole bunch of predators in there like muskies. Oftentimes, the fish will come off of little points in these neckdowns."
2. Interconnected Structure: "The other thing we're looking for is big, interconnected structure around deep water – a lot of points, humps, and shoreline structure. While September is a notorious shallow time of year, as water temperatures continue to drop, the fish push out to some of the deeper areas and they'll relate to the structure. You can tell when an area's good because you'll see a lot of bait up on the break."
In fall, Tom likes trollin' 3.0 to 3.5 mph in 12-17 feet of water, and he tries to bang and grind his baits into the bottom as he runs up and down the structure.
Speaking of baits.... these are his top three picks:
13" GRANDMA
"Grandmas have a narrower wobble than many of the other trolling crankbaits you might find. It's kind of subtle, and it doesn't have any rattles. It has an extremely flat body, so it throws a lot of light around on the wobble. I like to add a split-ring to the nose. Super effective bait, I've caught a ton of big fish on this over the years."
10" & 14" JAKES
"Similar to the Grandmas, I also like trolling Jakes. I will fish them in both the 10 inch and 14 inch sizes. It has a little bit of a different wobble than a Grandma and comes in a wider variety of sizes. Overall, Jakes are incredibly popular for the fall trolling period."
10" SLAMMER DEEP MINNOW
"The 10" Slammer Deep Minnow has a very steep dive curve and it's really clunky when you pull it through the water. It's a hard-digging bait with a big round lip. It gets down to depth quickly, a lot quicker than a Jake or a Grandma. I like to run this bait on my inside line or just behind the boat, because with less line, it will still get down to the depth you want."
This bite only gets better as we get later into the season.
We're still over a week away from the Halloween full moon, but temps are falling fast and I'm not sure how much longer we can fight off hardwater....
The last week of October is lookin' CHILLY!
---
Lost Lure? No Problem....
Lookin' for a long-term investment more promising than Bitcoin? 😉
How about picking up an underwater ROV (Remotely Operated Vehicle) and using it to find all your lost musky lures?
Check out this video from LucasROV "rescuing" a bucktail he casted off a few days before:
Not sure how much these fancy contraptions cost, but I know musky baits definitely aren't cheap....especially these days. 😂
Take this thing to Vermilion or Lake of the Woods, and it might pay for itself after a weekend of search-and-rescue missions on some snag-friendly community holes.
This'll be you after you post everything up on Facebook Marketplace..... LOL
---
Swimbaitin' Thoughts
Came across this interesting quote while reading a recent In-Fish writeup:
"Guys were throwing the same baits day in and day out with fewer and fewer fish caught. Muskies began to follow more and more often, instead of eating lures. Eventually, it seemed like walleye anglers were encountering more muskies than muskie anglers were.
"That's when I started experimenting with 4- to 6-inch Keitech Swing Impact Swimbaits and Kalin's Sizmic Shads rigged on 1/2- to 2-ounce bullet-head jigs. I can easily change jig sizes to match different current conditions. Pre-rigged swimbaits are another option once you have mapped out key muskie areas."
That's Austin Gates talkin' about how he likes to use swimbaits to methodically comb high percentage spots while castin' from the river bank.
Seems like most folks in the musky world have a bigger-is-better mindset, but we've seen a few guys throwing bass-sized swimbaits for 'skies in recent years.
I know James Lindner is a big fan. Here's his rig:
This isn't necessarily an endorsement – just thought it was interesting.
What's your opinion on chunkin' these smaller baits for muskies?
---
Parting
 Strikes....
Let's wind things down with a quick dose of musky fishin' action:
This extra-frisky 'skie came in for a surprise airborne strike. Based on his reaction, I'd say Zach Saladino didn't see it coming!
Here's something a little different....
Nick Eddy recently posted this boatside eat on his new Stagger IC9 bucktail....while fishing at night.
Wonder if he'd be willing to cough up where he found a legit night vision action cam??? 😉 I need some advice before I order a half dozen janky hunting cameras online.
Last, we've got a sweet topwater strike from Larry the Legend:
Not bad for a guy who's been catchin' muskies longer than most of you have been alive.... not even kidding!
---
QUICK HITTERS:
– Chicago & Milwaukee Muskie Expos Cancelled (link)
– PMTT Championship on Cave Run this weekend (link)
– 55.75 x 26.75 on Green Bay with Doug Wegner (video)
– Burnin' Eights 10 v 1 Series (video)
– River musky fishing w/ sbfishingtv and Blue Ridge (video)
– Green Bay fall musky movement based on water temps (video)
– Sucker riggin' fall muskies (video)
– Jacked up LOTW musky cast-to-catch (video)
– IA DNR appoints musky-head as new conservation & recreation admin (link)
– Lakeshore best practices for better water quality & fishing (link)
– An alternative to letting your 360 unit collect dust this winter (link)
---

---
THIS WEEK'S

 MONSTER MUSKIES:
It only took Shu-Mon Mok two muskies to get into the 50-incher club! This big momma hit the net after several days of trollin' through some cold, late fall weather. Totally worth it!
Congratulations to 8 year old Ryker Ahrens on spankin' this 50.25 inch Wisconsin whale while fishing a tourney with his dad Branden. It's gonna take him a while to break this PB again.... #TANK
How's this for an east coast MONSTER?!
Bruce Welch caught this 53 x 25.5" sumo-sized giant on a trip to upstate New York.
Christmas came a couple months early for Aaron, thanks to this big gator-headed bruiser he boated with MN guide John Holmgren. 🔥
Wanna be featured on Musky Insider? Send in your recent trophy musky photos by replying to this email. You might just see your pic in next week's newsletter. 🤙
---
---
Want to see more from Musky Insider? Make sure to follow us on Facebook and Instagram for bonus content throughout the week!
Send all business inquiries to josh@muskyinsider.com
---