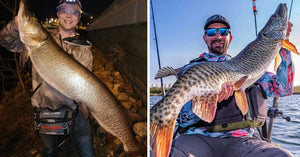 Must-Grab Musky Gear – Gift Ideas for Dad – Big Musky Pics
Be the FIRST to see Musky Insider every week by signing up for the email version of this newsletter. It's 100% free and we will never sell your email address! Click here to sign up and never miss another issue.
---
---
Dad's Day Special!
It's that time of year again!
Happy Father's Day to all the dads out there....
This week, we're going to highlight some musky feeeshin' gear that would make great gifts for your musky chasin' father.
Alternatively, if you're a dad, you can forward this email to your wife.... 😂
BTW – Best of luck to everyone heading out for MN Musky Opener tomorrow. Send pics if you catch a big girl! 💪
Alright, let's kick this email off with some baits!
---
Gift Ideas: Musky Baits
What dad doesn't need a few more lures in his arsenal??
 Musky Cranks 
You can't go wrong adding a few extra trollin' crankbaits to your spread!
Llungen Lures makes a ton of killer crankin' options. Here's a few good ones, listed below from the top left, going clockwise:
Stray Cat – An aggressive and hard hitting flat sided crankbait that measures 4.25 inches (6 inches with the lip)
.22 Short – This little fish-catcher was designed by Chad Harmon (4 inches long, 5.5 inches w/ lip). We've shared a bunch of big fish here in the newsletter that were caught on this bait.
.22 Long – Another Chad Harmon design, the .22 Long has a 6 inch body (8" w/ lip) that digs deep and moves a ton of water.
.50 Cal – a nine inch bait (11" with the lip) that has a wide-wobbling action and a deep dive curve.
Btw, Llungen gave us a discount code for our readers: LLUNGENDAD for 20% off anything on their website – thanks guys 👍
Now let's look at some blades....
 H2O Bucktail 
We've talked about H2O Switch Clevis bucktails in the past, but they added a fresh one to their lineup you gotta check out: the H2O Angle.
Instead of explaining, I think it's best we *show* what this bait does in the water:
It's a totally different look with the auto-counter-rotating clevis.... and you can easily change out blades on-the-go.
 DeLong Witches 
Here's another one that's better off as a GIF....
We're super impressed by the action on the 11" Flying Witch and 16" Giant Witch from Delong Lures – see for yourself:
This guy has open water muskies written all over it! 🔥
 More Trollin' Baits + Tips 
We're gonna wrap up the bait section of this gift guide with some early season advice from Bill Schwartz, the head dude at Slammer Tackle:
"Late spring / early summer can be some of the best 'open water' fishing for musky of the season, and trolling is one of the best ways to approach this pattern.
"After spawning, these post spawn fish will often move over open water and suspend high in the water column in search of the warmest water. Two things are happening here for these open water beasts. First, the warmer water helps with the recovery of the spawn. Second, is food!
"Fishing for post spawn fish can be a tough challenge right after they have spawned but as the water warms into the mid-to-upper 60's, the muskies finally start feeding on a regular basis and the suspended baitfish is the answer.
"For this open water trolling bite, baitfish type will be the key to success. Cisco, tullibee and perch will suspend over this open water, and I'm looking to match the size and color of the baitfish. Using your depth finder to find these suspended pods of bait and targeting the depth of the bait is key.
"Generally, I like the bigger 10-to-14-inch Slammers, either the Minnow or the 10-inch Deep Divers. Thorne Bros. (Blaine, MN) has a bunch of excellent colors to choose from with both standard and their TB custom colors!
"When trolling the Slammer 10 or 12-inch Minnows, 20 to 50 feet of line out will usually put them in the bait depth zone. On the 10-inch Deep Shad or the 14-inch Minnow, 10 to 30 feet back will do the same for running depth. The 10-inch Deep Minnow is a bait that really shines when a slower trolling speed is needed – at 2.2 to 3.0 mph the oversized diving lip still gives the bait a huge head shake and wobble at the slower speeds."
Great info for those of you chasing basin 'skies this month!
Alright, let's change gears and look at some rods/reels....
---
Gift Ideas: Rods & Reels
If you wanna step-it-up this Father's Day, this section might have what you're lookin' for. Let's look at rods first:
 Chaos Assault Sticks 
The original Assault Sticks are a budget-friendly rod option for dad.
Built specifically for musky fishing, they have many great features, including telescoping blanks which allow for long casts and easier storage/transportation.
They have twenty different rod variations (lengths, powers, grips, etc.) on their website, so you can pick something VERY specific for your dad, or you can just get him a gift card & let him decide 😂
 High-end Musky Reels 
You can't go wrong with a nice musky-sized reel. Seems like most folks have at least one setup they'd like to upgrade/update.
The Daiwa Lexa HD and the Shimano Tranx are a couple of tried-and-true reels that have been on the market for a while – can't go wrong with either.
You'll wanna grab the 300 size if your dad primarily throws smaller baits, otherwise the 400 and 500 size will be your go-to for most musky presentations.
Alright, let's wrap-up this year's gift guide with some miscellaneous musky gear:
---
Gift Ideas: Other Musky Shhtuff
This first one might have some SERIOUS utility right about now....
 Simms SolarFlex Hoodie 
Unless things change pretty dramatically, we're in for a long-hot summer this year! Heck, I feel like we've had half-a-summer's worth of sun already.
That's where the Simms SolarFlex Hoodie is a real lifesaver. Our buddies over at Taps & Tackle have some sweet branded sun hoodies right now from size medium up to XXL – here's a look at 'em:
The material is quick-drying, wicking, anti-odor, UPF 50+ and most definitely #hooksetapproved 💪
Might need to grab one of these, the way this summer has been going....
 Sunglasses 
As far as Father's Day gifts go, it's almost impossible to beat new polarized sunglasses. Most dads I know are currently using a backup cheap-o pair, because they either lost their nice pair or they're too stubborn to buy something nice for themselves.
If you're shopping for shades, the new H3O Elite Series sunglasses are worth a look.
What's cool about these is they come with three interchangeable lenses colors so you have the perfect lens at your fingertips for any condition. Their new Elite Polyamide lenses are clearer than glass and lighter than polycarbonate.
H3O is offering our readers free shipping and a free bonus pair of Polar-ClearTM lenses when you use the code MuskyInsider23 at checkout (H3O Elite Series only).
Let's wrap this newsletter up with a musky mashup and some big fish pics!
---
This Week's Mashup:
Mashup time!
#1 – Great slo-motion boatside GoPro clip from Josh Teigen, featuring an angry four footer that caught-up to his bucktail on the straightaway.
#2 – I know "Ugly Pike" is supposed to be a nickname for muskies, but this little beauty from Caden Hurley takes the cake! #extraugly (via Target Walleye)
#3 – Diggin' this green-on-green beauty shot from David Holmes 🔥
#4 – Some relationship advice: Find yourself someone that looks at you the way musky anglers look at a big 'skie in the net. 😍
---
QUICK HITTERS:
– MN Musky Opener Preview w/ Backlash Podcast (link)
– "Musky Snake Bite" w/ Joe Bucher (video)
– Some interesting statistics on boat sales (link)
– 60 pike strikes in 60 seconds (video)
– Musky chatter w/ Sporting Journal Radio (video)
---
---
THIS WEEK'S

 MONSTER MUSKIES:
Cal Grosvenor popped this 50-inch beauty while walleye fishing at 3:00am in Okoboji, Iowa. Congrats man!
This is a really cool kayak musky shot from Jake Billings, but the story of how he caught it is even better:
"I had made a long cast, and while reeling in, I saw that a pike was following my bait. Then I saw that a musky was following the pike! The second that pike bit, the musky shredded the pike. In a panic, I dropped my anchor and started fan casting. At the end of a long cast, this guy bit. I don't know if it was the same fish or not. 🤯"
This is easily the greenest musky photo I've ever seen, and it's not just the musky.... everything is green! 😂 Great shot from Gabe Park with a gorgeous greenback 'skie.
Wanna be featured in Musky Insider? Send in your recent trophy musky photos by replying to this email. You might just see your pic in next week's newsletter. 🤙
---
---
Want to see more from Musky Insider? Make sure to follow us on Facebook and Instagram for bonus content throughout the week!
Send all business inquiries to josh@muskyinsider.com
---