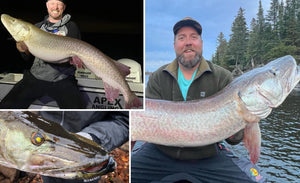 New C&R Record – Ronnestrand Late Fall Tips – Musky in Toronto Harbor
Be the FIRST to see Musky Insider every week by signing up for the email version of this newsletter. It's 100% free and we will never sell your email address! Click here to sign up and never miss another issue.
---
---
Record Breaker 💪
Minnesota has a NEW catch-and-release musky record!
Huge congrats to Eric Bakke on putting this ridiculous 58.25 incher in the net and setting a high bar for everyone else to chase:
No surprise (especially if you've been paying attention), this monster was caught trolling on Mille Lacs Lake. She hit a 12-inch Headlock in the "black rice" color.
Determining the "biggest" musky EVER caught in MN has been a tricky proposition ever since catch-and-release became popular a few decades ago – that's why the DNR introduced the new length-only record back in 2016.
Honestly, we're surprised it didn't happen sooner....
We've proven over-and-over again in this newsletter (with photo evidence) that C&R works. Chances are, this fish had probably been caught at some point over the past 20 years, and now she's the new state record.
From Eric:
"In order to catch more and bigger fish you have to put them back. Let them go, let them grow. This record should and will be broken in the next years or two if we all make the choice to keep all those big fish alive and swimming for the next person to experience and catch a fish of their lifetime."
If you want the FULL story on his ridiculous fish, check out this 47 minute interview with Eric, his netman Jon Blood and Ben Olsen from Thorne Bros:
---
Late Fall Ronnestrand Tips
Luke Ronnestrand was recently on the JMO podcast sharing some tips on fall musky fishing. Thought we'd share a few highlights before they pull the interview off their public feed:
(Here's the link if you wanna listen to the whole thing 👍)
#1 – Luke's thoughts on color (30:08):
"We are using natural colors about 2/3 of the time on Vermilion in fall. Typically it's cisco patterns like white, silver, blue/gray, and I also use gold-based colors.
"When the ciscos and whitefish are actually spawning, and your electronics are blacked-out because there's so much bait on the structure you're fishing, that's when the brighter stuff really excels – lemon tail, white with chartreuse tails, white and orange, firetiger.
"Some of the trolling crankbaits I like in this situation are white baits with black bars and an orange belly with an orange or chartreuse soft plastic off the back. Lots of contrast and vibrant colors."
#2 – Some info on late fall locations (34:09):
"I'm definitely looking for cisco/whitefish spawning habitat. Big points with gravel or smaller rock on it. A spot that has a flat area with that gravel or small rock where the bait is going to be spawning. The bigger the area, the better, generally. Throw those areas in a neck-down between two basins, that's going to be exactly what you're looking for."
#3 – How Luke thinks about targeting male vs. female baitfish (35:33):
"The male ciscos/whitefish are the ones that hang out in the spawning areas for an extended period of time. The females come in and spawn, then get out of there.
"You'll see the shallow spawning area 'blacked-out' with the male baitfish, but then you'll have the females out in the basin near those areas. You have to determine if you're going to chase those shallow fish or look out deeper. That's the cat-and-mouse game we play everyday.
"You'll definitely want to check some of that open water stuff that's just adjacent to those big spawning areas. You'll have the muskies move shallow or deep on specific days."
Not sure how much longer they'll keep the interview public, but here's a link if you want to watch the full thing.
---
Underwater Views
Here's a few underwater musky/bait shots I think you'll enjoy:
First up, how sick is this release from Josh Rabska?? A chunky fall musky + clear water + an underwater camera = 😍😍
This is the sexy tail-flickin' action that drives muskies crazy! Great underwater footage of the Llungen .50 Cal crank (via Keyes Outdoors):
Check out the sweet action on this pull-pause Donkey Tail from guide & bait maker Cory Olson – the bait weighs 5 ounces and slowly rises on the pause:
Turns out this Detroit River 'skie was more interested in the camera than the crankbait with a glob of weeds on the back treble 😂 Regardless, cool underwater shot from River of the Strain:
---
This Week's Mashup:
Mashup time!
#1 – Sounds like this gorgeous Toronto Harbor musky was a rare sight to be seen for this fishery. Congrats to Will Sampson on putting a 43-inch unicorn in the net!
#2 – I bet this meme from Brad Scott was made specifically for all the folks tossin' Pounders, Ultra Dawgs and 2 Pounders this weekend 😂
#3 – How fitting that Austin Gates caught this crazy-eyed northern Wisconsin 'skie right before halloween. 🎃
#4 – BRUTAL wound on the back of this 47.5-inch Canadian freight train. Andrew Walker said she hit hard and kicked off like a champ.
---
QUICK HITTERS:
– Footage of Hans the Carver's Buffalo Harbor Beast (video)
– Northern WI fall musky fishing w/ Todays Angler (video)
– Big fall tiger musky w/ 54 or bust (video)
– Southern WI fall topwater fishing w/ AA (video)
– Jim Saric demonstrates the "Power Knot" (video)
– Late fall musky baits w/ Matt Vavroch (video)
– Musky trolling + underwater views w/ Master Crow (video)
– Boat winterization tips & checklist (link)
---
---
THIS WEEK'S

 MONSTER MUSKIES:
Check out the head on this extra-massive LOTW leviathan from Scotty Johnson 👀
Fins up! Awesome 51+ inch fish from Trinity Lindseth. Said he caught her utilizing info from our Figure 8 Wizardry and The System classes 💪
Some seriously impressive nighttime monsters (53 x 22 & 50.75 x 25.75) from the Apex Angling crew:
Wanna be featured in Musky Insider? Send in your recent trophy musky photos by replying to this email. You might just see your pic in next week's newsletter. 🤙
---
---
Want to see more from Musky Insider? Make sure to follow us on Facebook and Instagram for bonus content throughout the week!
Send all business inquiries to josh@muskyinsider.com
---