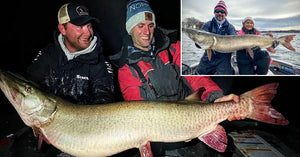 New MN State Record – Cold Temps Tips – Fly Fishin' Madness
Be the FIRST to see Musky Insider every week by signing up for the email version of this newsletter. It's 100% free and we will never sell your email address! Click here to sign up and never miss another issue.
---
---
New MN Record??
Huge congrats to Nolan Sprengeler on putting this massive 57.75 x 29 inch mega-monster in the boat, rippin' rubber on Mille Lacs:
Here's the quote from Nolan's IG post:
"On November 22nd I set out on the last trip of my season with Kevin and Zach to chase the queen. At about 9pm I felt that tap on my Thorne Bros 9'6" XXH I've been searching for all fall. After a quick battle and a few ridiculous head shakes we had it in the bag.
"The next hour or so was spent trying to get her to release. Eventually we realized this was not going to happen and made the decision to bring it to a certified scale and crush the Minnesota State Record. She weighed 55 lbs and 14.8 oz."
This monster beat the previous state record from Winnie back in 1957 by almost two pounds....
How many 55+ pounders have been caught since then in MN?? Who knows, but this is the first one that's been harvested in the past 64 years.
Amazing fish – bummer she isn't swimming anymore, but the awesome thing about Mille Lacs is we know the next potential state record is still in there....somewhere!
We say "somewhere" because with the low population density of muskies in the lake, it's kinda got that needle-in-a-haystack thing going on. But if spend enough time grinding, you might find a needle! 😂
---
Late Fall Advice
As Ben Franklin once said, "An ounce of prevention is worth a pound of cure."
The musky season is mostly done in many parts of Minnesota/Canada, etc. but the super-late fall musky bite is still happening in some parts of the musky belt that aren't capped over with ice.
Here's a few late fall precautions that Josh Borovsky takes to ensure he doesn't get stuck in a sticky frosty situation when things get ultra-chilly:
1. Make sure to pack a thermos of boiling water and a blow torch.

First, here's an important formula you need to familiarize yourself with:

Water + Sub-32° Temps = ICE

"One of the most common problems you'll have this time of year is your trolling motor freezing to the bracket while you fish a spot. Waves and spray from the lake can freeze up the controls on your kicker motor and other random functions/buttons on your boat, as well.

"The blowtorch can solve many of these problems, but if you're working near flammable fuel lines, boiling water is a safer option. If you forget your thermos and don't have a torch, you might be able to use the warm water discharged from your outboard in a pinch."
2. Pack a few cans of WD-40 specialist formula with silicone

"Before you drop your trolling motor into the water for the first time, remove all ice from the metal base and douse it with WD-40. Also, spray the shaft and various moving parts. This should solve many problems before they begin.

"This works great for reels, too. Before you make your first cast, spray the level wind area and saturate your spools of line with WD-40 to help prevent freeze-ups. I like to remove quite a bit of line from the spool this time of year, too. It takes longer for your reels to freeze up and gives a lot more clearance for chiseling out ice. It also allows for extra room to deal with "line swell" throughout the day."

3. Avoid slippery floors

"On days when temps are below freezing and you're dealing with big waves or precipitation, your boat deck will turn into an ice rink. Industrial restaurant floor mats with holes stay tacky and grippy, as snow and rain filters through the holes all day."

4. Keep your hands toasty

"To keep my hands warm, I like to wear black latex gloves underneath a thinner pair of Ice Armor gloves. I'll stick an adhesive toe warmer to the inside of the glove so it warms the back of my hand where the blood vessels are. This keeps my hands warm without hindering dexterity."
---
Fly Slingin'
While most folks use traditional gear when chasin' muskies, we have plenty of readers who prefer the added challenge of huckin' flies.
In an attempt to get more fly content into the newsletter, here's some interesting fly-specific stuff we dug up this week on the web – starting with this ridiculous perch-flavored shared by Benoit Deslandes:
Here's another sweet fly – this one's from Piet van Soest is slightly less match-the-hatchy, but still super cool:
Musky fly #3 is a bright-and-flashy offering from Scott Barham:
Wild colors, but also not the craziest thing I've seen a musky eat.... 😂
Switching topics slightly, have you noticed that fly anglers always seem to have the most interesting apparel?? 
Check out these beautiful hand-sewn mitts from Josh Smeltzer:
If you're stuck rowin' the boat while your buddies get to cast, it pays to have warm hands and some cold New Glarus! 😂
Btw, if you're a fly-head and haven't checked out The Fly Angler (part of Thorne Bros), then you're missin' out! They have A+ gear and they're diehard fly folks. 
How cool is this seasonally appropriate "fly" they shared on their FB page???
#gobbler
---
This Week's Mashup:
Mashup time!
#1 – Not sure what's harder: catchin' a musky on the fly or catchin' one in a kayak.
Regardless, here's a sweet video from the In-Fish crew doing the latter:
#2 – Saw this post from Chad Bell and figured we'd share this screamin' deal with our readers incase you might be interested.... 😉 #sarcasm
This is the musky fishing equivalent of walleye dudes forgetting their shiners/chubs in the baitwell.... but thankfully it's a lot less staaaanky!
#3 – Burnin' Eights with the ultra-intense net-man assassin pose:
#4 – Big props to the Titletown Muskies Inc. Chapter for putting these up and spreading the word about proper handling. Not sure how many they've planted, but this one was posted at a ramp on the Fox River.
Great idea and probably super cheap? This might be something more musky clubs could replicate on their local waters. We still see plenty of photos with vertical holds on social media unfortunately....
---
QUICK HITTERS:
– Black Friday "show prices" at Thorne Bros (link)
– Petition to increase legal minimum on Cave Run - Sign it! (link)
– Chasin' small water muskies w/ Todays Angler (video)
– Really big discounts on Musky Mayhem baits (link)
– MN Muskie & Pike Alliance merch (link)
– Trollin' on the St. Johns River w/ Master Crow (video)
– Industry: St. Croix Rods hires a new brand manager (link)
---

---
THIS WEEK'S

 MONSTER MUSKIES:
Jimmy Lacerte catches plenty of massive muskies in eastern Canada, but this bulbous 55.5 x 28 incher eats the cake!
Special congrats to 10 year old Brecken Lee on wranglin' up this big MN musky fishin' with her dad Mike and guide Ryan McMahon.
Definitely watch the video of the catch if you need a pick-me-up this weekend.... Hard not to smile when you see someone that excited!
Check out the forehead on this big Jake-munchin' LSC beauty from Max Altobello.
Congrats to Shaelynne on boating this big fall fatty!
Wanna be featured in Musky Insider? Send in your recent trophy musky photos by replying to this email. You might just see your pic in next week's newsletter. 🤙
---
---
Want to see more from Musky Insider? Make sure to follow us on Facebook and Instagram for bonus content throughout the week!
Send all business inquiries to josh@muskyinsider.com
---