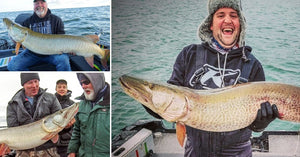 NEW Musky Diet Study – Does Livescope Impact Fish? – Fresh Show Colors
Be the FIRST to see Musky Insider every week by signing up for the email version of this newsletter. It's 100% free and we will never sell your email address! Click here to sign up and never miss another issue.
---
---
New Diet Study
If you're lookin' for some more ammo against the anti-musky folks.... we've got some preliminary results from a study headed-up by Kamden Glade, a grad student at Bemidji State.
Their crew looked at various things, including musky diets and how they impact other fish in a system.
This video sums up what they've discovered so far:
But we're going to a share a few interesting graphs below, too.
This first one looks at musky diets in cisco lakes and non-cisco lakes.
As you can see.... perch, largemouth, pike, panfish and bullhead all play a part in musky diets for this sampling group. 
Anyone else notice that walleyes weren't prevalent enough to make the graph?? 🤔 
These next two charts really caught my attention:
#1 – Diet data for northern pike:
#2 – Diet data for walleyes:
Very, very similar diet patterns = walleyes and northern pike are big competitors.
If science suggests that having muskies in a lake = less and larger northern pike.... and pike compete with walleyes.... doesn't that mean the presence of muskies might actually HELP walleye populations??
Just a thought, but seems like the more scientists study the topic, the more it proves to be accurate in most lakes. 🤷‍♂️
Can't wait to read the final published paper from this study. Keep up the hard work Kamden and crew!
---
Show Colors
It's that time of year again!
One of the best parts about the "show season" is seeing all the fresh custom colors from our favorite musky bait makers....
Got an email from Llungen last week showin' off some of the their show offerings and had to share a few of them here in the newsletter – especially because some of them are actually available before the shows (which is when stuff starts to go fast):
Custom 4-inch Tony Grant Rattlin' Shads:
Looks like they have some custom .22 Shorts on their website, too.
Super tasty lookin' stuff!
Lookin' forward to seeing more colors over the next couple months.... and sounds like there's going to be a lot of stuff that's only available at the shows.
It's a fun time for the musky industry despite the fact that most of us can't actually chase muskies.... 😂
---
Food for Thought....
Josh Borovsky posed this question on social media:
Seems like there are some varying opinions on both sides of the isle....
If you're bored and lookin' to kill some time, the comment section has some interesting thoughts and observations.
Enjoyed this comment from MN guide Phil Bauerly:
"Guys with it saying they didn't catch a fish because of their LiveScope😂Guys without it saying they didn't catch a fish because they didn't have LiveScope😂My standard answer is always that everything matters, the real question is how much really?"
Haha, gotta love it! 🤣 
---
This Week's Mashup:
Mashup time!
#1 – Love that Musky Mayhem is firing up the Pro-Staff Profiles again! Really enjoyed this one with Timmy Peterzen:
#2 – Apparently this dragonfly thought it would be a good idea to land on the back of a 50.25 inch Lake Nippising musky. Thanks for sharing, Shane Vlietstra!
#3 – Props to Bobby for knowin' that every good fish sleeve starts with a big, toothy muskellunge! Great ink work by Charlie Forbes, too 🔥 
#4 – Check out this 13-inch rat lure sent in by Steve Owens. Looks pretty dang realistic!
I bet you could have some fun with this bait around the house if you took the hooks off and "scurried" it across floor at just the right moment... 😂
Bonus points to Steve for catchin' a nice Fox River (IL) musky on his homemade rat-bait, too!
---
QUICK HITTERS:
– Chicago Muskie Expo, Jan. 7-9th (link)
– 2022 PMTT dates announced (link)
– Show pick-up for Stealth Tackle orders (link)
– Nebraska musky fishin' w/ Keyes Outdoors (video)
– Big river musky caught w/ Todays Angler (video)
– Doug Wegner on the Back Lash Podcast (link)
– New Musky Hunter TV episode teaser (video)
---
---
THIS WEEK'S 

MONSTER MUSKIES:
Big props to Brian Klein for landing 222 muskies this season including this ridiculous 55.5" 45 pound (weighed) mega monster!
Really cool shot of Erik Jacobson with his dad (Dave) and his son (Noah) hoistin' a gorgeous 49-inch Lake of the Woods musky. Gotta cherish those multi-generational days in the boat!
Congrats to Nicolas Rodrigue on bustin' this plus-sized spot-o-saurus! #pumped
Stellar 53-inch Green Bay beauty in Kyle Tokarski's boat on a rough day, fighting wind, waves, floating weeds and an all-around tough bite. #StillGotEmThough
Wanna be featured in Musky Insider? Send in your recent trophy musky photos by replying to this email. You might just see your pic in next week's newsletter. 🤙
---
---
Want to see more from Musky Insider? Make sure to follow us on Facebook and Instagram for bonus content throughout the week!
Send all business inquiries to josh@muskyinsider.com
---