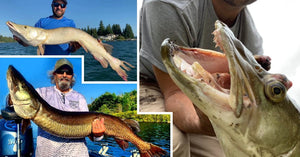 New Quad Dawg – Musky Bait Modifications – Ugly 'skies
Be the FIRST to see Musky Insider every week by signing up for the email version of this newsletter. It's 100% free and we will never sell your email address! Click here to sign up and never miss another issue.
---
---
Musky Mods
Here's a couple musky bait mods to get your creative juices flowin' this week....
First, we've got a treble tweak from Tim Norris:
Tim's thoughts:
"We all like the pretty hook mods with colored threads and epoxy, but when it comes time to cut hooks and safely remove them from fish, I find it much easier to replace some wire, heat shrink and a zip tie."
Simple easy system. 👍
The next modification we've got is from Jim Enger on a Shallow Invader:
Jim: "I have seen others where the extension is threaded thru the rear hanger but I like a small split ring instead. Reduces kinking of the leader material. I use 174#. I carry several extras in my hook box. Make one of the end loops small enough to be threaded thru the split ring; much easier to install that way."
Looks clean!
If any of you have any lure modifications that help you catch more muskies (or just make things simpler/easier), reply to this email and send 'em our way 👍
---
Swimbaitin' Thoughts
Came across this interesting quote while reading a recent In-Fish writeup:
"Guys were throwing the same baits day in and day out with fewer and fewer fish caught. Muskies began to follow more and more often, instead of eating lures. Eventually, it seemed like walleye anglers were encountering more muskies than muskie anglers were."
"That's when I started experimenting with 4- to 6-inch Keitech Swing Impact Swimbaits and Kalin's Sizmic Shads rigged on 1/2- to 2-ounce bullet-head jigs. I can easily change jig sizes to match different current conditions. Pre-rigged swimbaits are another option once you have mapped out key muskie areas."
That's Austin Gates talkin' about how he likes to use swimbaits to methodically comb high percentage spots while castin' from the river bank.
Seems like most folks in the musky world have a bigger-is-better mindset, but we've seen a few guys throwing bass-sized swimbaits for 'skies in recent years.
I know James Lindner is a big fan. Here's his rig:
This segment isn't necessarily an endorsement from us on throwing downsized paddletails – we just thought it was interesting and worth the discussion.
What's your opinion on chunkin' these smaller baits for 'skies?
---
Ugly Muskies
Not gonna lie.... we have some EXTRA ugly ones this week 👀
This first one is an out-west ugly duckling from Ryan Elizondo, and she makes Quasimodo look like a beauty queen 😂
Next, we have a super nasty river musky from Daniel Hunter:
"It's not dirt or leaves on it. That's all open wounds, scars, and/or sores. It was pretty nasty to handle honestly and I felt bad for the thing."
#zombeskie
How 'bout the face on this one from Josh Scriver??
Pretty backdrop in this shot from Clark Bailey. The musky.... not so much!
---
This Week's Mashup:
Mashup time!
#1 – Sounds like Musky Innovations is releasing a Quad Dawg this winter. We don't share "teasers" very often (particularly when there's not pictures of the bait), but wanted to let ya'll know as this will likely be a VERY popular launch.
They haven't shared anything on social media yet, but here's the photo they sent out in their newsletter:
#2 – Congrats to Nate Osfar (one of our PRO instructors) and his partner Kyle Kasuboski on beating 100+ boats at the Kevin Worrall Memorial Tournament last weekend. Tough tournament to win with lots of good anglers. Props!
#3 – There's some really entertaining content in this video from Jay Siemens, featuring Greg Attard, Troy Mansfield and some Lac Seul musky fishin' action.
Always cool to watch when A+ cinematography teams up with the meanest freshwater fish to create some entertaining content:
#4 – Diggin' this up-close-and-personal river 'skie shot from Joe Cermele:
---
QUICK HITTERS:
– Northern WI musky fishing w/ Chris Willen & Todays Angler (video)
– Musky fishing w/ Rich Reinert & Smith's Fishing (video)
– Old 2003 throwback musky chasin' on Mille Lacs w/ Gillespie (video)
– Canadian tiger musky hunting w/ 54 or bust (video)
– Early fall musky baits w/ Matt Vavroch (video)
---
---
THIS WEEK'S

 MONSTER MUSKIES:
Check out this one from Hans the Carver. A true bruiser and absolutely gorgeous at the same time. 😍
Props to Travis Clark on poppin' this big beauty after dark on "The One" bucktail:
Another nighttime 'skie – this one's from Jaime Zapatero on Lake of the Woods. Great fish man!
Wanna be featured in Musky Insider? Send in your recent trophy musky photos by replying to this email. You might just see your pic in next week's newsletter. 🤙
---
---
Want to see more from Musky Insider? Make sure to follow us on Facebook and Instagram for bonus content throughout the week!
Send all business inquiries to josh@muskyinsider.com
---