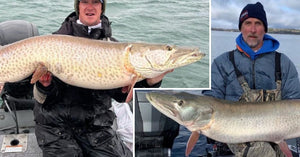 New ''Ultra'' Dawg (it's even bigger) – 56 incher caught – Jigging Tips
Be the FIRST to see Musky Insider every week by signing up for the email version of this newsletter. It's 100% free and we will never sell your email address! Click here to sign up and never miss another issue.
---
---
''More'' is More!
Have you ever ripped a pounder-sized Bull Dawg past a muskies face, and had her look up at you and say....
Sometimes you gotta reach for something that's BIGGER than "big" to get those monster 'skies to chomp!
Enter.... The new "Ultra Dawg":
That delicious chunk of rubber weighs a crazy 1.5 pounds.... 👀👀
Here's a quote from Doug Wegner's IG page:
"Was lucky enough to get my hands on the new Ultra Dawg (1.5 pounder) this fall and caught 3 fish on it my first day! This bait will only be available at @thornebros Brad and Brian from @muskyinnovations did a great job with it as well as Kurt and Luke on tuning in the weighting on the prototypes!"
☝️ Lots of good musky sticks developed this jumbo-sized bait.
If more is more when it comes to plus-sized muskies, then this new Dawg is a must-have.... or at least a must-try! 
Sounds like they'll be available in January.... We'll let you know when we see 'em for sale 👍
---
Vertical Jigging
How many of you vertical jig for 'skies?
Was listening to a radio interview with Pete Maina when he told this way-back-in-the-day vertical jiggin' story:
"The first lure that I ever used for vertical jigging was the Fuzzy Duzzit – it's basically a large, weighted blade bait. It literally was better than anything for late fall, deep fishing at that time."
"I remember the awe from my guiding clients. I would suggest that they use it for vertical jigging, but they wouldn't listen and instead would opt for traditional casting baits. Inevitably, it wouldn't take me long to catch one on it, at which point they'd switch."
Can't say I haven't heard similar guide/client stories in the past.... 😉
Regardless, vertical jigging is still extremely underrated all these years later. We have more bait options now and the tactic still catches 'em.
Here's what Pete would consider ideal jigging water:
"It's most effective when you're fishing sharp breaking shorelines or any kind of structure elements that are very sharp, especially an irregular break with lots of points and inside turns. If the fish are located on those breaks, especially if they are sitting at the bottom of them, that's where vertical jigging is most effective.
"If those fish are sitting at the bottom of a break on an inside turn, you literally can't get to those fish by trolling.
"I like to zig-zag back-and-forth to try and see if there's a depth zone pattern where most of the fish are hanging."
Good stuff – Something to add to your arsenal if you haven't already!
---
Figure 8 on SI
How sweet is this screenshot sent in by by Larry Michael and AJ Wiesner???
That's some Side Imaging musky action, but we flipped it sideways so it fit into the newsletter better:
For those of you who aren't well-versed in the SI world, you're lookin' at a musky chasin' a bait in the figure 8.
This fish looped around past the transducer seven times before finally calling it quits and giving Larry and AJ the middle fin. 😂
You'll get 'em next time, boys!
---
This Week's Mashup:
You know what time it is!
#1 – Let's kick off the Mashup with a boatside figure-oval from Cast & Conquer:
#2 – Sweet zombie-themed paint job from White Label Fishing on this Rapala Super Shad.
I feel like this thing would really shine if you were fishin' somewhere with those gross post-spawn Atlantic salmon that die once they've dropped their eggs.... 😉
#3 – Not a musky, but this pike from Hermann Husslein is probably girthier (that's a word, right??) than the majority of the muskies you're gonna hook up with.... unless you're fishin' Mille Lacs apparently! haha
#4 – We all know folks who bring WAYYY too much tackle with them when they're fishin' with a buddy.…
Only way that's cool is if one of their Planos is a "Snackle Box" 😂
---
QUICK HITTERS:
– A hefty fall Wisco musky w/ Todays Angler (video)
– Austin Wiggerman on the Back Lash Podcast (link)
– Musky fishin' action w/ Doug Wegner (video)
– Last Day Muskie w/ Smith's Fishing (video)
– 52.5 incher caught on a sucker (video)
---

---
THIS WEEK'S

 MONSTER MUSKIES:
This 56-incher couldn't resist the Pounder Bull Dawg – huge congrats to "Catfish" from Whopper Stopper Guide Service on boating this beauty!
This 53-inch Minnesota Megalodon drilled Bruce Rauma's figure 8, but popped off right before she hit the net. Luckily, Josh Borovsky slid the bag underneath her just in time! Great fish, Bruce 👍
Props to Michael Hanson on rippin' up this massive 52.5 x 25.75" monster – now that's a "Large Marge" if I've ever seen one! #sheesh
How stinkin' impressive is this 54-inch blimp of a musky from Jade Fogarty?!?!
Wanna be featured in Musky Insider? Send in your recent trophy musky photos by replying to this email. You might just see your pic in next week's newsletter. 🤙
---
---
Want to see more from Musky Insider? Make sure to follow us on Facebook and Instagram for bonus content throughout the week!
Send all business inquiries to josh@muskyinsider.com
---