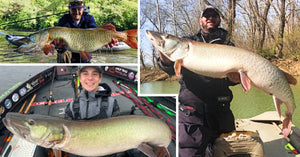 Odd Fact of the Day – Sucker Storage – Southern Fall Movements
Be the FIRST to see Musky Insider every week by signing up for the email version of this newsletter. It's 100% free and we will never sell your email address! Click here to sign up and never miss another issue.
---
---
Fall Movement for Southern 'skies
Was listening to a Back Lash interview with Matt Gunkel, and they went deep into the weeds coves on fall musky locations and movements.
Matt has a lot of experience fishing southern reservoirs, and he's spent a lot of time on Lake Kinkaid in southern Illinois.
Whether you're a southern angler (like Matt) or an up-north angler looking to compare and contrast notes, I think you'll enjoy his description of when/why muskies move shallow in fall in southern reservoirs.
He sees TWO big waves in fall:
"We have two times in the fall when the fish go ultra ultra shallow.
"The first big cold front usually happens in September. I always watch the weather forecast, looking for the first time the nights are hitting the low 50's or high 40's. This cools that really shallow water, and there will be a wave of muskies (including some of the big adult fish) that will go to the very, very backs of creeks in ankle-deep or knee-deep water.
"There's a good topwater bite and good bucktail bite for the first 3-4 hours in the morning or until whenever the fog burns off – sometimes that's 7:00am and sometimes it's 10:30-11:00am."
That's the FIRST big wave of fall. Here's when the next one happens:
"Sometime in the back half of October or the first couple weeks in November, the main lake will start going through turnover.
"There's a migration of shad during the turnover into the backs of the creeks and to the northern reaches of the lake. When this happens, the muskies will again go to the way backs of the creeks, using lay-downs and standing timber.
"Sometimes those areas will have patches of weeds, although it seems like the coves that are the absolute best don't have thick weeds. The fish won't go all the way back and bury themselves, because they seem to prefer being on open flats where they can hunt in groups and pin shad against the bank.
"We catch them on spinnerbaits because of all the wood, junk leaves and weeds, but bucktails and topwaters still work."
He mentioned in the interview that the Tandem Nutbuster (pictured above) is one of his absolute most productive baits. He can fish it in deep water or shallow back-bay areas. It's very efficient and mops up hungry 'skies 🔥
---
Odd Fact of the Day
Most of you know.... When a purebred 'skie and a northern pike love each other very much, you end up with a tiger musky.
But you might NOT know that their offspring can have different behavior based on who's the mama and who's the daddy.
From a recent study titled "Evaluation of cannibalism during hatchery rearing of tiger muskellunge crosses":
"Juvenile tiger muskellunge are cannibalistic, which can lead to a substantial reduction in yields within an intensive culture environment. Utah hatcheries have traditionally raised the female Northern Pike × male Muskellunge cross, and hatchery managers are reluctant to raise the female Muskellunge × male Northern Pike due to a perceived difference (increase) in cannibalism rates when rearing this cross."
So they did some experimenting to test that theory....
"We raised both crosses in replicated microcosms to evaluate the differential cannibalism between them. All rearing conditions were consistent.
"After 6 weeks, we found that the female Muskellunge × male Northern Pike cross offspring were significantly more cannibalistic than juveniles from the female Northern Pike × male Muskellunge cross, with total cannibalism across the 6-week period estimated at 27% and 5.6%, respectively."
There ya have it! You're random fact of the day 😂😂
---
Sucker Storage "Hack"
....for dudes without a wife, girlfriend or roommate!
Saw this "Tub Tank" while watchin' random musky videos on YT:
Beats chiseling your suckers out of an iced-up rubber tub next to your garage, right??? You don't have to answer that.... 😂
Makes ya wonder if he's got chubs in the sink for fall walleye jiggin', too!
---
This Week's Mashup:
Mashup time!
#1 – Here's a closer look at Musky Innovations' new Quad Dawg. They just dropped a video from Brad with more details.
#2 – Big props to Russ Gontarek and Ben Olsen on winning the Treeland Premier Musky Fly Fishing Championship with four bronze fly-munchin' beauties 💪
#3 – We have another "Ugly Muskies" section comin' in the near future, but in the meantime, lookit the kicker on this river 'skie from Megan, via Riley Simmons:
#4 – Diggin' this Esox attack tattoo from @travydtattooer. This one hits especially close to home after watching Meg 2 last night 😂
---
QUICK HITTERS:
– Heavyweight fall muskies w/ Todays Angler (video)
– Northwoods fall musky fishing w/ Burnin' Eights (video)
– Creek kayak musky action on topwater w/ NDYakAngler (video)
– Topwater muskies w/ Smiths Fishing (video)
– 5 musky day w/ Liam Whetter (video)
– Musky fishing tackle basics w/ Jim Saric (video)
– Southern fall transition w/ Chad Harmon & Road Rules (video)
---
---
THIS WEEK'S 

MONSTER MUSKIES:
Feast your eyes on this BIG Cave Run brute caught by musky guide Tim Barker this year. That's a heavy southern 'skie! 🐖
Awesome 49-inch Wisconsin greenback bruiser from Fischer Smith:
Check out the blubber-belly on this portly river 'skie that was caught by @dr.limestone while fly fishing from a paddleboard 👀
Wanna be featured in Musky Insider? Send in your recent trophy musky photos by replying to this email. You might just see your pic in next week's newsletter. 🤙
---
---
Want to see more from Musky Insider? Make sure to follow us on Facebook and Instagram for bonus content throughout the week!
Send all business inquiries to josh@muskyinsider.com
---