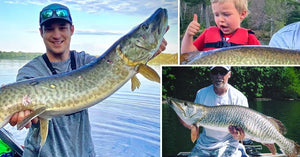 Pink Days Revealed – Trolling Motor Rant – Sweet Custom Rubber
Be the FIRST to see Musky Insider every week by signing up for the email version of this newsletter. It's 100% free and we will never sell your email address! Click here to sign up and never miss another issue.
---
---
Big Fish Pink Days
We've received a bunch of emails from our readers asking when we're going to release Josh Borovsky's 2021 Pink Days.
Well, today is the day!
Before we jump into the dates, if you've never heard of "Pink Days" and why they're so great, here's a quick rundown from Josh:
"They are special days when a number of phenomenon overlap or coincide with each other during a specific time window. For 13 of the last 17 years, the biggest fish in my boat has been caught on one of these days. Honestly, the number could be higher and almost perfect, but we just lost them those years and they didn't make it into the net.
"While the moon phase is part of it. It also has a lot to do with the distance of the moon from earth which is something that varies a lot more than most people realize due to the elliptical orbit (not a perfect circle) of the moon around earth. Have you ever noticed that sometimes the moon looks giant in the sky and other times it looks tiny? That's because the change in its distance is so significant, you can see it with your eyes."
And here's the key dates to  highlight  on your calendar for 2021:
June 21-26

July 21-24

August 19-20

September 8-10

October 5-9

November 2-7

December 1-7
There you have it, plan accordingly!
Speaking of planning, we just added the "Catch More & Bigger Muskies from your Couch" class to our website. The class is packed with extremely useful goodies, including EXACTLY how Josh finds the best big fish lakes and how he determines the best times to fish them.
The info is honestly worth it's weight in gold....
---
Custom Rubber Colors
With the crazy run on fishing gear this past year, thanks to more and more folks getting into fishing, I think we've all learned a very important lesson:
You can NEVER have too much fishin' tackle! 😂
So, if you want your garage to look like this one day....
....you better start stockin' up now! haha
Here's a few sweet custom colors that caught our eye this week thumbin' through the Thorne Bros website:
First, we've got a Pounder-sized Bull Dawg in the "Rainy Walleye" color, which is a little darker and more subtle than traditional walleye colors. Should make for a great target when muskies are huntin' down clearwater prey.
Also diggin' the Canadian Crush color on this big double-bladed Super Model:
Next up, a few cool colors on the Swimmin' Dawgs (from top to bottom):
MN Creamsicle

Lemondrop

White Head Pro Walleye

Mother of Pearl
Pretty sure Thorne Bros has all those colors in both the Magnum Swimmin' Dawg and the Shallow Swimmin' Dawg.
Last but not least, how cool is this Hellhound glide bait in the "Prism Iridescent Perch" color?? 🤤
---
Trollin' Motor Rant
I need to hop on my soapbox for a minute....
Does anyone else remember the good ole days when the Minn Kotas used to have a light-up arrow on top so you could see what direction it was pointing in the dark??
Not sure why they stopped.... it's probably because bass guys don't fish at night. 😂
Some musky-heads end up using glow tape to help get 'em pointed in the right direction, but it still doesn't beat a legit lighted arrow.
Btw, you can use the stuff on your trolling motor peddle, too...
We might need to pick up some glow-in-the-dark tape until MK brings the lighted-arrows back – preferably with dimming level, please 🙏
Obviously, this isn't the MOST important factor to consider when choosing a trolling motor, but it's definitely worth some bonus points if you ever chase 'skies after dark!
---
Great Lakes Moving Co.
This Superior 'skie traveled a LONG ways to get caught by Snowbelt Angling on the Montreal River on the WI/MI border:
Here's s'more deets on the fish:
"I got this musky in the Montreal river (Lake Superior tributary) at the Michigan/Wisconsin border on 5/14/21. Last year it was located around Bark Point, between Cornucopia and Port Wing. So I'd assume that the fish started making it's journey over after spawning in the St. Louis river about a year ago. If that's correct, in one year that fish traveled over at least 95 miles (straight shot) to get to where I caught it."
Here's a map for those of you who are geographically challenged 😉
Apparently this 'skie didn't get the "shelter in place" memo this past year.... 😂
---
QUICK HITTERS:
– WI Northern Zone opening May 29th (link)
– Must-have musky release tools w/ Doug Wegner (video)
– MN Metro Muskie Tournament happenin' June 12th (link)
– Small swimbait setup for muskies w/ James Lindner (video)
– Pete Maina's take on social media shaming (video)
– Iowa musky chasin' w/ Angling Anarchy (video)
– Musky, walleye & pike study on Elk Lake, MN (link)
– Shore fishing for WI river muskies (video)
---
---
THIS WEEK'S

 FEATURED MUSKIES:
This 46-inch Washington state porkbelly drilled Michael Floyd's swimbait at the side of the boat. That gal is a serious oinker! 🐖
📸 - John Floyd
We shoulda saved this yak 'skie for a future "Ugly Muskies" segment.... 
This not-so-pretty Minnesota musky popped @meul_outdoors' frog on opening day of the bass/walleye season. Hopefully, it's had a few meals since this encounter!
Love seeing the next generation in the boat chasin' muskies! Great job, Andrew Schiera!
Also, I kinda feel bad that I cropped off the top of the kiddo's 'fro #HairGameStrong 💪
Another awesome take-a-kid-fishin' shot, this time from Andrew Krueger. Lovin' the expressions on the faces of the youngin's!
Wanna be featured on Musky Insider? Send in your recent trophy musky photos by replying to this email. You might just see your pic in next week's newsletter. 🤙
---
---
Want to see more from Musky Insider? Make sure to follow us on Facebook and Instagram for bonus content throughout the week!
Send all business inquiries to josh@muskyinsider.com
---