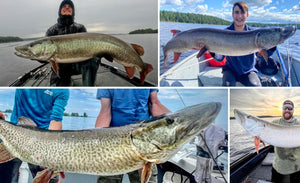 PMTT Bans Livescope – Massive 'skie caught – Location Tips
Be the FIRST to see Musky Insider every week by signing up for the email version of this newsletter. It's 100% free and we will never sell your email address! Click here to sign up and never miss another issue.
---
---
PMTT is Now #NoScope
PMTT just gave Garmin the best marketing material they could ask for.... 😉
This week, they dropped the ban-hammer on all forward facing sonar (Livescope, MEGA Live, Active Target) in their tourneys.... but anglers can still use it during the practice period.
Sounds like PMTT anglers were polled – right after Nolan and Tim spanked the field on the Eagle River chain #timing – and the majority were in favor of a ban.
You can click here to read the email they sent to anglers.
Needless to say, this is big news. Heck, even bass/walleye dudes were talking about it on social media and down at ICAST.
Gotta bring this GIF back for the occasion 😉
We've talked about this topic a BUNCH the last few weeks, so we'll leave some of the scope vs. no scope opinions to ourselves for now.
The biggest deal most folks are mad about (on both sides of the isle) is the fact that this change was made MID-SEASON. That's a bold strategy for a big tourney organization, dealing with tech that's been available to the public for several years.
From PMTT:
"We have concluded that going forward in the 2022 season, for the last qualifier on Leech Lake and the championship in September, the Forward Facing Sonar - Live Sonar and all other like technology, will not be allowed for use during these two PMTT tournaments.
"This decision is for the rest of the 2022 PMTT season and not a permanent fixture in the PMTT as it will be re-evaluated after the season."
Will be interesting to see how this shakes out during the offseason....
In other news, Humminbird just released another update (1.170) for their MEGA Live transducers. 😉
---
Big St. Lawrence 'skie
Something else you've probably seen all over social media this week is this massive 'skie from Capt. Gene Bolton, a walleye/trout/salmon guide on Lake Ontario:
He was trollin' for bass and walleyes on the main lake when this biggun smacked his purple candy Flicker Minnow.
For reference, here's the general area where the fish was caught:
Why is this fish notable?
The reported length is 59 7/8 inches – just a hair short of 5 feet. #sheesh
Pretty dang ridiculous if that's an accurate measurement.... that's definitely an area (mouth of the St. Lawrence) where a mega-giant could come from.
---
Some Heiting Tips
Just got done reading through a new Field & Stream article featuring some good info from Steve Heiting, who's been kickin' out a lot of great content this year after getting out of the magazine biz.
He offers up 6 tips for midsummer muskies. We'll share a couple nuggets here, then you can read the full article for the rest of the musky fishin' goodies 👍
Follow the Baitfish:
"One of the classic midsummer bites occurs when baitfish like whitefish, perch, crappie, and bluegills suspend at varying water depths. Muskies are going to follow those schools of fish, which are not always relating to cover or structure.
"Some Canadian and other northern lakes we fish may top out at 76 degrees, which is cool for summer. In those situations, baitfish will be in shallower water, relating to rocks, weeds, islands, and points, and you have to follow."
Process for Hot & Slow Bites:
"Telemetry studies have shown that the home range of a musky on some lakes can be as large as 400 acres. That's obviously a lot of water. But those same studies have shown a fish might have favored spots within that range that are as small as 100 yards.
"Now that's a lot more manageable, and if you can find some of those areas, your success rates soar.
"My basic philosophy is when the bite is aggressive, I fish fast and mix it up, moving between spots I know hold fish and exploring new territory. And when the fishing is slow, I slow down too, methodically working those hotspots I discovered during a hot bite."
Good stuff!
---
This Week's Mashup:
Mashup time!
#1 – Awesome release shot from Leech Lake guide (and MN Musky School instructor) Phil Bauerly 💪
#2 – Not gonna lie, I'm a little jealous of this musky-themed cereal bowl from Ken at Windy Acres Woodworks:
#3 – A couple random marine products that just went online at Taps & Tackle:
Bert's Tracks

 

- Pretty key for mounting rod holders, live sonar poles, etc. in most glass boats.
Minn Kota Charger

 

– They've got the pc440 and 550 for optimal performance with lithium batteries (something more and more folks are using).
#4 – Really cool split-level river musky shot from guide Sam Scott in Virginia:
---
QUICK HITTERS:
– Trolling big MN muskies w/ Doug Wegner (video)
– July musky fishing w/ Todays Angler (video)
– Steve Genson on the Back Lash Podcast (link)
– Swimbait muskies in the weeds w/ Angling Anarchy (video)
– Short-line trolling 'skies w/ Matt Vavroch (video)
– Simms acquired by Vista Outdoors (link)
---
---
THIS WEEK'S

 MONSTER MUSKIES:
Congrats to Sam Wright on poppin' this gorgeous white whale on a Bondy Bait.
Check out the sumo-sized belly on this plump Rainy Lake musky from @spines_and_times 🐷
Props to Pascal Dumont on putting this 52 inch bruiser in the small boat!
Wanna be featured in Musky Insider? Send in your recent trophy musky photos by replying to this email. You might just see your pic in next week's newsletter. 🤙
---
---
Want to see more from Musky Insider? Make sure to follow us on Facebook and Instagram for bonus content throughout the week!
Send all business inquiries to josh@muskyinsider.com
---