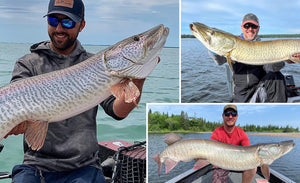 PMTT Drama (kinda) – MH Magazine is GONE – Livescope Thoughts
Be the FIRST to see Musky Insider every week by signing up for the email version of this newsletter. It's 100% free and we will never sell your email address! Click here to sign up and never miss another issue.
---
---
PMTT: Eagle River Recap
Blowout.
☝️ That's the best word to describe what happened last weekend in Wisconsin.
Huge congrats to Nolan Sprengeler & Tim Willems on spankin' the field during the PMTT tourney on Eagle Lake/Three Lakes – take a look at these crazy results:
They boated TEN 'skies over two days – more than good enough to take home a fat check ($23,880) and some serious bragging rights.
Sounds like their program consisted of trackin' down muskies with Livescope and sharp-shootin' them with swimbaits.
"We were throwing natural colored stuff, mostly brown/silver and really reading our electronics. Sitting or suspending off breaks, looking for bait, typically deeper water, casting rubber on 9'6" rods with sort of big hops is something we do back home."
These guys totally crushed 'em fishing with new-school technology and strategies. Naturally, there's some drama brewin' up after their blow-out win....
---
The Drama
Live-viewing sonar is becoming more-and-more popular in the musky world.
.... and Nolan & Tim are totally dialed with the new tech.
Kinda like Tom Cruise in an F-14 Tomcat 😉
Eagle River was a perfect example of what happens when you combine sharp-shooting with a prolific numbers fishery.
We'll try not to get too opinionated in this newsletter, but it's a controversial topic for a number of reasons....
1. Muskies are particularly vulnerable to live-sonar because they are easier to spot and target compared to other species. You can also follow the fish around making multiple casts at them.
2. The new tech isn't cheap. Especially if you rig up with multiple screens & transducers, which is basically the deal if you wanna maximize your catch-rate.
3. Some folks are using it to target fish in deep water where barotrauma and delayed mortality is a larger concern.
As far as we know, no major pro tournament organization has limited electronics, but it seems like there's a lot of pressure on the PMTT to consider limits/bans.
The comment section on their Facebook page has been pretty wild – here's a few messages from tourney pros and fans that stuck out:
"I personally won't be fishing the trail next year if livescope is not banned. That's not fishing.... I honestly don't even want to fish the next event and I can see I'm not alone."
"Every guy in these tournaments who isn't running multiple livescope units and sharpshooting is NOT on a fair and level playing field as those who are."
"It's sad that nowadays if you have enough money you can just drive around until you find a musky and throw 100 casts at it. There is definitely a learning curve in sharp shooting but very little skill involved."
Lots of anti-scope comments, but a few guys went against the crowd:
"I'm pretty sure the rules are the same for every angler. This isn't the first time this technology has been used in tournaments. Every angler knows exactly what they're up against entering."
"Garmin should use this thread for marketing. Holy ****"
Not gonna post any names here on the newsletter, but you could probably track 'em down if you were curious enough.
Gonna be interesting to see how all of this plays out....
---
No More MH Magazines
We opened our inbox yesterday and found an email from Musky Hunter.... this was the first sentence:
"Musky Hunter Magazine will no longer offer its printed magazine after this most recent issue."
That's big news in the musky media world. Musky Hunter has been kickin' out magazines every-other-month since 1989. We've been reading the magazine for a LONG time, and honestly, we're gonna miss thumbin' through the hard copy.
Sounds like rising costs are partly to blame for the change of direction.
Ultimately, everything is going digital. That's a big reason why we started Musky Insider.... the musky world needed more web-first musky content.
It's sad to see the magazine go, but you gotta wonder how many magazines will be in circulation by the end of this economic cycle.
---
This Week's Mashup:
Mashup time!
#1 – It's only fitting that we slip a live-sonar clip into this week's mashup. 😂  This one's actually a Euro pike from K.B. Fishing, but still a sick clip.
We've also noticed that there's VERY FEW musky live-sonar videos online.... 🤔
#2 – Ed Lubberdink sent us this photo and we just had to turn it into a meme:
#3 – How's this for a killer "match-the-hatch" pattern??
Sweet lookin' bucktail from Muskie Munchies:
#4 – Diggin' this low-light backlit kayak musky snap from John Proch:
---
QUICK HITTERS:
– Trollin' tips and action w/ Doug Wegner (video)
– Northwoods bucktail fishin' w/ Todays Angler (video)
– Ronnestrand fishing opening weekend (video)
– Early season WI musky action w/ Burnin' Eights (video)
– Catching "nipper" muskies w/ Joe Bucher (video)
---
---
THIS WEEK'S

 MONSTER MUSKIES:
Gorgeous musky outta Matt Cornell's boat during the opening weekend of musky chasin' in Ontario (last weekend): 
What do musky guides do on their day off?? Go musky fishing, of course! Here's a nice one from Josh Borovsky on Vermilion:
Absolutely lovin' the pattern and colors on this beautiful 46.75" tiger musky from Cole Lauzon:
Wanna be featured in Musky Insider? Send in your recent trophy musky photos by replying to this email. You might just see your pic in next week's newsletter. 🤙
---
---
Want to see more from Musky Insider? Make sure to follow us on Facebook and Instagram for bonus content throughout the week!
Send all business inquiries to josh@muskyinsider.com
---