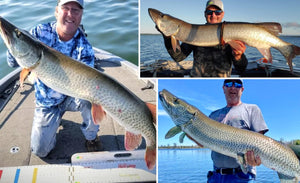 PMTT Results (Leech) – ''Ring Around the Musky'' – Some Monsters Caught
Be the FIRST to see Musky Insider every week by signing up for the email version of this newsletter. It's 100% free and we will never sell your email address! Click here to sign up and never miss another issue.
---
---
PMTT on Leech Lake
Big congrats to Mark Lijewski & Jason Mollen on winning the 3rd PMTT qualifier with four Leech Lake beauties, including this 50-inch tanker:
Sounds like they found an area chock full of muskies and setup camp, here's a few deets on their presentation:
"We were fishing rubber out fairly deep, working the baits fairly slow and keeping them close to the bottom. Dark colors. The fish came out away from the boat."
This event couldn't keep pace with the insane 82 muskies caught in Eagle River, but they managed 37 muskies that averaged an extra-impressive 40.5 inches 🤤
Here's a look at the top 10 – not sure why I could only find a photo of the results on a projector, but it will have to do 😂 :
For those wondering, sounds like there wasn't much fuss about the live sonar ban. No obtrusive boat checks or anything like that. Guessing it will be a hot topic again this off-season as they plan for the 2023 season.
---
Ring Around the Musky 🎶
🎵 Pocket full of.... split rings?? 
Here's something you don't see everyday 👀
Check out this pic sent in by Ryan Robarge:
Here's some more info from Ryan:
"I think the ring I found on the musky was a kid's plastic diving ring.... The ring must have been on the fish for a while because the fish had a 1/2 inch gash into it's belly and on it's back. I couldn't just slide it off so I had to cut it. I somehow lost my net in 30 ft of water doing so... lol"
Not gonna lie, it looks like someone rigged the musky up with an o-ring for Neko riggin – I can't unsee it! 😂
Here's a closer look at the ring:
Hate to see stuff like this, but besides the circular gash around it's "waist", the musky doesn't seem too much worse for the wear!
---
Twice is Nice!
Wanted to give a shoutout to Noah Moss (13 years old) on a seriously impressive showing this last month during a fishin' trip in northern MN.
He busted his PB crappie on the first day of the trip, then on day #2, he went chasin' some REAL fish with his uncle Dave Eichelberger.
It wasn't too long before he hooked up with this 51.75 inch beast of a musky:
It struck a small Swimmin' Dawg about halfway back to the boat.
His family made sure to let him know how special the fish was later that day.
Here's Noah's quote (via Outdoor Life):
"They were saying 'Noah, that's gonna be a pretty tough fish to beat, you know. You might not catch a bigger one than that in a decade or two."
But this wouldn't be the only big fish he caught on the trip!
The next morning, Noah hooked up with another giant while casting his Swimmin' Dawg at a wind-blown weed patch:
Fish #2 measured an insane 54 inches 🤯
Not bad for a couple mornings of musky fishing!
And here's an interesting tidbit from his dad Jordan Moss (via GF Herald):
"Noah landed both muskies during a 'major', when muskies are believed to be more active. Believe what you will – whether it has a major influence or not. Two giant fish on back-to-back days within minutes of each other in the same moon [event] and in a totally different area of the lake is just kind of ironic."
Awesome story – congrats kid!
---
This Week's Mashup:
Mashup time!
#1 – Let's up the intensity level in our mashup section this week.... starting with this pic from Burnin' Eights. Green Bay looks plenty fun on social media, but she can be downright nasty on the wrong day!
#2 – Nice head cam footage from Cast & Conquer, capturing some east Canadian boatside oval action:
#3 – Killer airborne 'skie snap from guide Michael Hanson:
#4 – Anyone else get extra-nervous when a big musky starts shaking it's head right before hitting the net?? 🙋‍♂️ Cool pic from Gills N Bills 
---
QUICK HITTERS:
– Sign up for Frank Schneider tournament by Sept. 5th (link)
– 20-25% off stuff on Llungen Lures' website, code: LABORDAY (link)
– 15% off everything on Musky Innovations site, code: LABOR15 (link)
– Wisconsin musky chasin' w/ Todays Angler (video)
– Green Bay musky fishing w/ Brian Klein & Smith's Fishing (video)
– Three musky flurry w/ Cast & Conquer (video)
---
---
THIS WEEK'S

 MONSTER MUSKIES:
Check out the build 💪 on this 53.5" cabbage dragon from Troy Mansfield – he caught her walkin' the dog with a Rabska WTD on Lac Seul:
Can't help but gawk at the patterns on this gorgeous, plus-sized (54+ inch) spot-a-saurus from John C Vieau 💪
Lovin' this boatside release shot from Sara Trampe (Sportsman's Journal TV):
Wanna be featured in Musky Insider? Send in your recent trophy musky photos by replying to this email. You might just see your pic in next week's newsletter. 🤙
---
---
Want to see more from Musky Insider? Make sure to follow us on Facebook and Instagram for bonus content throughout the week!
Send all business inquiries to josh@muskyinsider.com
---