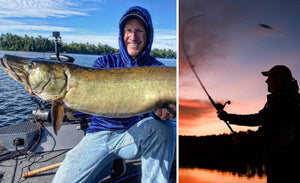 Ronnestrand's June Setups – Best Double of the Year – Metro Tourney Recap
Be the FIRST to see Musky Insider every week by signing up for the email version of this newsletter. It's 100% free and we will never sell your email address! Click here to sign up and never miss another issue.
---
---
Metro Muskie Tourney Recap
Big congrats to Matt Anderson on winning the Metro Muskie Tourney this past weekend with a pair of Minnetonka 'skies measuring 41 and 44 inches.
The first fish hit the net after TWO CASTS and the second 'skie also came in the first 20 minutes of the day.... not a bad way to start a tournament! Both came on a black Double Cowgirl fishing steep weed edges.
Also gotta shoutout Chandler Spears for catching his first-ever 50 incher and finishing second overall in the tourney – he caught this gorgeous slob-a-saruas fishing a heavily-weighted Baby Beaver:
For those of you who like lookin' at the final standings, here's the whiteboard:
---
Double Trouble!
While everyone else was swarming the Metro trying to hunt down big muskies, Paul Schiller and his wife Rachel caught this beast on accident:
But here's where the story starts to get crazy....
They caught that big 'skie AND this eater sized walleye at the same time, on the same crawler harness (AKA an extra-extra-small bucktail tipped with worms 😉):
That's a special kind of double-up.... 😂
Not sure how they managed to snap this photo, but you can actually see the harness in the musky's mouth as it's about to go airborne:
Here's a few deets from the Star Tribune writeup:
Paul: "When we saw the muskie near the surface we didn't realize it had a walleye in its mouth. My wife tried to get its head into our walleye net. As she did, the walleye, which had one of the harness's hooks in its mouth, dropped into the net. Rachel was like, 'Where did that come from?'"
Sounds like the musky tried to scarf the walleye after it bit the crawler harness, then ended up getting hooked on the third hook of the harness.
The article is saying 52 inches for the musky and 21 inches for the eyeball.
---
License Plate Follow-Up
A couple weeks ago, we shared some sweet musky-themed licenses plates we found online – that prompted a few of you to share your own custom plates.
Here's a few of our favorites:
Tom V. totally nailed it with this Virginia Figure-8 plate. He also has the A+ "Rather Be Fishing" frame to go with it 👍
Mark W. went tactical with this custom WI musky plate:
Musky folks know what Ross F. was going for here, but every time he road trips, the non-musky-heads probably think he has an unusual passion for soft pear-shaped fruit 😉
Tom F. is absolutely killin' it with the XXL ESOX plate, sweet bumper stickers, and one of the best plate frames we've seen!
---
This Week's Mashup:
Mashup time!
#1 – Let's kick off this Mashup with a friendly reminder....
Keeping your hooks sticky-sharp is SUPER important. Nothing feels worse than losing a fish because you didn't spend a quick moment to sharpening your trebles!
Lots of good hook files on the market, we've been happy with this one:
#2 – REAAAALLLY slick low-light photo from Pete Maina 🔥
#3 – Cool shot from @scottandnix featurin' a basking 'skie on the Delaware River.
#4 – If you have the extra $$ to own a bunch of different rod/reel setups for different tactics, you might find this video from Luke Ronnestrand valuable, talkin' his go-to setups for June musky chasin':
---
QUICK HITTERS:
– 6 for 12 day of musky fishing w/ Todays Angler (video)
– Musky chasin' action w/ Doug & Jessie (video)
– Musky league night w/ Smith's Fishing (video)
– "Musky at dusk" w/ Joe Bucher (video)
– Indiana kayak musky fishing (video)
---
---
THIS WEEK'S

 MONSTER MUSKIES:
Big congrats to Jeff Hagemann on poppin' this #hefty bronzeback 'skie chunkin' a big Double Dawg. 💪
Kurt Zuiker caught this WI beauty pullin' and pausin' a Suick Thriller:
From Doug Wegner out on Green Bay:
"Was lucky enough to squeeze out one big one this spring at 51.5"s. What a weird opener we had again this year. They seem to get harder each season."
Props to his clients on sticking this spotted torpedo:
Wanna be featured in Musky Insider? Send in your recent trophy musky photos by replying to this email. You might just see your pic in next week's newsletter. 🤙
---
---
Want to see more from Musky Insider? Make sure to follow us on Facebook and Instagram for bonus content throughout the week!
Send all business inquiries to josh@muskyinsider.com
---