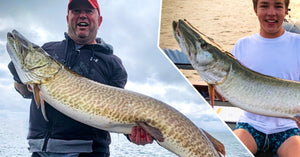 Serious Sucker Tips – Proof C&R Works – 56 incher caught
Be the FIRST to see Musky Insider every week by signing up for the email version of this newsletter. It's 100% free and we will never sell your email address! Click here to sign up and never miss another issue.
---
---
Livebaitin' Goodies
Buckle up – we've got some livebait fishing tips from the king of sucker draggin' 💪 
Yup, that's Steve "Herbie" Herbeck. Enjoy!
#1 – On how long you should wait to set the hook:
"They call it a 'quick set' rig for a reason. The hookset should occur within 30-45 seconds, no more if possible – just enough time to see which direction the fish is moving and get in position. The smaller the bait, the quicker this needs to occur. Baits that are over 13-14 inches generally get carried sideways longer than baits 12 inches and under. Anytime you see a sucker's head inside the mouth of a musky or pike, it means you waited too long.
"The longer you allow the musky to hold onto the bait, the more things could go wrong. Your chances of gullet hooking the fish increases, and points/barbs can also get twisted and buried in the bait on the hookset due to jaw pressures and repositioning of the bait inside the musky's mouth, etc."
#2 – On his go-to "tough bite" sucker harness setup:
"When you start getting too many 'lookers' that won't bite, it's because the fish are shy and your harness isn't right. In these situations, I go with 60 pound 7-strand wire and black 2/0 or 3/0 hooks depending on the size of the sucker. I inspect my rigs after several fish and have never lost one due to broken leaders. The only time I'll use a heavier rig is when I feel like I can get away with it."
#3 – On sucker release systems:
"The type of release system is irrelevant as long as the sucker breaks free on the hookset. However, rubber bands, and to some extent clips, are better suited for aggressive presentations, whereas the smaller nose hooks are fine for passive presentations like bobbers or vertical below the boat where there's little-to-no contact with weeds, rocks, etc.
"When I'm fishing clear water, bright sunny days, lakes or spots with lots of livebait pressure, I like to go with more 'aggressive' presentations. That might be long-lining away from the boat within a couple feet of a weed edge or inches from a rocky bottom where I might need to occasionally clear a hangup. In these situations, black rubber bands will outperform anything else in the long run.
"If you're fishing darker water or fisheries with little pressure and more aggressive fish, you can get away with passive presentations and just about any release system, as long as the bait breaks free."
Hopefully, this helps you put a few more muskies in the boat before freeze-up!
Reminder: Our virtual Late Fall Musky class with Herbie and Josh Borovsky is must-watch material.... and we don't say that lightly.
You can click here for more info.
---
Catching & Releasing
It straight up works!
Do you need some proof?
Here's some proof-pudding that'll make you believe:
This musky has been in Michael Hanson's boat three times (10/16/19, 11/07/19 and 10/13/20) and once in his good buddy Terry's boat (10/09/21).
It measured 44.5 inches all three times in Michael's boat and 45 inches in Terry's.
If they caught the same fish four times in a two year timeframe, it makes you wonder how many times this fish has been caught over the years. 🤔 
Btw, do any of you remember the 55.75 incher from Ryan McMahon we featured last week?
Well, Dennis Seeb caught her two years ago when she was a measly 55 inches 😉 
Here's both photos (Ryan's on top):
Dennis had a cool story behind the catch, too.
"She followed a sucker for about ten minutes – we tried everything. I told my friend we were going to do something different and it might swim off or it might eat.
"We were in about 15 feet of water with about six feet of line out and a bobber. The fish was less than twenty feet behind the boat. I started up the big motor when it got close again and gave it gas and she bit."
Unique approach, but you can't argue with results!
I'm not sure if the point of this section is "catch-and-release works" or "muskies aren't very smart"....
Or maybe catch-and-release works BECAUSE muskies aren't very smart. 😂 
---
Feathered Excrement
Kinda nasty, but kinda cool.... 🤷‍♂️ 
(Stop scrolling if you get grossed out easily)
Muskies poop in the boat ALLLL the time, but Jim Doyle (TCMI Presidente) sent us something that's a little less common:
That's James Hanson holding a 48.5-inch Believer-munchin' musky that was still hungry after scarfing down a bufflehead duck.
Now you're probably curious how we know the species of the bird stickin' out the bottom side of this Lake of the Woods beauty. 🤔
Well, here's how....
From Jim:
"I've had an unused emergency roll of TP in the boat for 20 years, and it finally got used on the clean up for this one."
We'll leave it at that.... 😂 
---
This Week's Mashup:
Mashup time!
#1 – Not something you see everyday.... Glad to hear Matt Marg made it back into the boat safely after whiffing on this net job 😉
#2 – Smart tip in a recent video from the Next Bite crew. When air temps are extra chilly, let your trailer drain at the water's edge to avoid creating an icy incline for other vehicles to spin-out on.
#3 – Nice photo from Doug Wegner, but an even better caption:
"If my alarm ever stops waking me up I will just change it to drag ripping out."
Anyone else get whiplash in your neck anytime your buddy's drag rips??
#4 – Gorgeous nighttime release pic from Jon Shepherd.... 📸  #LetEmGoLetEmGrow
---
QUICK HITTERS:
– October musky chasin' w/ Todays Angler (video)
– Fall livebait musky fishing w/ Burnin Eights (video)
– One hour and twenty minutes of musky fishing & info (video)
– Steve Genson on the Back Lash Podcast (link)
– Three muskies fly slingin' on a small river (video)
---

---
THIS WEEK'S

 MONSTER MUSKIES:
Huge congrats to Phil Anderson on poppin' his new PB musky (56 inches) slow-rolling a big spinnerbait 🔥
It took Noah 8 years to top his old PB musky (50 inches when he was 8 years old), but he finally bested the big five-o with this beautiful 54-inch Vermilion beast trollin' with his dad Erik Jacobson.
Btw, you can click here to watch the catch on video 👍
This portly white whale couldn't resist @angler.genos' 12-inch Headlock in the Mother of Pearl color. #AnotherPB
Big props to Gordon Stevens on boating his first 50-incher workin' an all-black fly 💪
Wanna be featured in Musky Insider? Send in your recent trophy musky photos by replying to this email. You might just see your pic in next week's newsletter. 🤙
---
---
Want to see more from Musky Insider? Make sure to follow us on Facebook and Instagram for bonus content throughout the week!
Send all business inquiries to josh@muskyinsider.com
---