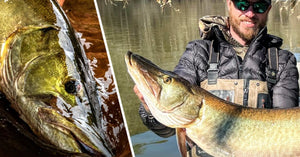 Short-Line Trollin' Tip – Highest 'skie jump – Weighted Leaders
Be the FIRST to see Musky Insider every week by signing up for the email version of this newsletter. It's 100% free and we will never sell your email address! Click here to sign up and never miss another issue.
---
---
Short-Lining Tips
Let's kick this newsletter off with some excellent trollin' tips from Chad Harmon who guides for 'skies in Ohio.
He's gonna share some against-the-grain strategies that have helped him boat more spring chunkers like this client catch 👇
Let's get into it!
"A big myth for spring fishing is trolling small baits.... while small cranks can be effective at times, there's other techniques to try for this time of year that can pay off in a BIG way!"
Alright, you've peaked our interest #MythBustin'
"A cool pattern I came across a while ago is using bigger crankbaits like 9" Llungen .50 Calibers, 9" Perch Baits and 10" Ziggies. I troll them short, only letting out between 7 to 9 feet of line right next to the boat in the prop wash."
"The areas I'm targeting are large flats in 5 to 8 feet of water. When it comes to speed, I stay a little on the higher end of the spectrum, keeping it between 3.8-4.2 mph.
"The key to this pattern is finding the flats with shad schools pushed up on them. It doesn't matter if the water is chocolate milk or crystal clear in color. If the baitfish are there, the musky will be hitting big baits on a short line."
That's a popular theme in musky fishing that seems cliche, but proves true more often than not.... 
Find the bait = find the predators!
"The murkier the water, the brighter color I'll use for the crank."
Now here's Chad's thoughts on why this pattern works:
"What happens is, the boat and prop-wash kicks the baitfish up as you drive through them. This scatters the bait school which more-or-less draws the musky in.
"It's like ringing a dinner bell to the boat because disoriented baitfish in the prop-wash makes for an easy meal for a toothy critter. This is where the big crankbaits come into play."
"The typical shad size in our Ohio reservoirs are 5"-7" long. The bigger baits stand out in the chaos of the disorientation and make it easy for a musky to pick your bait out of a school of a few hundred scattering shad.
"Think about it…. If you were running small crankbaits, that small bait has a much better chance to get lost in the confusion than a big bait that will stand out to be seen.
"When you get a chance this spring, give this technique a shot, you'll be surprised in a BIG way!"
Great stuff – special thanks to Chad Harmon for sharing this week 👍
---
HIGH Flyin' Musky
"Am I watching Space Jam?"
That's the caption on Michael Hanson's video of this musky "flyin' like an eagle" and throwing his bucktail:
Sheesh!
Looks like that little guy got a good 6 feet of launch altitude.... he wasn't too keen on being caught.... 😂 
---
Weighted Leaders
Most folks don't start shaking with excitement when "terminal tackle" becomes the topic of discussion, but we all understand the importance of having a strong connection between you and the 'skie.
Just got done listening to an episode of the Back Lash Podcast, talkin' leaders, line, snaps, swivels, etc. with John Bette (Stealth Tackle).
They covered a ton of topics, including John's new Hook Extension, and a bunch of other stuff.... but for this segment let's focus on weighted casting leaders:
From John:
"We make a weighted wire leader in three sizes 1/2 ounce, 3/4 ounce and 1 ounce. It's basically a wire leader with a bullet sinker at the end of it. They work particularly well for folks who don't want to drill into a wooden bait or a plastic bait and worry about potentially ruining the action of the lure."
We've looked at these leaders in the past – obviously there are many situations where they can come in handy, but the biggest question when you're lookin' to scoop a few up is what's the ideal size??
Here's John's take:
"The small 1/2 ounce size works great with small bucktails like the Rabid Girl or the Rabid Squirrel.... especially if it's windy, you can cast them out a lot further. And when you're burning them in, the blades don't blow out.
"The 3/4 ounce size is pretty much the middle of the road option. It's probably the most versatile size, as you can use it with just about anything.
"We sell a lot of the heavier 1 ounce leaders to guys in the fall that like using them with bigger jerkbaits to get the bait down a little bit deeper in the water column."
Something to play with if you haven't already!
---
This Week's Mashup:
Mashup time!
#1 – Really diggin' this musky-on-wood painting from @creeknuts #ManCaveMaterial
#2 – Props to @blackflymafia on capturing this really cool water release shot of his fly-munchin' river musky.
#3 – The detail on this wood burned musky from @crooked_lake_creations is super impressive 😍 What requires more patience – catchin' a musky or burnin' one into a slab of wood??
#4 – Saw this on social media from Tony Thompson – way to represent!
---
QUICK HITTERS:
– Wisconsin Musky Expo happenin' March 18-20th (link)
– Summer musky techniques podcast w/ Todays Angler (video)
– Four musky day on LOTW w/ Doug Wegner (video)
– Musky action on the Bay w/ Keyes Outdoors (video)
– Spring musky bait picks w/ Angling Anarchy (video)
– Pete Maina on the Bigwater Podcast (video)
– Husky the Musky is getting a makeover (link)
---
---
THIS WEEK'S

 MONSTER MUSKIES:
Stellar southern 'skie from Brent Perkey and his buddy Joe Richie! That big girl is built like a linebacker 💪
This extra-chunky llunge from JP in eastern Canada is allll belly. #sumo
Props to Kristine Fischer on smackin' some nice kayak muskies this past week.
Wanna be featured in Musky Insider? Send in your recent trophy musky photos by replying to this email. You might just see your pic in next week's newsletter. 🤙
---
---
Want to see more from Musky Insider? Make sure to follow us on Facebook and Instagram for bonus content throughout the week!
Send all business inquiries to josh@muskyinsider.com
---