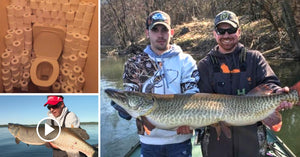 Sick Creeper Strike/Tips – Custom Show Colors Available – Corona Relief Package
Be the FIRST to see Musky Insider every week by signing up for the email version of this newsletter. It's 100% free and we will never sell your email address! Click here to sign up and never miss another issue.
---
---
Jeepers Creepers
90,000+ views later, turns out people like boatside Creeper strikes.....
Here's a quick look at the "moment of truth" from Doug Wegner's viral-ish vid:
Creepers were fairly popular back in the day, but have fallen out of habit with some anglers for whatever reason. After seein' this strike, we thought we'd give Doug a shout and get his thoughts on why he's starting to use them more.
Here's his thoughts:
"Creepers are an old past time in the musky world. Musky lures have the tendency to cycle in and out of popularity over time. Single bladed bucktails were overtaken by "Cowgirls" 15 years ago, but now we're seeing a trend back toward smaller single blades, as well as Stagger bladed baits in this next cycle of musky fishing.
"In my opinion, fish become "educated" to a particular presentation due to high fishing pressure by the masses with the same bait on the same fish. As anglers, we are always trying to stay ahead of the curve with electronics, tactics and equipment. Sometimes it pays to go back in time to something this "cycle" of fish has never seen."
Makes sense – you see it all the time for different species of fish. Spinnerbaits are makin' a comeback in the bass tourney scene. Ned Rigs are basically just glorified "jig worms", which have been around for 50+ years.
"Creepers are a specialty bait that need to be fished incredibly slow. For this reason, its not a bait to search with or cover water with, but one to fish on high percentage spots as well as returning to follows from earlier in the day."
Creepers are a niche bait in today's musky world, but there's still a time and place.
I'd be willing to bet there's a lot of younger anglers reading this that haven't even tried one yet. Might wanna grab one and give it a go!
---
Welp....
Bad news for those of you lookin' forward to George's MN Muskie Expo.
The event got cancelled after MN Gov. Walz declared a Corona-induced Peacetime Emergency a couple days ago.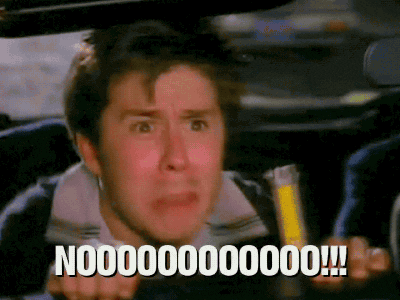 This is bad news for the show organizers, manufacturers, retailers and everyone who was looking forward to attending. That said, it's probably for the best. 🤷
We've got a small shred of good news for you though.
We're seeing some bait makers selling their unique custom show colors online.
That means you can sit on your throne of toilet paper and order custom colors from the comfort of your own home. Here's a few sweet custom Staggers that probably won't be available for long....
Sounds like this is the first time Frenzy has offered 'em with Smoke blades, too.
Guessing more companies will be posting stuff online, so I'd keep your eyes peeled this week. Looks like there's a "virtual" MN Muskie Expo in the works, too. 👀
In the meantime, wash your hands regularly, avoid large groups of people, and don't be THAT guy....
---
Corona Relief Package
So what's a musky angler to do during the 2020 Corona lockdown?
Most musky shows/schools are cancelled

There's no sports on TV

Social gatherings are ill-advised

There's very limited fishing opportunities across most of the musky belt.
If you can't practice "social distancing" by sneaking out on the water and making a few casts, you might as well kick back with a glass of OJ and binge watch some musky fishin' shows. Here's a few suggestions:
1. Aaron Wiebe doesn't post a bunch of musky stuff, but when he does, it's 100% worth the watch. How bout the one where he catches a musky on a dang fidget spinner???
Also, his Livescope Musky Jigging vid is another must-watch.
2. If you're thinkin' about spring musky fishing, make sure to watch the Suspended Musky show featuring James Lindner and Josh Borovsky (Musky Insider co-owner). Lots of good info for that spring window when muskies are feasting on suspended baitfish:
3. Another video to get you excited about early season musky fishing – the Burnin' Eights boys fishin' for spring muskies in the Green Bay area. I believe this was shot during the second weekend of the 2019 season:
4. Lastly, if you're looking to burn 50 minutes with some good musky fishin' banter, this one from Todays Angler and Larry Ramsell is worth a watch:
The topic of conversation is a little controversial, but that's what makes it fun. 😉
---
Underwater Strike
Check out this sick underwater jiggin' eat from Slime Quest TV:
There's plenty of underwater musky strikes on the interwebz, but most are captured on trolling cameras or underneath the ice by pike/panfish anglers.
It's rare that you come across footage like this. 🔥
---
QUICK HITTERS:
– George's Minnesota Muskie Expo Cancelled (link)
– Virtual MN Muskie Expo slated for Mar. 27-29 (link)
– 50 invasive carp found in Mississippi River (link)
– French Broad River (NC) restoration project (link)
– New Clam "Colossus" landing net (link)
– How to replace a plastic tail on a jerkbait (video)
– Solid musky from shore (video)
---
THIS WEEK'S

 
LUNAR TIMES:
(Times based on Minneapolis)
---

---
THIS WEEK'S

 MONSTER MUSKIES:
Check out this big ole fatso from Mason Smith – part of a four fish day river fishin'.
This out-east 'skie from Josh McDunn has been putting on the feedbag this winter!
Brad's pink & yellow fly only made it TWO casts before it got T-boned by a solid musky on the figure 8.
---
Want to see more from Musky Insider? Make sure to follow us on Facebook and Instagram for bonus content throughout the week!
Send all business inquiries to josh@muskyinsider.com
---