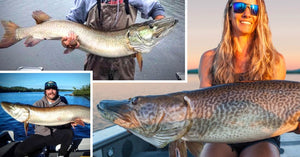 Sneaky way to catch more muskies – Try fishing ''foam'' – Wild boatside strikes
Be the FIRST to see Musky Insider every week by signing up for the email version of this newsletter. It's 100% free and we will never sell your email address! Click here to sign up and never miss another issue.
---
---
"Fish the Foam"
You've probably seen these long lines of foam stretched across the surface of the lake on a windy day:
Well, turns out they're called Langmuir circulations and according to Gord Pyzer, the fish LOVE them.
"Many years ago, I discovered the astonishing effect these Lazy Susan-like circular currents have on triggering fish to bite, but I've kept that ace tucked safely up my sleeve ever since—until now.... For the most part, the white lines across the surface point to some of the best fishing opportunities to be had."
Gord explains in his article that wind doesn't move water the way you'd think it does – it instead creates "counter-rotating, horizontal tubes below the surface" that are spaced 45 to 135 feet apart.
Here's what this rotational current does:
"Buoyant material such as weeds, wood and plastics remain on the surface and get mixed up with the white foam we see. Meanwhile, heavier or suspending material, including plankton, is spun downward on a fish-feeding conveyor belt."
Naturally, collection points like this will draw activity to these areas.
"Whether it's the wind-induced current or exchange of oxygen-rich water, heat and food, I'm not really certain, but Langmuir circulations certainly produce bites. I suspect it's a synergistic blend of all of those factors."
Another interesting tidbit: Gord only seems to find them under certain conditions:
"What's still more intriguing is that Langmuir currents only form under relatively tight parameters—they require wind speeds of at least 11 kilometres an hour (6.8 mph), yet disappear when the wind tops 45 kilometres an hour (30 mph)."
We're not saying this is a hard-and-fast rule, but next time you're on the water, try focusing your efforts on the foam and see if it makes a difference for you.
Musky fishin' is a high variance game, so anything that helps put more fish in the boat is worth a look!
---
Thoughts on Bumping....
Last week, we highlighted an enormous 58.5 inch musky from Mille Lacs Lake that would have crushed the Minnesota catch-and-release record if they had taken a bump board photo to verify the length.
Turns out, there was some poor handling involved with this catch, but instead of piling on and pointing fingers, we thought this would be a good opportunity to talk about proper handling.
Obviously, more time in the water and less time in our hands and on a bump board is optimal for the fish's survival, but we're not going to throw anyone under the bus if they want to measure a fish or take a photo.
There are a few potential consequences of bumping a fish, but one that's not talked about much is the opportunity cost of spending time handling a fish during a bite window, when you could have your line in the water.
Here's an interesting anecdote from Josh Borovsky:
"Every fall around the tullibee spawn, I have a couple guests that book with me for a few days apiece. They're hardcore anglers who have one goal in mind: catching a giant.
"We catch a LOT of fish together, significantly more than many of my friends with whom I compare notes. These guests are good anglers and capitalize on opportunities, but I think the primary reason we catch so many fish is because we don't spend time handling non-trophy-sized muskies. Instead, shaking them off or doing a quick water release.
"The feeding window in fall can often times be very intense, but also very short. On many occasions, we've caught two or three fish in very quick succession. If we had taken photos and bump board measurements of the first musky, we never would have caught the second or third. Tight windows like this can happen all year long."
Skipping the bump board is better for the fish's health and possibly leads to catching more fish. That said, we'll still measure fish from time to time, and we're not going to criticize anyone who chooses to do so.
Here's a few things to consider if you bust out the bump board:
1. Photos Before Measurement? – Always take photos before you measure your fish. The fish is less likely to flop on the board and most importantly, it is significantly faster than measuring first (try timing it – you might be surprised). This also allows the photographer to help handle the fish on the board, minimizing the chances of a crazy flopping tantrum happening on the deck of your boat.
2. Keep it Cool – Store you bump board somewhere out of the sun, so it doesn't get too hot before a measurement. The livewell works great.
3. Wet it First – Wet your bump board in the lake before measuring the fish to help reduce the loss of the fish's protective slime.
4. Prepare First – Have your camera, focus, lighting, etc. ready to go BEFORE you lift the fish out of the water. The less time you have the fish out of the water, the better.
Just some food for thought – we'll try to share more handling tips like this in the future, including some stuff you might not have thought of before.
---
Sweet Esox Action
Let's take a quick break from the serious and informative content to enjoy some hot & heavy musky action:
We love muskies that are not only willing to bite your lure, but also excited as heck to get in the net.... kinda like this extra-eager beaver:
Lovin' this high flyin' action shot from Cal Ritchie up on Eagle Lake:
Not a musky, but this is one of the coolest boatside strikes we've seen caught on camera....
Flat calm conditions + an ultra-squirrelly fish that's ready to eat at boatside = 😍😍
BTW, that bright yellow topper is a Savage Gear 3D Suicide Duck.
Last up, you gotta wonder what this 'skie was thinking as it moseyed on up to Doug Wegner's boat – bet she wanted to be on YouTube, but didn't want the lip piercing to go with it..... 😂
---
Politics (ughh)
The election season sucks....
Every four years, we get bombarded by annoying political ads, and the media tells us we need to "pick a side" and that everyone else is the enemy.
It's a bunch of silliness if you ask us.
What's even sillier is the anti-musky legislation we see proposed every year.
A few weeks back, we talked about how cool it was having someone with pro-musky policies running for office (Doug Malsom). A week later, we found out one of his opponents (Kris Fredrick) was also an angler with a positive stance towards muskies.
This is EXCELLENT news!
We don't care if you're a Democrat or a Republican, red or blue, a donkey or an elephant – our politicians should be educated on the positive impact muskies have on our fisheries and local economies.
We recently got an email from John Sadusky at Muskies Inc. who makes an excellent point:
"The negative impacts of not getting involved in our political process manifests into such things as anti-muskie legislation, loss of funding, degradation of habitat and shrinking public access."
And this is what he suggested we do:
"We can and must get involved. I'm writing to remind all chapters the importance of inviting your representatives to get out fishing with you. It's an awesome way to educate and promote our sport.
"If they can't make it out, ask them how they feel about musky fishing and find out if they support it. If they support it applaud them and if they do not, ask why. And, in the event that they are against it, let them know politely you will probably not be supporting them in the next election."
Don't sit back and let the anti-musky fear-mongers win – do what it takes to fight misinformation and protect our resources!
Here's the easiest way to quickly find your local representative: House of Reps
....and next time you see someone spewing misinformation, send 'em this:
---
QUICK HITTERS:
– Update: Warm water musky mortality study (video)
– Northern WI river musky fishing w/ Todays Angler (video)
– 50 incher caught at boatside w/ All Day Grind (video)
– Sweet video with Mike Kramer and Fishcamp (video)
– Boatside figure 8 strikes w/ Musky Kombat (video)
– Figure 8 muskies in northern WI w/ Slime & Slay (video)
– How to fish a Squirko glide bait (video)
– How to make a homemade screw-lock (video)
– Musky jumps up into a kayak (video)
---

---
THIS WEEK'S MONSTER MUSKIES:
Let's kick off the Monster Muskies section with a massive, green-cheeked 54.25 inch French River musky. Congrats to Raven on a truly incredible fish!
Props to Nikki Boxler on cracking her new PB with this big, beautiful super tanker! The patterns on this bruiser are incredible.
This big blonde beauty was one of two fish over 50 on the morning for Benjamin Knutson – she fell for the Stagger bucktail on the 2nd turn of the figure 8. #woof
Check out the massive shovel-head on this impressive 55 inch musky from Robert Krueger 👀
Wanna be featured on Musky Insider? Send in your recent trophy musky photos by replying to this email. You might just see your pic in next week's newsletter. 🤙
---
---
Want to see more from Musky Insider? Make sure to follow us on Facebook and Instagram for bonus content throughout the week!
Send all business inquiries to josh@muskyinsider.com
---